« previous post | next post »
Molly Ireland, Richard Slatcher, Paul Eastwick, Lauren Scissors, Eli Finkel, and James Pennebaker, "Language Style Matching Predicts Relationship Initiation and Stability", Psychological Science 12/13/2010.
Previous relationship research has largely ignored the importance of similarity in how people talk with one another. Using natural language samples, we investigated whether similarity in dyads' use of function words, called language style matching   (LSM), predicts outcomes for romantic relationships. In Study 1, greater LSM in transcripts of 40 speed dates predicted increased   likelihood of mutual romantic interest (odds ratio = 3.05). Overall, 33.3% of pairs with LSM above the median mutually desired   future contact, compared with 9.1% of pairs with LSM at or below the median. In Study 2, LSM in 86 couples' instant messages   positively predicted relationship stability at a 3-month follow-up (odds ratio = 1.95). Specifically, 76.7% of couples with LSM   greater than the median were still dating at the follow-up, compared with 53.5% of couples with LSM at or below the median.   LSM appears to reflect implicit interpersonal processes central to romantic relationships.
This is interesting stuff, in my opinion. But so far, it's gotten relatively little uptake in the popular press. And in one of the few — rather obscure — pieces to mention this research, it was spun as a guide to dating success.
Alasdair Wilkins, "Using very short words can make people fall in love with you", io9 ("We come from the future") 5/23/2011:
Generally speaking, romantic relationships form around common interests, compatible personality traits, or similar beliefs and values. But none of that compares to the love connection that can be formed by using basic words like "he" or "and" together.
Pronouns ("he", "them", "you"), along with articles ("the", "a", "an") and conjunctions ("and", "but", "or") are among the most basic and most widely used words in the English language. Collectively referred to as "function words", these words are so simple and well understood that most people don't actively process them when understanding sentences – instead, our brains process them quickly and unconsciously.
That's why these function words can have surprising power in forging relationships, at least according to research by University of Texas psychologist James Pennebaker.
There are some interesting examples of science-journalism spin here.  First, Mr. Wilkins tells us that function-word matching "forges" an incomparably stronger "love connection" than "common interests, compatible personality traits, or similar beliefs and values", none of which were in fact compared quantitatively to Linguistic Style Matching in the cited research.  And second, and more important, correlation is turned into causation. What Ireland et al. actually say is this:
As is the case for most research on verbal coordination, our data are correlational. Although Pickering and Garrod (2004) contend that language alignment causes mutual understanding, other researchers contend that individuals' goals to be liked and understood cause behavioral coordination (Brennan & Hanna, 2009; Lakin, Chartrand, & Arkin, 2008). It is likely  that LSM and its underlying psychological processes are bidirectionally linked. Specifically, we suspect that style matching  and relationship engagement reciprocally increase one another and jointly facilitate positive relationship outcomes (Niederhoffer & Pennebaker, 2002).
There's a more accurate take on the research here — Melissa Wenner Moyer, "The Language of Love: Word Usage Predicts Romantic Attraction", Scientific American 5/23/2011:
What distinguishes a fling that ends in tears from long-term love? Past research suggests that the most successful couples share common interests, values and personality traits. Now new research published in Psychological Science proposes that the simplest words lovebirds use to speak to each other also make a difference—both in determining how attracted they are and how likely they are to stay together. […]
The big question is whether individuals feel more aligned to others who already talk the way they do or whether they adapt their language to match that of individuals they really like. Pennebaker admits that both are possible, but he believes the latter is the driving force: language, he says, predicts relationship success because it reflects how well couples listen to each other. What is Pennebaker's advice for living happily ever after with a loved one, then? "Pay closer attention to the other person," he says.
Update — since there seems to be some confusion about what "Linguistic Structure Matching" actually is, in operational terms, here are the details. First, they counted each participant's use of words in nine categories: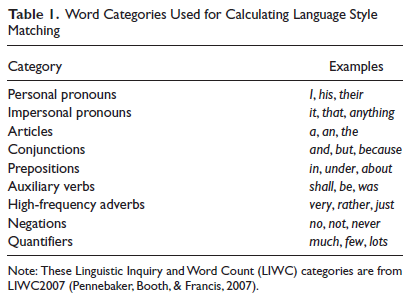 Second, they turned these counts into proportions, dividing by the total number of words of all types produced by the participant in question.
Third, they calculated a separate LSM score for each of the nine categories, using the following equation:

As they explain,
In this formula, preps1 is the percentage of prepositions used by the first person, and preps2 is the percentage used by the second. In the denominator, 0.0001 is added to prevent empty sets. The nine category-level LSM scores were averaged to yield a composite LSM score bounded by 0 and 1; higher numbers represent greater stylistic similarity between two speakers. One LSM score was calculated for each speed date sets.
---