« previous post | next post »
"The Jewish Ghosts of Palermo", a post on The Dangerously Truthful Diary of a Sicilian Housewife, shows this photograph near the beginning: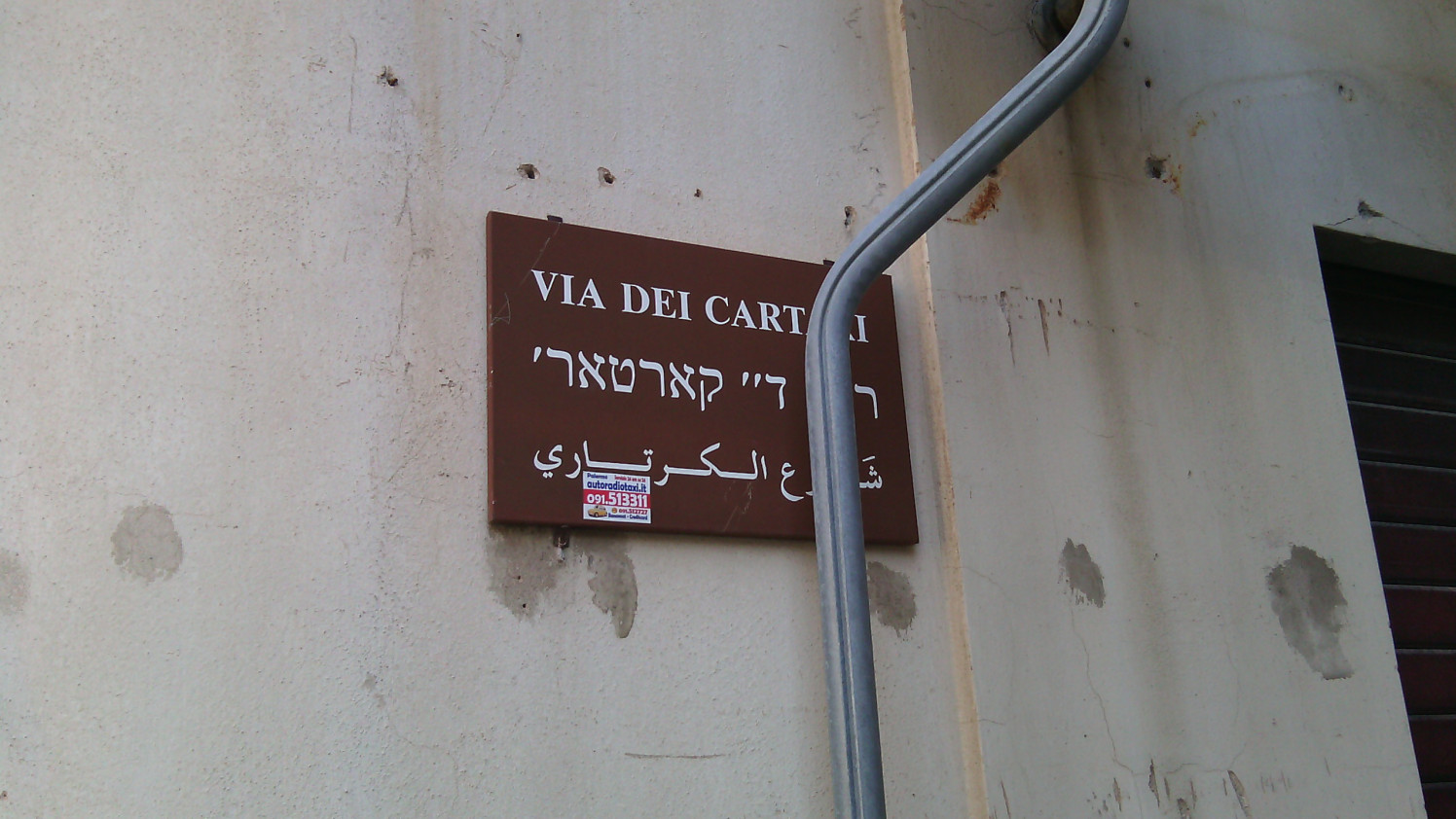 Caption: Possibly the most important Jewish street in Palermo, the Via dei Cartari was
where all the Jewish scribes drew up any contract needed by the citizens of Palermo.
There's an unobstructed view of the above sign in this photo by "occam", who brought this subject up in alt.usage.english: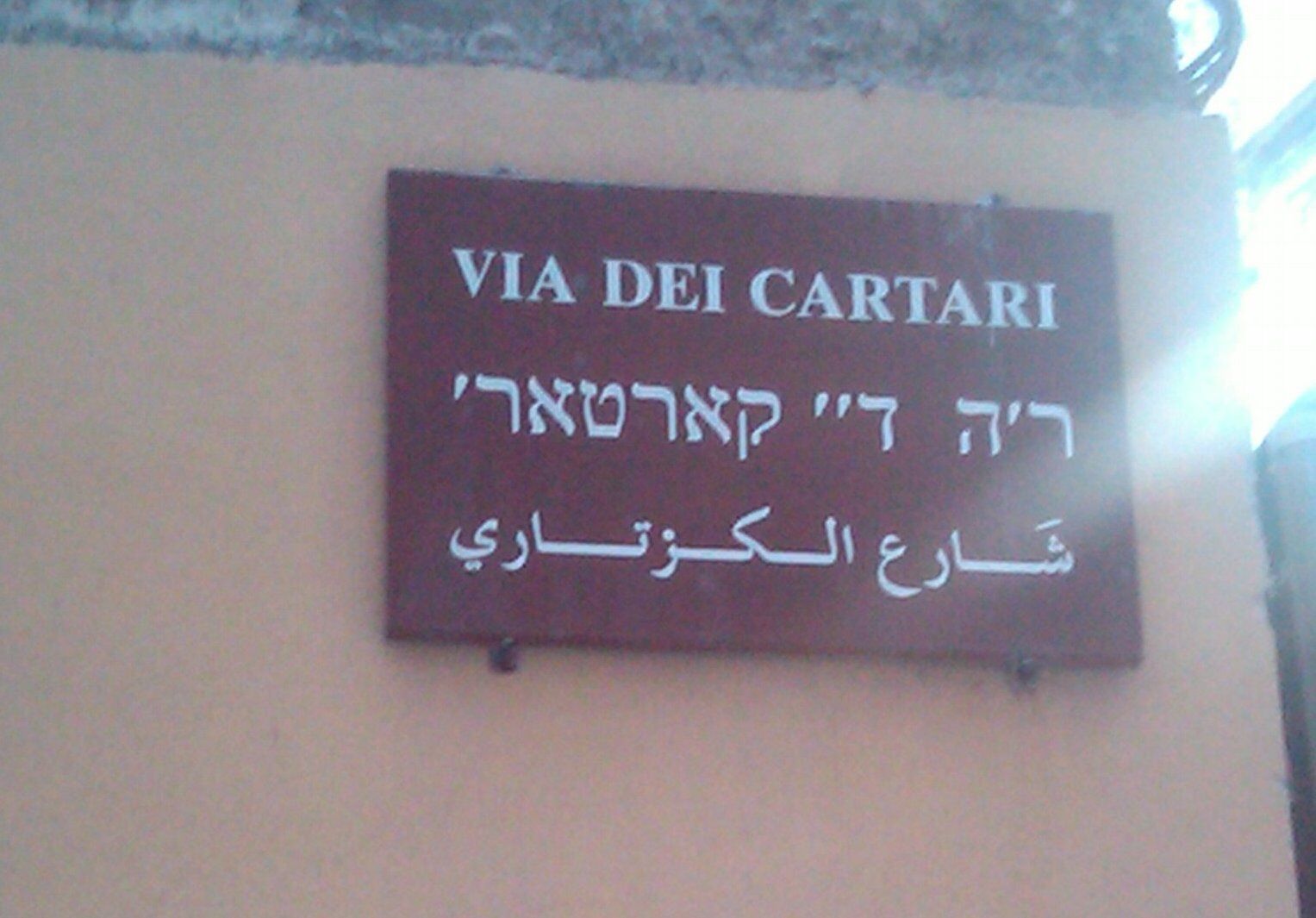 The second sign on the "Jewish Ghosts" page is this one: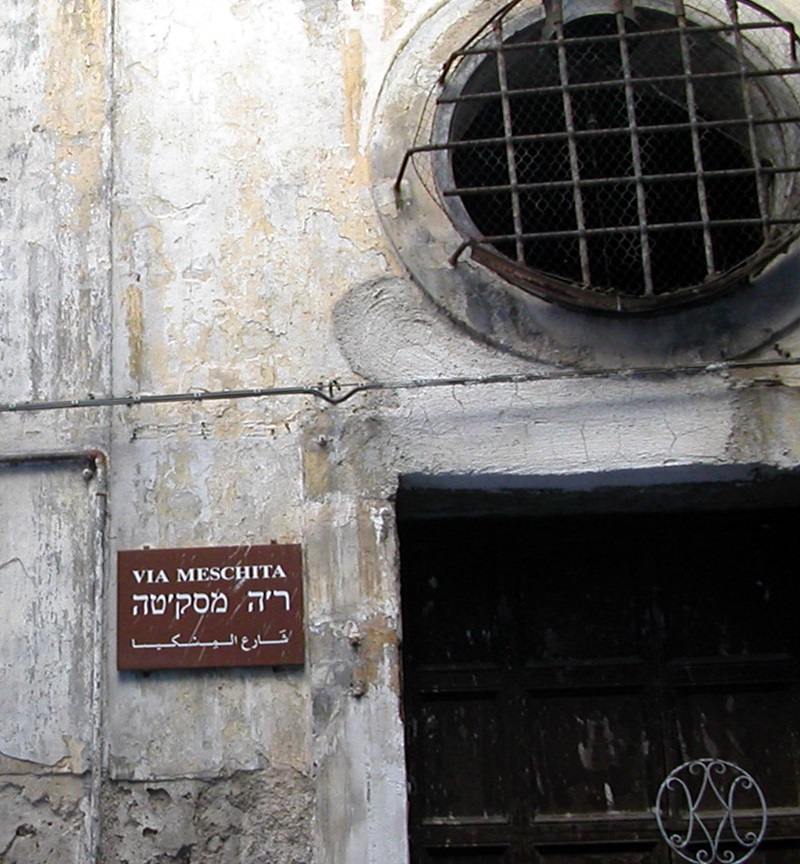 And here's the third sign: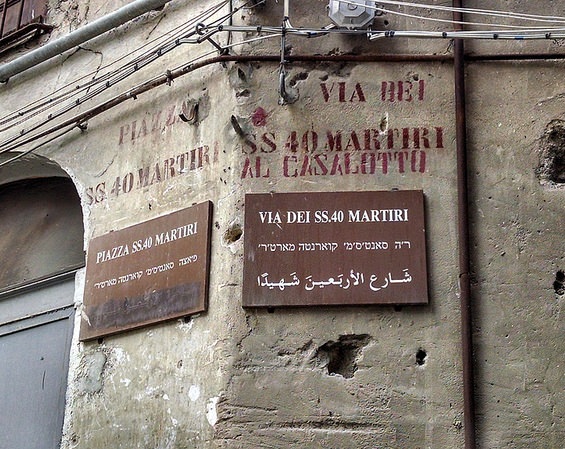 Jerry Friedman, who called these signs to my attention, comments:
According to the "Jewish Ghosts" page, "cartari" has to do with scribes.  I couldn't find it in the Italian-English dictionary at wordreference.com, and Google Translate gives only "papermaking".
"Meschita" seems to be an Italian spelling of "mezquita", the Spanish word for "mosque", maybe left over from the centuries when Spain ruled Sicily.  (The Italian word at wordreference is "moschea".)  Thus that sign has a Hebrew spelling of an Italian version.
The texts in Hebrew script may be in Judeo-Italian (Italkian).  I don't know why apostrophes are used for yods.  The Italian "a" seems to be represented by aleph (though one is missing in the word "cuaranta" in the last sign), except at the ends of words, where it's represented by he', as in the many Hebrew words that end in -ah.  The first word would be "ria", but that doesn't make sense in Hebrew or Italian or Spanish.  Maybe it's an error for "via" that got copied onto all the signs.  In general the style of transliteration looks like Yiddish to me.
I don't know Arabic.  Will Parsons noted in a.u.e. that "kartaari" looks like "kaaztari" because of a dot.
For historical background, we may quote the beginning of the "Jewish Ghosts" post:
There was a Jewish presence in Sicily for centuries, possibly from before the birth of Jesus. The Jews were the only outsiders who made their homes in Sicily and became part of her population without invading. They simply turned up, fitted in and made themselves indispensable.
The Jews were the literate and educated members of society and they also taught their children all the different languages they knew. This guaranteed them work as interpreters and scribes.
[Hat-tip to Katy Jennison for finding the "Jewish Ghosts" page during the discussion of occam's picture]
Update, 4/3/17: Chips Mackinolty informs us of a "sad footnote" to the story: "In the last days people unknown have spray painted out the non-Italian parts of a number of the trilingual signs." Here is a Facebook message from Palermo's mayor, Leoluca Orlando.
---