« previous post | next post »
Yesterday in phonetics class we were discussing accommodation — the way that people adapt the way they talk depending on who they're talking with — and I noted that broadcast interview programs are a natural source of evidence, since the same host speaks at length with many different guests. Previous posts have looked at accommodation in a couple of features on the Philadelphia-based broadcast interview program Fresh Air ("UM/UH accommodation", 11/24/2015; "Like thanks", 11/26/2015). During yesterday's class, it occurred to me that it would make sense to look at accommodation in the use of the definite article the, since the is one of the commonest words in English, and yet the rates vary surprisingly widely across time, registers, genders, moods, and individuals.
Since I already had lexical histograms for my transcriptions of  13 Fresh Air interviews, this was easy to do: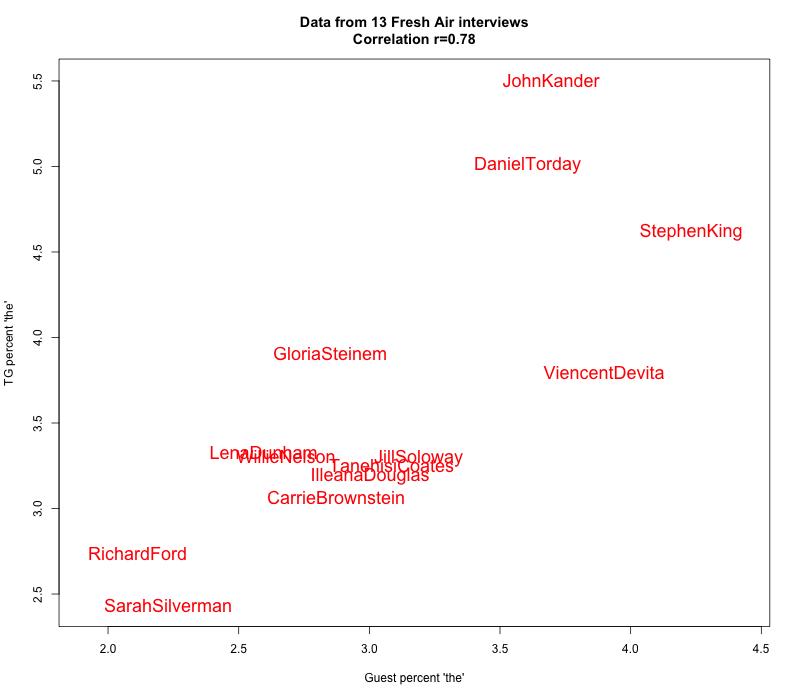 Of course, it's possible that some latent variable — like choice of topic — was influencing both speakers in a given conversation. But this is still prima facie confirmation for the hypothesis that there's accommodation in rates of the usage.
There have been a few LLOG posts on accommodation, e.g.
"Postural accommodation?", 5/2/2010
"Sexual accommodation", 12/30/2011
… and a larger number of posts on secular changes in the rates:
"SOTU evolution", 1/26/2014
"Decreasing definiteness", 1/8/2015
"Why definiteness is decreasing, part 1",  1/9/2015
"Why definiteness is decreasing, part 2", 1/10/2015
"Why definiteness is decreasing, part 3", 1/18/2015
"Positivity", 12/21/2015
"Normalizing", 12/31/2015
"The case of the disappearing determiners" 1/3/2016
"Dutch DE", 1/4/2016
"The determiner of the turtle is heard in our land", 1/7/2016
"Correlated lexicometrical decay", 1/9/2016
"Style or artefact or both?", 1/12/2016
"Geolexicography", 1/27/2016
---