« previous post | next post »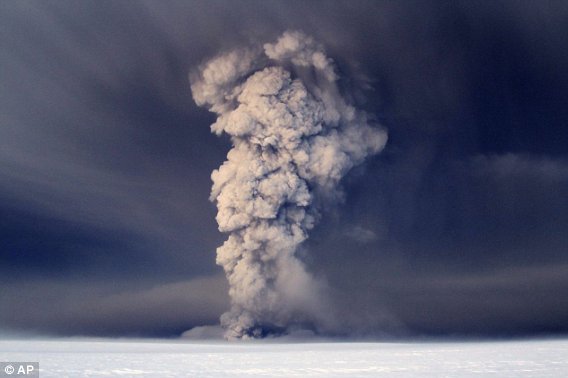 Another volcano in Iceland is erupting. But the projected effect on air travel is less serious than the disruptions caused by last year's Icelandic eruption:
University of Iceland geophysicist Magnus Tumi Gudmundsson said this eruption, which began Saturday, was Grimsvotn's largest eruption for 100 years.
"(It was) much bigger and more intensive than Eyjafjallajokull," the volcano whose April 2010 eruption shut down airspace across Europe for five days, he said.
"There is a very large area in southeast Iceland where there is almost total darkness and heavy fall of ash," he said. "But it is not spreading nearly as much. The winds are not as strong as they were in Eyjafjallajokull."
He said this ash is coarser than last year's eruption, falling to the ground more quickly instead of floating vast distances.
The projected disruption of newsreader self-confidence is also less serious this time, since the names involved are shorter and less confusing to non-Icelanders — the glacier that the vocano is erupting through, for example, is Vatnajökull rather than Eyjafjallajökull.
Still, that final 'll' in jökull "glacier" is tricky, so you might want to point your newsreader friends towards "A little Icelandic phonetics", 4/19/2010, as well as "Eyjafjallajökull fail", 4/16/2010. And courtesy of Ben Zimmer and Chris Waigl, a demonstration of the pre-aspirated /t/ and voiceless final /n/ in Grímsvötn:
An audio clip and spectrogram of the speaker's first rendition of Grímsvötn (in IPA roughly ['griːms.vœhtn̥] or ['griːms.vɞhtn̥]):
Audio clip: Adobe Flash Player (version 9 or above) is required to play this audio clip. Download the latest version here. You also need to have JavaScript enabled in your browser.

Since we don't have pre-aspirated stops in English, with or without voiceless syllabic nasals, my recommendation would be to anglicize Grímsvötn so as to make it rhyme with "seams-button".
Note that the vatna- in Vatnajökull is apparently the same morpheme, meaning "water" or "lake", as the -vötn in Grímsvötn: "Glacier of Lakes" vs. "Grímur's Lakes".
For the latest Vatnajökull seismology, see here.
---