« previous post | next post »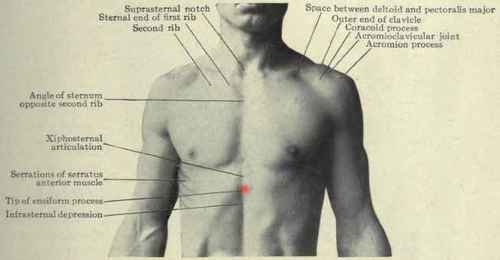 Thomas Friedman, "I am a Man", NYT 5/14/2011:
Watching the Arab uprisings these days leaves me with a smile on my face and a pit in my stomach. The smile comes from witnessing a whole swath of humanity losing its fear and regaining its dignity. The pit comes from a rising worry that the Arab Spring may have been both inevitable and too late. If you are not feeling both these impulses, you're not paying attention.
Paul Brians' Common Errors in English Usage:
Just as you can love someone from the bottom of your heart, you can also experience a sensation of dread in the pit (bottom) of your stomach. I don't know whether people who mangle this common expression into "pit in my stomach" envision an ulcer, an irritating peach pit they've swallowed or are thinking of the pyloric sphincter; but they've got it wrong.
The OED suggests a more external perspective for the original anatomical metaphor:
pit of the stomach n. the epigastric fossa, a slight depression below the xiphisternum; (also) the epigastrium or upper abdomen, in which the stomach and solar plexus are located, esp. regarded as the seat of sensations associated with fear, unease, etc.
That anatomical sense of pit at issue survives in armpit, but some other uses didn't make it:
pit of the chin n. Obs. rare the hollow between the lower lip and the chin.
The COCA corpus suggests that Thomas Friedman's approach represents about 5% of current usage:
| | |
| --- | --- |
| pit of my|your|his|her stomach | 224 |
| pit in my|your|his|her stomach | 12 |
And the Google ngram corpus suggests that it's on the rise.
Certainly Thomas Friedman is far from the first person to use it in the New York Times:
1/31/1980: "I'm numb," said Charmaine Frank, […]. "I've had a pit in my stomach."
1/7/1987: "She said she didn't know if 'I could go through with it,'", Dr. Stern recalled. "I felt this pit in my stomach."
1/3/2001: Afterward, Kendall Gill confessed he felt a pit in his stomach when the Nets let what was once a 25-point third quarter lead dwindle perilously to two possessions.
5/31/2002: Ms. Cohen Alameno, 39, a homemaker, started the day with a pit in her stomach.
9/11/2001: I remember the pit in my stomach when he first saw it.
11/11/2007: I still feel a gnawing pit in my stomach when Peter Yarrow sings
The historically-sanctioned cliché is clearly "pit of X's stomach", while "pit in X's stomach" is a plausible invention, in the spirit of "an empty place in his heart" or "the abyss in her soul". This is rather like the development from "home in on" to "hone in on" — an older and more established cliché is challenged by an alternative version that makes at least as much sense, but is instinctively rejected by many well-read people as "wrong".
In the case of "home/hone in on", the original is not all that old, and the alternative version has nearly achieved parity in term of usage. In the case of "pit of the stomach", the original goes back to the 17th century, and the alternative version is still relatively rare.
It's interesting that the same sort of people who approvingly quote George Orwell's rule "Never use a metaphor, simile, or other figure of speech which you are used to seeing in print" react so badly when someone like Friedman puts this advice into practice by refreshing a fossilized metaphor with a new interpretation.
Of course, the blocking effect of common figures of speech is experienced even by those who think that Orwell's essay was "dishonest and stupid". Just as the existence of the irregular form  oxen tends to block the corresponding regular form *oxes, so the historically-established pit of Thomas Friedman's stomach tends to block an otherwise-plausible pit in his stomach.
(I should add that this analogy is controversial…)
[Hat tip to Jack Maloney]
---