« previous post | next post »
Julian Hook writes:
The attached plot corroborates my vague recollections: a few decades ago many people spelled Daylight-Saving Time with a hyphen, but now almost nobody does.
The hyphen makes sense by the same logic as the hyphens in other N-Ving compounds like man-eating and blood-curdling. (Those who would object that Daylight-Saving Time doesn't actually save any daylight should consider that man-eating plants and blood-curdling screams don't really do what the words say they do either.)
More interesting than the punctuation, perhaps, is the pronunciation. Every other N-Ving compound I can think of is accented on the initial noun, but for some reason everybody seems to accent Daylight-Saving Time on Saving. Why do we do this? Could it have something to do with the fact that the noun daylight is itself a compound, with a secondary stress on the second syllable? And could this pronunciation explain the disappearance of the hyphen—if, perhaps, the odd stress pattern disguises the logic of the compound?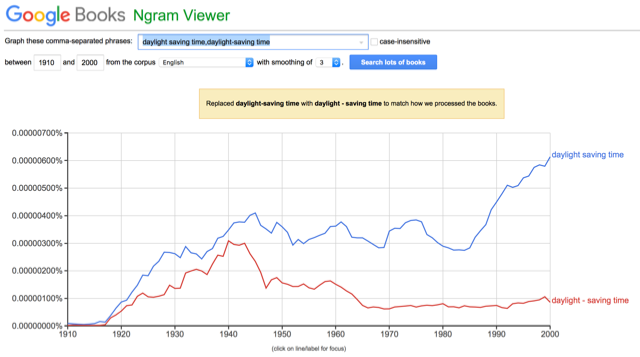 I agree that the pronunciation is weird. In general, phrases of the form [[Noun-Verbing] Noun] have main stress on the final noun and secondary stress on the initial noun — so we don't say "man-EATING shark" or "blood-CURDLING screams" or "time-SAVING devices" or "record-BREAKING totals" or "game-WINNING shot" (if you'll excuse the crude capitalization-for-main-stress notation).
And I don't think that the initial noun in Daylight Saving Time being a compound is the explanation — a "treetop-hugging flight" is not a treetop HUGGING flight.
I'm really not sure why the stress has landed so firmly on "saving" — but the confusion doesn't end there, because the version "daylight savings time" has become just about as popular:

One possibility is that the expression is intrinsically contrastive, in the way that e.g. "Eastern Standard Time" contrasts with "Eastern Daylight Time".
---