« previous post | next post »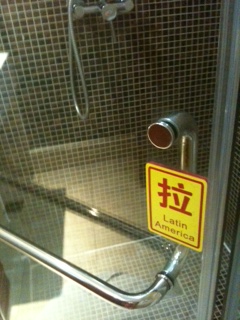 It's been a while since I've posted on Chinglish. In truth, I have an enormous backlog of precious items, some stretching back for years, but I just haven't been able to get to them because I've been trying to concentrate on more substantial topics lately. Today's example, however, is so amazing that I feel inspired to address it immediately.
Consider the photograph on the right, showing a notice on the door of a hotel room's shower stall.
What in the world is going on here? One big Chinese character and all those Roman letters beneath it:
拉
Latin
America
All right, let's go through this methodically. La 拉 simply means "pull," and that is what the sign is telling the person who is about to enter the shower. If you want to get into the shower, PULL the door. Simple enough.
So how did the injunction to "Latin America" come into the picture? Some oaf who was charged with making the sign managed to find lā 拉 in their dictionary and must have been overwhelmed by the plethora of English glosses: pull, drag, draw, haul, help out, implicate, play (a stringed instrument), chat, a verbal suffix, and so forth. Bewildered, they would have spotted near the end of the entry for lā 拉 that it is also an abbreviation for Lāměi 拉美, which is in turn a short form of Lādīng měizhōu 拉丁美洲, which means "Latin America".
Why didn't the oaf choose the first and simplest definition, "pull"? I suppose that they thought that the English (Roman letter) part of the sign is for foreigners, so it might be smart (!!) to use the only obviously foreign definition in the dictionary: Latin America. That's the best defense I can give on behalf of the individual who made this sign. Actually, it's not really a defense, merely one possible explanation for this mind-boggling choice. I suppose it's also possible that they didn't understand any of the English glosses, and simply felt that the longest one must be the most informative.
As for Lādīng měizhōu 拉丁美洲, the Lading part is obviously a transcription ("pull" + cyclical stem / "able-bodied man / cube of meat or vegetable / etc.") for "Latin," the měi 美 is to transcribe the syllable -me- in "America" (see below), and zhōu 洲 means "continent".
Fuller transcriptions of "America" that one may encounter are:
Āměilìkǎ 阿美利卡 (the sound "a" + "beautiful" + "benefit / profit / advantage" + transcriptional sound for "truck" [actually derives from "car"] / "card" / "calorie" — the same character is also pronounced qiǎ which has an entirely different set of indigenous meanings: "checkpost / tollgate / fasten[er] / clip / wedge / get stuck")
Āměilìjiā 阿美利加 (the sound "a" + "beautiful" + "benefit / profit / advantage" + "add" — the last syllable, jiā 加, is pronounced with an initial k- in many topolects)
Měilìjiān 美利坚 ("beautiful" + "benefit / profit / advantage" + "firm / strong / hard / solid / resolute / unyielding" — again, the last syllable, jiān 美利坚, is pronounced with an initial k- in many topolects) = "American", often used for "United States of America".
And all you wanted to do was pull the door so that you could take a shower!
[The photograph was sent in by David Moser]
---