« previous post | next post »
I recently saw a list of revisions suggested by the editor of a scientific journal, which combined technical issues with a number of points of English usage, including these two:
Please try to avoid the word 'impact,' unless it is part of a proper name.  It is now over-used (its 'impact' is diminished), and doesn't communicate anything specific.  If used as a verb, it is better to describe exactly what happens.  As a noun, 'effect' (or similar) would suffice.  For example, "The impact on quality of life…" could be rendered as "The reduction in quality of life…" […]
Be clear and direct; avoid the passive voice.
This is an interesting mixture of different types of usage peeving.
The "avoid passive" business is a old stylistic concern that we've often discussed, for example in "Passive aggression", 7/18/2006.  Interestingly, those who are strongest in condemning the passive voice are often its most vigorous users. Thus Merriam Webster's Dictionary of English Usage quotes Margaret Bryant, Current American Usage, 1962 (p. 720):
Bryant 1962 reports three statistical studies of passive versus active sentences in various periodicals; the highest incidence of passive constructions was 13 percent. Orwell runs to a little over 20 percent in "Politics and the English Language."
The incidence of passive versus active verbs in the editorial note under discussion is 50%. (See also "Those who take the adjectives from the table", 2/18/2004.)
But anti-passive campaigning doesn't seem be a response to changes in usage — if anything, the opposite is true, as suggested in "When men were men, and verbs were passive", 8/4/2006. And most people, including some of the anti-passive authorities, are not very clear about what passive voice actually is, as discussed in "The passive in English", 1/24/2011. So what is the psychodynamics of anti-passivity? Apparently it's just a vague sense that active is good and passive is bad —  metaphorical generalization of an accident of historical word-sense development. (See "The direct and vigorous hyptic voice", 8/5/2006, for a sketch of alternative history.)
The objection to impact is different. People who object to the alleged over-use or wrong use of a particular word do really avoid such usage themselves, in general — though this particular editor slipped up, a bit later in the same message, by recommending that in the Discussion section, "The focus should be on the impact of the findings on the field". And most such word-oriented reactions reflect resistance to a historical usage shift on the scale of 50 years or so. Certainly this is the case for impact, as measured crudely by frequency in the Medline corpus of biomedical abstracts: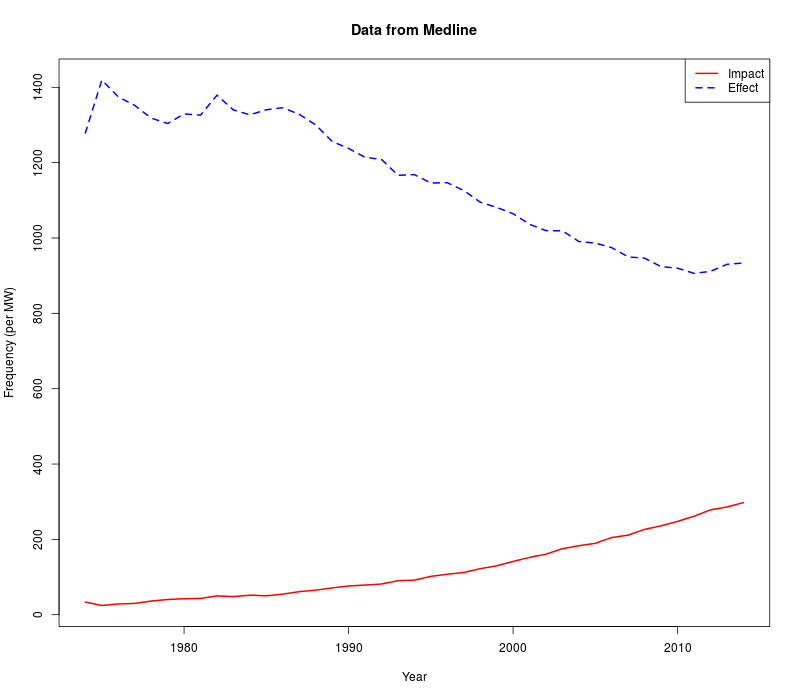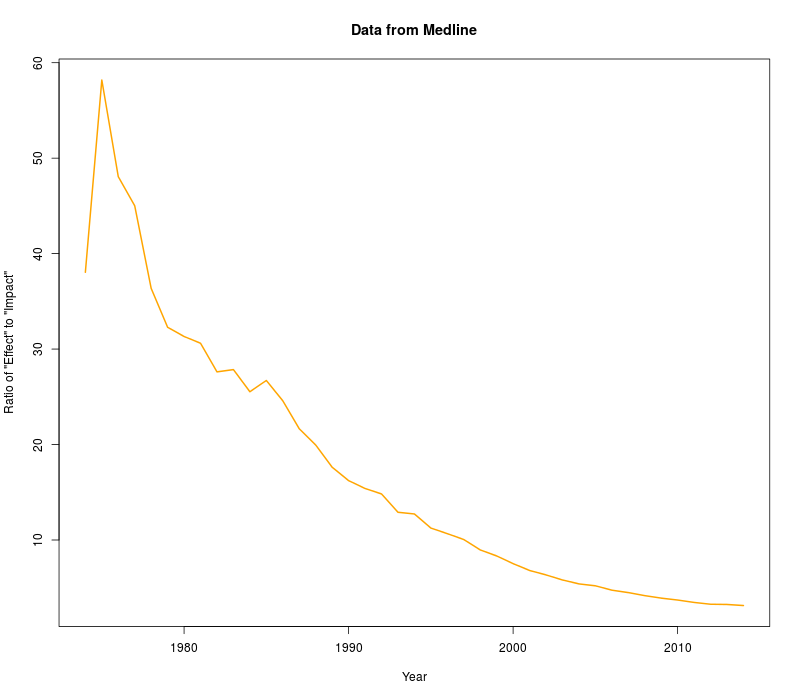 A table of the numbers behind those graphs is here.
And we can see something similar in Google Books (vertical black line at 1974 when Medline starts):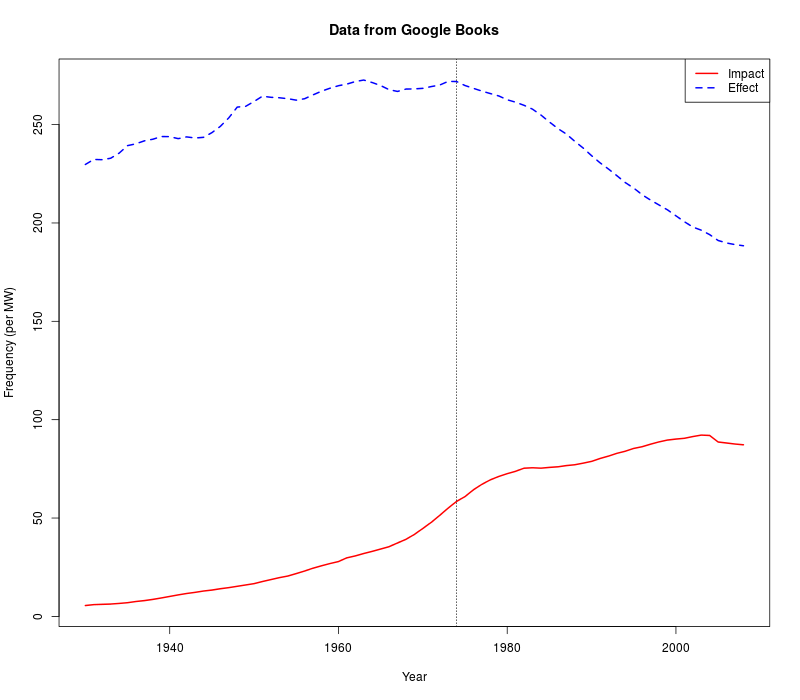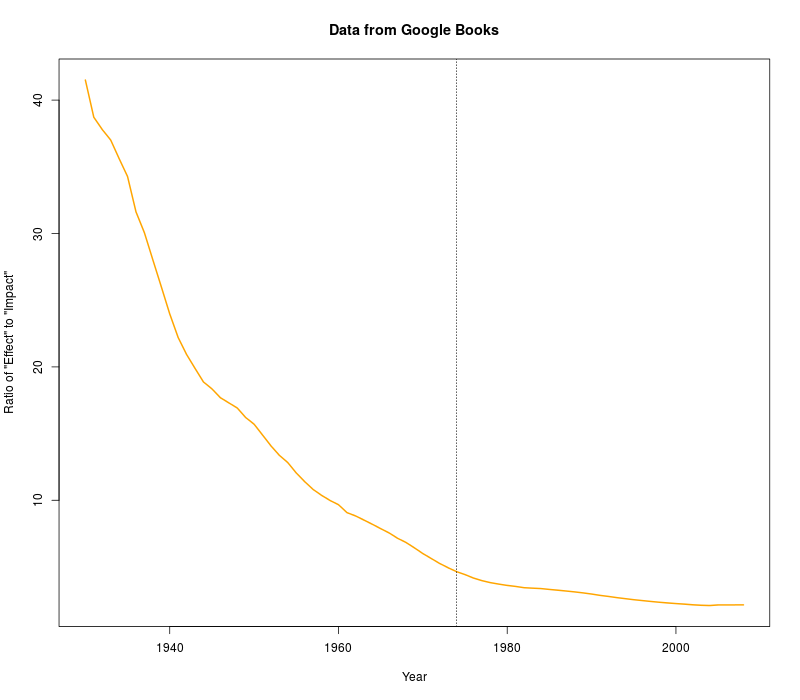 The table of numbers is here.
MWDEU says about impact:
This word comes in for adverse criticism both as a noun and as a verb in figurative use. The criticism is relatively recent, beginning evidently in the 1960s with Bernstein 1965, Fowler 1965, and Follett 1966. These three (and also Bremner 1980) are concerned with the noun; later writers take up the cudgels against the verb. The gist of most of the criticism is fairly well summed up in this portion of the discussion in Cook 1985:
impact A word fit to describe the crash of a wrecker's ball against its target, impact has become a substitute for bearing, influence, significance, and effect. It's so overworked in officalese and journalese that the more appropriate terms are falling into disuse. Both Follett and Bernstein have harsh words for this "faddish" abasement of the noun. How much more horrified they might have been had they lived to see the current vogue of the verb impact in the sense of "to have an impact" or "to have an impact on" (Loose usage adversely impacts the language).
The graphs above suggest that the mid-60s usage mavens were bidding the impact tide retreat when it was merely swirling around their ankles. The disapproving editor in 2017 is …
Well, a journal is free to insist on any arbitrary style guide. Every paragraph must have a prime number of commas? Sure, if you say so. But the instruction to "try to avoid the word 'impact'" would be more persuasive if the same editorial message did not contain, 347 words later, the recommendation that in the Discussion section, "The focus should be on the impact of the findings on the field".
Update — I'm also puzzled about the concessive clause "unless it [the word 'impact'] is part of a proper name", since I can't think of any relevant proper names containing "impact". A personal name? Unlikely. A place name? Probably not. A business name? The USPTO lists 4079 trademarks involving some form of the word "impact", but a quick scan doesn't turn up any that seem likely to be mentioned in a scientific article. What am I missing?
Update #2 — a quick scan of Medline results turns up things like the "Arthritis Impact Measurement Scale" and the "Center for High-Impact Philanthropy", for which relevant mentions would presumably get a proper-name (noun?)  pass.
---