« previous post | next post »
This is a guest post by Reza Mirsajadi, who previously published a version on Facebook.
---
For much of my adult life, whenever I have had to defend the Iranian people to conservatives, they have fought back with the "Death to America" argument. This more or less amounts to "They [Iranians] want to kill us, they said so!" I am so fed up with these misconceptions, and the news media and translators need to take responsibility for their part in it.
As someone who does a lot of translating, I understand that there is an ethical component to the craft. People rely on your work to understand the Other. For this reason, cultural context is absolutely imperative. The "Death to ___" chant commonly heard in Iranian political protests for well over sixty years, is a mistranslation. Yes, the Farsi word "marg" can translate to "death," but "marg bar ___" translates to "Down with ___", as you can see in the lead photo for the Guardian article "Iranians turn out in force for rallies after call for Trump response", 2/10/2017: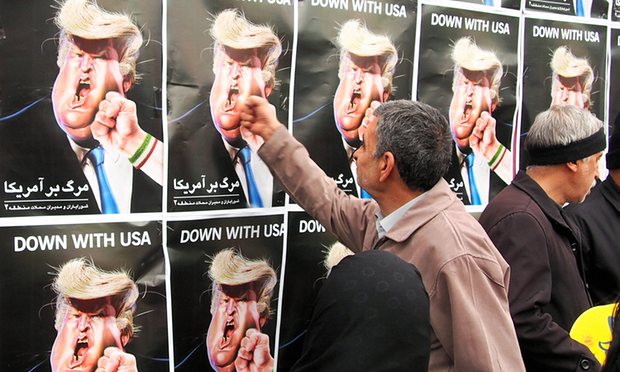 The Wikipedia article on the "Marg bar Âmrikâ" slogan shows a mural in Tehran with the same English translation: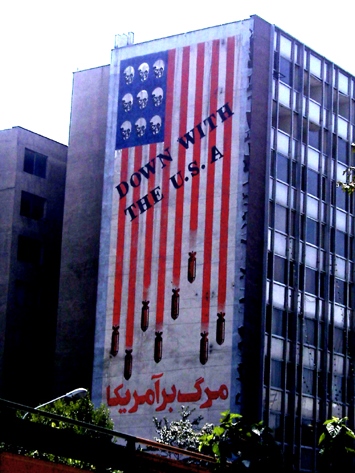 Furthermore, the "down with ___" chant as it is used today is not about a violent overthrow or physically harming the people of a nation. The phrase became popular during the Persian Constitutional Revolution (1905-1911), when political activists would chant "zende ba ___" ("long live ___") in support of a policy or leader, or "marg bar ___" in opposition. These two phrases became entrenched within Iranian political discourse, and during the Iranian Revolution of 1979, swarms of protestors took to the streets chanting "marg bar Shah" to express their dissatisfaction with Iran's monarchy. "Marg bar ___" and "zende ba ___" have continued to live on as colloquial phrases incorporated into political chants, and they have been appropriated to express opposition to or support for any number of subjects.
While the phrase "marg bar" has not made its way into most Farsi or Farsi-English dictionaries, it is commonly understood in Iran as an idiom without violent intent. In fact, the Farsi Wikipedia article for "marg bar America" explains that the phrase is not in reference to the American people or even the country as a whole, but instead discontent with American political policies and its intervention in the Middle East. When the Iranian people took to the streets last week to celebrate the anniversary of the revolution, the chants of "marg bar America" were not threats of violence or war, but rather anger over Trump's policies targeting Iranians and Muslims.
In covering that event, the 2/10/2017 Reuters article "Hundreds of thousands rally in Iran against Trump, chant 'Death to America'" follows in this tradition of Farsi-English translators for news media egregiously misrepresenting Iranian words and sentiments, which helps to engender the deep Islamophobia and hatred of the Middle East among much of the American people. The Guardian article that I cited earlier does a better job of representing the feelings of the Iranian people, although they still get some of it wrong. At least they address the fact that Iranians are deeply appreciative of the Americans who have come out in support of Muslims and opposed the immigration ban. And the New York Times' coverage of the event "Iran Celebrates its Revolution, and Thanks Some Americans" 2/10/2017, does an admirable job of changing the narrative on the phrase "marg bar ___" and conveying Iranians' true sentiments towards the American people.
---
The above is a guest post by Reza Mirsajadi.
---