« previous post | next post »
What is this woman saying, and where is she from?
Audio clip: Adobe Flash Player (version 9 or above) is required to play this audio clip. Download the latest version here. You also need to have JavaScript enabled in your browser.
For several American listeners, these have turned out to be surprisingly difficult questions. I'll give the answer and the broader context later today.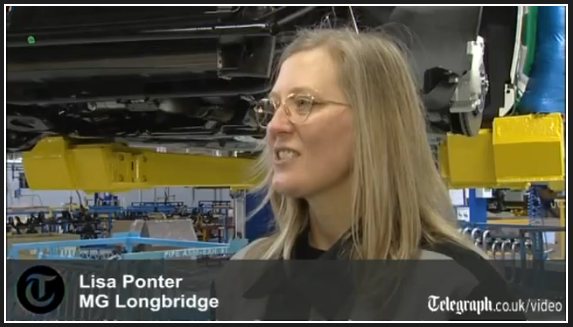 Update — but the answer was easy for many LL commenters, though there seem to be a few UK and even Brummie ringers in the set. This is from a video interview with Lisa Ponter at the re-opening of the MG production facility at Longbridge, from Caroline Gammell, "First new MG for 16 years rolls off Birmingham production line", The Telegraph 4/13/2011:
The 1.8 litre MG6 was designed and engineered in Britain, but some of its production has taken place in China.
It will vie for competition from the Volkswagen Golf and Ford Focus and costs between £15,500 and £19,000.
All the testing and engineering has been carried out at MG Birmingham, a factory built on the former Longbridge site which closed six years ago with the loss of 6,500 jobs.
Around 400 people now work on site, a fraction of those who worked for Rover at its peak.
The rest of Ms. Ponter's clip is here:
Audio clip: Adobe Flash Player (version 9 or above) is required to play this audio clip. Download the latest version here. You also need to have JavaScript enabled in your browser.
As several commenters understood, she starts by saying "((it's)) brilliant coming back, it's um it's great to see a car on the line".
---
[Many readers have written to ask about  Michael Dunn, Simon J. Greenhill, Stephen C. Levinson & Russell D. Gray, "Evolved structure of language shows lineage-specific trends in word-order universals", Nature published online 4/13/2011. I'll post something about it this evening, but meanwhile I can recommend the explanation that Russell Gray has put on the Austronesian Database website in Auckland.]
---