« previous post | next post »
The most recent xkcd illustrates the problem of multiple comparisons: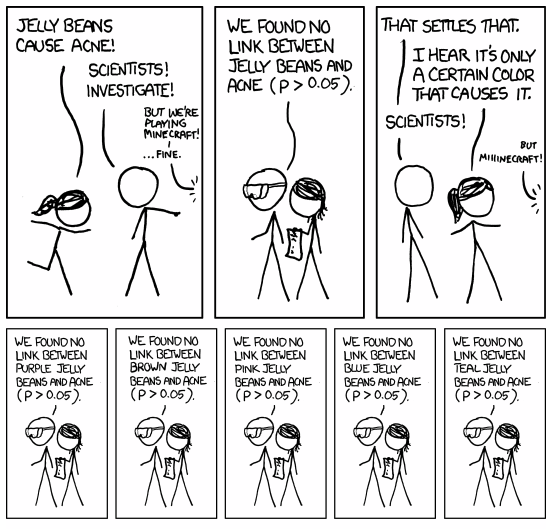 (As usual, click on the image for a larger version.)

After 14 more "not significant" results,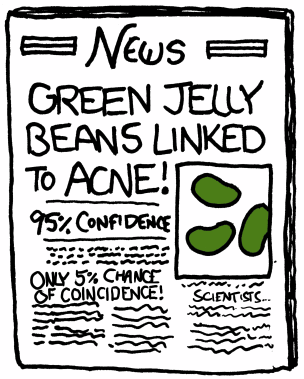 The mouseover title:
"'So, uh, we did the green study again and got no link. It was probably a–' 'RESEARCH CONFLICTED ON GREEN JELLY BEAN/ACNE LINK; MORE STUDY RECOMMENDED!'"
As Wikipedia explains,
The Dunn-Bonferroni correction is derived by observing Boole's inequality. If you perform n tests, each of them significant with probability β, (where β is unknown) then the probability that at least one of them comes out significant is (by Boole's inequality) ≤ n⋅β. Now we want this probability to equal α, the significance level for the entire series of tests. By solving for β, we get β = α/n.
Relevant background reading: M R Munafò et al., "Bias in genetic association studies and impact factor", Molecular Psychiatry 14: 119–120, 2009, discussed here.
Among R.A. Fisher's several works of public-relations genius, the greatest was the appropriation of the word significant to mean "having a low probability of occurrence if the null hypothesis is true".
Update — If you'd like to do a version of the jelly-bean experiments yourself, without cutting into your Minecraft time, you could try something like this (in R), which generates a couple of sets of random numbers (from an underlying distribution that never changes) and then tests the null hypothesis that the means of the two sets are equal.

NSAMPLES <- 15
NTESTS <- 100
pvalues <- 1:NTESTS
for(n in 1:NTESTS){
y1<- runif(NSAMPLES); y2 <- runif(NSAMPLES)
X <- t.test(y1,y2,var.equal=TRUE)
pvalues[n] <- X$p.value
}

Then sum(pvalues<0.05) turns out to be (the first few times I ran it) 7,7,6,7,3,4,5, …
In other words, about 5% of the time, the null hypothesis is estimated to have a probability below 5%. (We should resist the temptation to violate Charlie Sheen's trademark on "Duh".)
---