« previous post | next post »
Steven Hsieh, "Joking Around: We spoke with that Carlsbad city councilor with the sexist Facebook post", SF Reporter 1/24/2017 [emphasis added]:
Carlsbad City Councilor JR Doporto drew widespread criticism today after KOB 4 highlighted a Facebook post he wrote mocking women who participated in Saturday's nationwide demonstrations against President Donald Trump. […]
After angry comments rained down on his Facebook page, he doubled down on his jokes with additional posts. […]
We caught up with Doporto this afternoon on the phone to hear his thoughts. […]
Q: I don't think anyone is disputing that you have the right to say what you want to say. I guess the question was: The march was for women's rights. And the particular joke you made was disparaging towards women and some of the stereotypes you used were—it seemed you were thumbing your nose at what was taking place. Does that make sense to you?
A: Yeah, yeah. I was thumbing my nose at what was taking place. Enough already. Let's get on. Women have had rights for … years that I have been alive. I don't see no rights they don't have that a man has. When are they going to get on and move on? I believe if a Democratic president was elected, Hillary, I don't think we would've had those protests.
Karen Sumner, who sent me the link, commented: "This is likely an example of a simple and easily-recognized language thing to Language Log folks, but I scratched my head when I saw it. Still scratching, to be honest."
What's puzzling here is that negative concord is responsible for the second negation ("no rights"), but the third one ("don't have") is an independent aspect of the sentence's meaning — though it could also have been spread by negative concord.
Thus Bill Labov's celebrated example "It ain't no cat can't get in no coop" is equivalent to standard "There's no cat that can get in any coop", where negative concord has spread the negation not only to the object "no cat" but also (twice) into the relative clause "can't get in no coop". On that model, Mr. Doporto's "I don't see no rights they don't have that a man has" would be equivalent to standard "I don't see any rights (that) they have that a man has". And in context, that would be a definite head-scratcher.
But what seems to have happened is that Doporto indeed spread the negation to the object "no rights", but he already meant to put an independent negation on the relative clause "that they don't have". And he (for that reason?) he didn't spread negation to the second clause "that a man has". So what he meant, in standard formal English, would be something like "I don't see any rights that a man has that women don't also have".
This is logically consistent with the tweet that got him into trouble in the first place, since it refers to "rights" that women have that men presumably don't: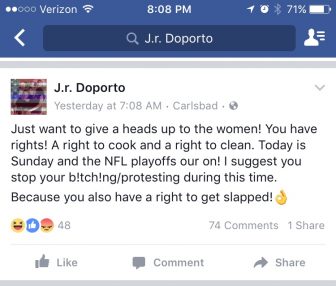 ---