« previous post | next post »
In comments on my post about Tim Pawlenty's recent Iowa performance, various people have raised the question of vowel quality ([i] vs. [ɪ]) as opposed to consonant place ([ŋ] vs. [n]) as a feature of the phenomenon commonly (though misleadingly) known as "g-dropping".
This issue, though part of the folklore of sociolinguists, has not gotten the attention that it deserves, perhaps because it doesn't fit gracefully into the traditional intuitive frameworks of the relevant fields. In particular, it involves three areas where the boundary between symbols and signals gets blurry: vowel reduction, vowel-consonant coarticulation, and consonant-consonant assimilation.
As a result, discussing the topic will take us on a trip through some odd corners of English phonetics, phonology, and sociolinguistics. So consider yourself warned.
Let's start with some background on the vowel distinction involved.
In stressed syllables, all (?) native varieties of English distinguish vowels in the FLEECE lexical set (which we'll represent symbolically as [i]) from vowels in the KIT lexical set (which we'll represent symbolically by [ɪ]). The distinction is marked by duration (e.g. [i] is longer than [ɪ], other things equal), and by vowel height and frontness (e.g. [i] is higher and fronter than [ɪ], other things equal).
We can measure duration in seconds (though there are subtle questions about where the boundaries should be). For vowel height, a useful proxy is the frequency of the first oral resonance (the "first formant", or F1), where lower F1 values correspond to higher vowels; for vowel frontness, a useful proxy is the frequency of the second oral resonance (the "second formant", or F2), where higher F2 values correspond to fronter vowels.
Thus the Merriam-Webster Online Dictionary pronunciations of mead and mid:
Audio clip: Adobe Flash Player (version 9 or above) is required to play this audio clip. Download the latest version here. You also need to have JavaScript enabled in your browser.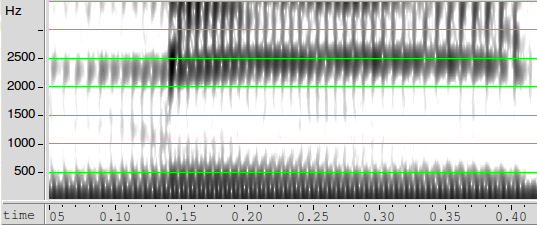 Audio clip: Adobe Flash Player (version 9 or above) is required to play this audio clip. Download the latest version here. You also need to have JavaScript enabled in your browser.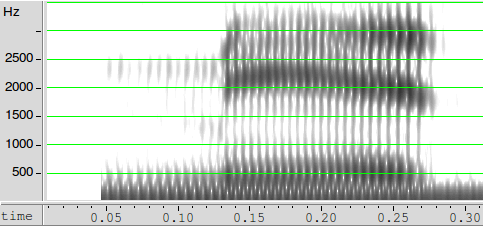 For these particular (hyperarticulated) performances, our proxy features have values something like these:
mead
mid
Duration
(from m release to t closure)
272
149
F1
272
396
F2
2442
2190
Of course, all of these dimensions are also affected by many other factors. Thus duration is affected by things including speech rate, phrasal position, emphasis, and syllabic context. And formant frequencies — the usual (and best) quantitative proxy for vowel quality — are affected in a major way by many things, including individual vocal tract size, articulatory effort, and local context. If your head is bigger, your vocal-tract resonances will be lower, for straightforward physical reasons. If you articulate your vowels and consonants in a weaker way, moving your jaw and tongue and lips less far away from a neutral position, the corresponding resonances will also tend to stay closer to neutral values, i.e. to be "reduced". And your jaw and tongue and lips don't move instantly from one position to another, but are required by basic considerations of anatomy, physiology, and physics to transit through all the intermediate positions, so that the corresponding sounds also show the same transitions.
All of these effects are fairly large, as we'll see, and so we either need to make comparisons that somehow hold constant everything we aren't interested in, or (more realistically) we need to model the effects and their interactions. But before we get to that, there's a crucial problem in the case of -in' vs. -ing — we're talking about unstressed syllables.
Unstressed syllables in English retain only a very limited set of phonological oppositions. In stressed syllables, there are more than a dozen alternative vowels. Depending on how many mergers your dialect has, and how you count diphthongs and combinations with /r/ and /l/ and so on, there might be twice that number — John Wells gives 24 "lexical sets" based on vowel pronunciation in stressed English syllables. But in (fully) unstressed syllables, this set of alternatives is radically reduced, Leaving out interactions with /r/ and /l/, there are at most three, as distinguished e.g. in Minna, Minnie, minnow.  And in many contexts, there's only one option, at least for many speakers.
Thus some people are said to distinguish the second vowel in Alice from the second vowel in Dallas (the first being a bit higher and fronter, the second being lower and backer). I don't make this distinction, and I'm somewhat skeptical that anyone maintains it in non-hyper-articulated speech. In any case, minimal pairs involving vowels in unstressed closed syllables are somewhere between few and non-existent — and there are certainly no words in which /i/ contrasts with /ɪ/ in such a context.
So we have common, whose second vowel has a range of pronunciations that might license the use of symbols like [ə], [ɪ], [ʌ], etc., depending on the speaker, the context, and the phase of the moon. But unlike the case of e.g. pit, putt, pet, put, pat, Pete, etc., there are no other words that can be identified by making a different choice to fill in the blank in /ˈka.m_n/.
In particular, in the American dialects under discussion at least, there are no monomorphemic words that end in unstressed /in/, i.e. the vowel of the FLEECE lexical set followed by final /n/.  Certainly there's no possibility of a contrast between a word like this and one where the /n/ is preceded by a vowel of the KIT lexical set. So how could it be that some people have such an opposition as alternative realizations of the gerund-participle ending -ing? Well, hang on, we need to get back to those other influences on vowel quality.
Here are audio clips and spectrograms from the Merriam-Webster online dictionary's pronunciations of bid and big:
Audio clip: Adobe Flash Player (version 9 or above) is required to play this audio clip. Download the latest version here. You also need to have JavaScript enabled in your browser.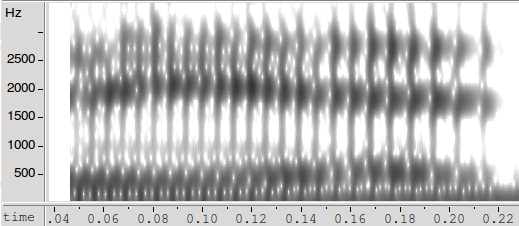 Audio clip: Adobe Flash Player (version 9 or above) is required to play this audio clip. Download the latest version here. You also need to have JavaScript enabled in your browser.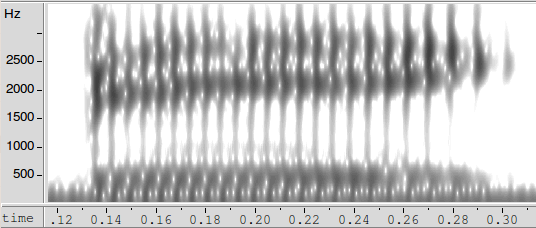 In the middle of this performance of  big, the F2 is around 2080 Hz; in the middle of this performance of bid, F2 is around 2040. These are not meaningfully different from each other, and within the expected range of variation (see below) of the 2190 Hz that we observed above in the same speaker's pronunciation of mid.
But by the end of the syllable,  big's F2 is at 2370 Hz while  bid's F2 is at 1735 Hz, as a result of coarticulation with the final consonants [g] and [d] respectively — the tongue has to move smoothly from the position appropriate for the vowel to the position required to make the consonantal closures in the right places. The resulting difference of 635 Hz in the vocal-tract resonance near the consonant closure is more than twice as big as the difference of 252 Hz observed between the mid-vowel F2 values of mead and mid.
And the transition lasts around 60 msec. in the case of big, and nearly 100 msec in the case of bid. In ordinary speech in the middle of a sentence, the whole duration of the vowel in big or bid, from the release of the [b] to the closure of the code consonant, is likely to be in that same range.
For a more qualitative visual comparison, I've flipped the spectrogram for big horizontally, and placed it so that so that the end of bid is visually adjacent to the end of big:

For a more systematic comparison of the scale of this effect with the scale of typical differences between [i] and [ɪ], take a look at this data from J.M. Hillenbrand et al., "Acoustic characteristics of American English vowels", Journal of the Acoustical Society of America, 97 (1995). I've plotted the distribution of F1 and F2 measurements for careful citation-form pronunciations of [i] and [ɪ] by 278 men, women, and children. Capital M, W, and C are performances of the FLEECE vowel by men, women and children respectively; lower-case m, w, and c are performance of the KIT vowel.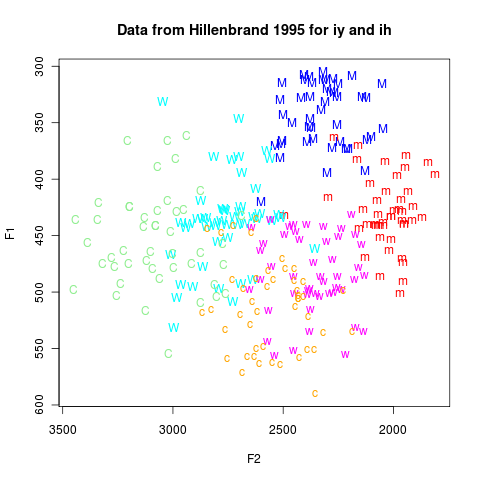 As you can see, a 500 or 600 Hz difference in F2 — as was caused by coarticulation with final [d] vs. [g] — is in the same range as the expected difference for male speakers' distinction between [ɪ] and [i].
So it's absolutely expected to find a large F2 difference in the coarticulated region of the vowel in a final syllable before a velar nasal as opposed to a coronal nasal, an F2 diference that's roughly as big as the difference between [i] and [ɪ] might be. Furthermore, in an unstressed -ing syllable in the middle of a sentence, the vowel is likely to be so short that the whole thing is coarticulated. Thus we expect to see a significant average difference in measured vowel quality between cases where the morpheme spelled -ing is realized with a velar nasal and cases where it's realized with a coronal nasal — just because of the expected coarticulatory effects.
And there are a couple of other relevant facts about English pronunciation in context. Final nasal consonants may assimilate in place of articulation to a following onset. Thus the /n/ of  in in "in principle" is likely to become [m] in fluent speech.  And syllable-final nasals may be manifested in fluent speech only as nasalization of the preceding vowel, with little or no phonetic residue of the nasal murmur that we think of as a nasal consonant.
Putting all of these things together, it seems that some speakers have re-analyzed the -ing vs. in' distinction as involving a difference in vowel quality. For some people, this may be a redundant feature that simply establishes the coarticulatory difference as a fact about lexical representations rather than a fact about phonetic performance. For others, it may have become the primary or even the only exponent of the "g-dropping" difference. And still others, it seems, may have settled on a  lexical representation for -ing that combines the higher F2 of the velar-nasal version with the consonantal place of the coronal-nasal version.
I used "seems" and "may" repeatedly in the previous paragraph because (as far as I know) there are no systematic studies of this range of phenomena. As I mentioned, it's part of the folklore of sociolinguistics that the [in] pronunciation exists, and that it's (apparently) not stigmatized in the way that the [ɪn] pronunciation is, and that in fact it may be heard as [ɪŋ] or [iŋ] and even transcribed that way in some studies. But given how much attention has been (for good reasons) given to g-dropping, it's odd that this angle has been so neglected.
---