« previous post | next post »
In a comment on "Pawlenty's linguistic southern strategy?", Jonathan Mayhew asked
Does anyone else hear him say "gitting the job done"? Is that a Southern thang?
First, it's certainly true that the stressed vowel in Mr. Pawlenty's performance of getting is higher and fronter than we'd expect for an IPA [ɛ] — and in fact, it's not only higher and fronter than (most of?) his other vowels in the DRESS lexical set, it's higher and fronter than (most of?) his other vowels in the KIT lexical set. Here for comparison are three excerpts from his peroration:
And a comparison of spectrograms — the stressed vowel in getting has got a much higher F2 than either of the other two vowels, and a somewhat lower F1 than the vowel in settling, so that a greater separation of F1 and F2 is evident in the region between them: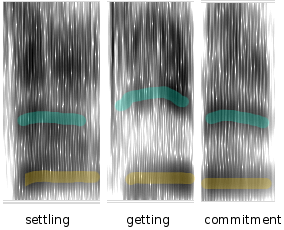 Though one comparison isn't enough to settle the matter, I think it's plausible that in this specific passage, Mr. Pawlenty is fronting and raising the stressed vowel in getting in a special way, for the same reason that he "dropped the g's" in goin', rollin', and plowin', and for the same reason that he used ain't instead of isn't — these choices give the impression of resolute toughness, by evoking the norms of working-class male American speech:
Valley Forge wasn't easy,
settling the west wasn't easy,
winning World War Two wasn't easy, goin' to the moon wasn't easy –
this ain't about easy.
This is about rollin' up our sleeves,
plowin' ahead and getting the job done.
But as for whether this is a "Southern thang", that's more complicated.  Raising of /ɛ/ has been widespead across places and times in the history of English, as the word "English"  itself illustrates.  Get is sometimes spelled "git" in the records of the Salem witch trials from 1692 in New England (which also have "fitcht" (for fetched), "divell", "blised", "tistimony", "till" (for tell), etc.  The Complete Works of James Whitcomb Riley, an Indianan who wrote poems and stories in 19th-century Hoosier eye-dialect, have 39 instances of "git" and seven of "gittin'", e.g.
Dogs, I contend, is jes' about
Nigh human — git 'em studied out.
And closer to (Mr. Pawlenty's) home, Child's History of Waseca County, Minnesota (1913) has this at the start of its chapter on 1872:
The year 1872 opened on Monday with the usual happy greetings and family reunions. "Josh Billings" once commanded as follows:
"Git out your brand new cutter,
And git your gal's consent,
Hitch up Dobbin or some other kritter,
And let the animal went."
The wheat market opened favorably the first of the year, the price ranging from $1 to $1.05.
So  it's quite possible that the speech community that Mr. Pawlenty grew up in has [gɪt] for get in casual registers, as a lexical feature of that particular verb form if not as part of a more general pattern of /ɛ/-raising. (Someone who knows more about the speech of that community may be able to enlighten us.)  But in any case it's likely that he shares with most Americans the opinion that plain-spoken tough guys, southern or not, aim to "git 'er done".
---