« previous post | next post »
A friend of mine who does research on the history of tea in China recently shared the following photo in a WeChat group that focuses on Chinese food culture: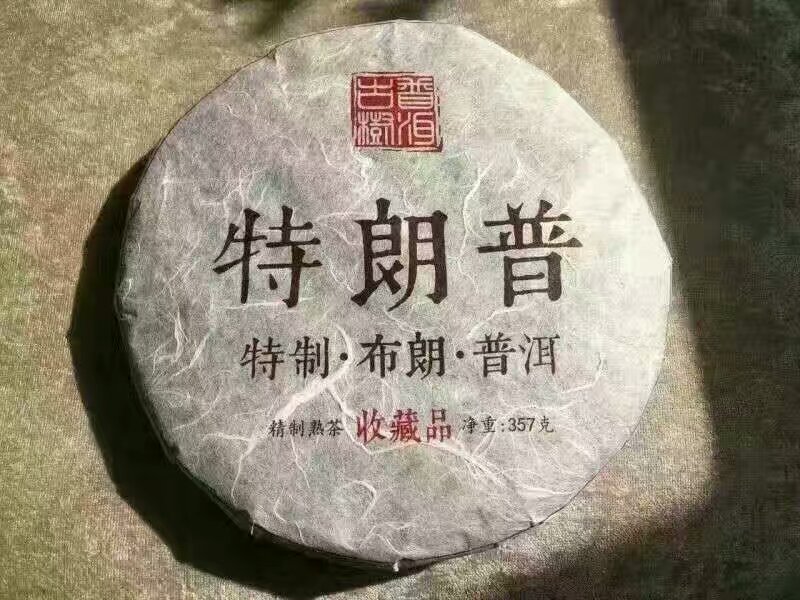 Here is a complete translation of all the writing on the wrapper:
[red seal at the top]
Pǔ'ěr gǔshù
普洱古樹
Pu'er ancient tree
Note:  Pu'er / Pu-erh is a type of fermented tea produced in Yunnan province.  During the first decade of this century, it became very fashionable and in some cases extremely expensive.  Most domesticated, commercially marketed tea grows on waist-high bushes (convenient for harvesting!), but the tea plant (Camellia thea / Camellia sinensis) in the wild in its original homeland (roughly northeast Assam, northeast Burma, southernmost Yunnan, and northwest Laos) takes the form of a tree that may grow up to several tens of feet in height.  Some tea trees are hundreds of years old, and leaves from such old trees are especially prized.  I have some in my cupboard right now, and I parcel it out like gold, drinking one cup every two months or so.
Tèlǎngpǔ
特朗普
Trump
Note:  Language Log discussions of Chinese transcriptions for Trump's surname may be found here and here.
tèzhì ‧ Bùlǎng ‧ Pǔ'ěr
特制 ‧ 布朗 ‧ 普洱
special ‧ Bulang ‧ Pu'er
Note:  Bùlǎng 布朗 is the Chinese transcription of "Blang", which is the name of an ethnic group in southern Yunnan and the language they speak (related to Wa).  The Blang and the Wa are Mon-Khmer speakers who have the deepest and most intimate relationship to the tea plant, its name, and its usage (See Victor Mair and Erling Hoh, The True History of Tea, Appendix C).  The first character of the first word, the second character of the second word, and the first character of the third word form the Chinese transcription of the name "Trump".
jīngzhì shúchá
精制熟茶
fine fermented tea
shōucáng pǐn
收藏品
collector's item
Note:  This product was packaged in November, 2016 or later, so the stocks of pu'er tea they used must have begun the fermentation process long before that (ten years, to be more precise [see the article cited below]).
jìngzhòng 357 kè
净重 357 克
net weight 357 grams
Within this article (in Chinese) there is a brief description of the tea and how the tea merchants have been promoting it.  Incidentally, it sells for 750 yuan (US$108).
[Thanks to Matt Anderson, Daan Pan, and Jichang Lulu]
---