« previous post | next post »
Following up on Wednesday's Dinosaur comics post, Lera Boroditsky wrote:
Mark – Thanks for suggesting an important new research direction for my lab in your post yesterday.  Grammatical sexual orientation markers are definitely the next frontier.
In exchange, I offer an essay by Jakobson, which is brilliant, and not just because it begins with a meditation on the meaning of cheese. We recently tested his claim that personification in art correlates with grammatical gender.
The essay in question is Roman Jakobson, "Linguistic Aspects of Translation", in R. A. Brower, Ed., On Translation, 1959.  Jakobson's ruminations on cheese start with a reference to Bertrand Russell: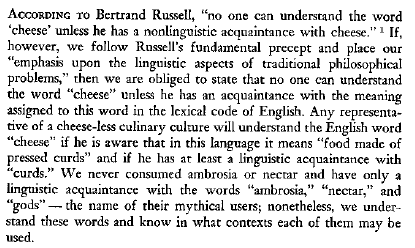 His opinions about grammatical gender and personification are here: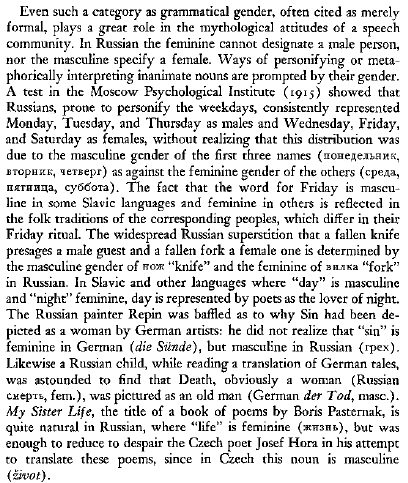 And the recent test that Lera mentions was published as Edward Segel and Lera Boroditsky, "Grammar in Art", Frontiers in Cultural Psychology, 2011. Its abstract:
Jakobson (1959) reports: "The Russian painter Repin was baffled as to why Sin had been depicted as a woman by German artists: he did not realize that 'sin' is feminine in German (die Sünde), but masculine in Russian (rpex)." Does the grammatical gender of nouns in an artist's native language indeed predict the gender of personifications in art? In this paper we analyzed works in the ARTstor database (a digital art library containing over a million images) to measure this correspondence. This analysis provides a measure of artists' real-world behavior. Our results show a clear correspondence between grammatical gender in language and personified gender in art. Grammatical gender predicted personified gender in 78% of the cases, significantly more often than if the two factors were independent. This analysis offers a new window on an age-old question about the relationship between linguistic structure and patterns in culture and cognition.
---