« previous post | next post »
Several readers have sent me links to a recent headline: Anthony Shadid, "Qaddafi Forces Bear Down on Strategic Town as Rebels Flee", NYT 3/10/2011.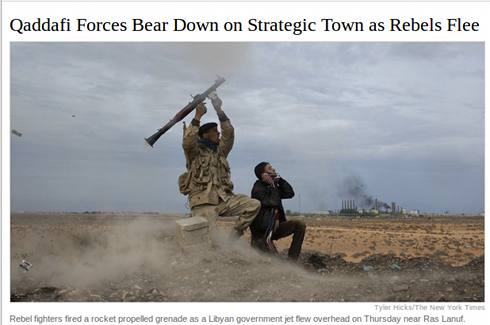 The obligatory screen shot is here.
As everyone observes, this is the mildest kind of crash blossom.  But Federico Escobar asks "Who would've guessed Qaddafi had hidden talents as a bear wrestler?" And Rick Rubenstein notes "I'm not sure exactly how you force a bear down, but I'm sure it make *me* flee."
This is not the first ursine crash blossom, and I'm sure it won't be the last:

Update — There are no bears in Jennifer Steinhauer, "Cuts to Head Start Show Challenge of Fiscal Restraint", NYT 3/10/2011. But David Walker writes "Cuts to Head? What? Who got cuts to their head? Then "Start Show" tripped me up, so I had to start over."

When you start with a language where most nouns can be verbed and vice versa — especially the shorter ones — and you add the constraints of headlinese, it's surprising that any headlines *aren't* crash blossoms.
---