« previous post | next post »
Clark Whelton  ("What Happens in Vagueness Stays in Vagueness: The decline and fall of American English, and stuff", The City Journal, Winter 2011) has an unusually precise idea about when American English went to the dogs:
[It] began in the 1980s, that distant decade when Edward I. Koch was mayor of New York and I was writing his speeches. The mayor's speechwriting staff was small, and I welcomed the chance to hire an intern. Applications arrived from NYU, Columbia, Pace, and the senior colleges of the City University of New York. I interviewed four or five candidates and was happily surprised. The students were articulate and well informed on civic affairs. Their writing samples were excellent. The young woman whom I selected was easy to train and a pleasure to work with. Everything went so well that I hired interns at every opportunity.
Then came 1985.
And he also has an unusually specific theory about what went wrong: it was the triumph of linguistic childishness.
I was baffled by what seemed to be a reversion to the idioms of childhood. And yet intern candidates were not hesitant or uncomfortable about speaking elementary school dialects in a college-level job interview. I engaged them in conversation and gradually realized that they saw [this] not as slang but as mainstream English. At long last, it dawned on me: [This] was not a campus fad or just another generational raid on proper locution. It was a coup. Linguistic rabble had stormed the grammar palace. The principles of effective speech had gone up in flames.
Finally, Mr. Whelton has a overall diagnosis of the problem with immature language: it's vague and lacking in details:
I recently watched a television program in which a woman described a baby squirrel that she had found in her yard. "And he was like, you know, 'Helloooo, what are you looking at?' and stuff, and I'm like, you know, 'Can I, like, pick you up?,' and he goes, like, 'Brrrp brrrp brrrp,' and I'm like, you know, 'Whoa, that is so wow!' " She rambled on, speaking in self-quotations, sound effects, and other vocabulary substitutes, punctuating her sentences with facial tics and lateral eye shifts. All the while, however, she never said anything specific about her encounter with the squirrel.
Uh-oh. It was a classic case of Vagueness, the linguistic virus that infected spoken language in the late twentieth century. Squirrel Woman sounded like a high school junior, but she appeared to be in her mid-forties, old enough to have been an early carrier of the contagion. She might even have been a college intern in the days when Vagueness emerged from the shadows of slang and mounted an all-out assault on American English.
So up to and including the class of 1984, American youth were articulate and well informed, able to present particular facts in proper English. In contrast, those who graduated from college in 1985 and later have abandoned the standard formal language in favor of an infantilized idiom whose key characteristic is its lack of specificity.
There are several odd things about the theory behind this amusing jeremiad. One is the notion that (linguistic) maturity corresponds to specificity. In fact, the narratives of real children are typically full of detail. The use of appropriate summarizing abstractions develops later, as I understand it; and the ability to speak at length without saying anything concrete at all is mastered fully only by mature politicians and their speechwriters.
But the oddest thing, I think, is the temporal specificity. Apparently Mr. Whelton came across a bad patch of interns in 1985, and inferred that this was due to a shockingly sharp generational change (rather than, say, the day of the week or the ambient weather). But (somewhat better documented) claims of  (somewhat less sharp) generational changes in writing ability don't start with the college class of 1985. Thus  Daniel J. Dieterich ("The Decline in Students' Writing Skills", College English 38(5): 466-472) interviewed two experts in college writing instruction:
Q: Are student writing skills declining?

LUTZ: I think so. We have been giving placement tests to entering freshman students for five years now, and each year the composite scores have declined. The test is composed of the Houghton Mifflin College English Placement Test, a standardized writing test, and an essay test which is graded by a faculty member of the English department and by a second independent grader if the first grader has any doubts whatsoever about how the paper should be graded. Scores have been going down disastrously across the board, both for students coming from very good high schools and for students from very bad high schools. There are other indications of this decline as well. Fordham, for example, now runs a large remedial writing program. According to the ADE Bulletin, the University of Chicago also now runs a remedial program. And Harvard has just instituted the position of Director of Expository Writing Programs. I think someone has called it "remedial writing for the advantaged student."

WHITE: I do think such a decline has taken place. I think every observer American education is aware of that, and that evidence for it is in everyone's experience, in test scores, and in the generalized concern among faculties-by no means only English faculties-about the obvious signs of decline. There are several national examinations which have kept records on scores and which show consistent declines over the last couple of decades. What has brought the decline home to me personally is the fact that my own freshman composition textbooks, which were once widely used in freshman composition courses, now seem to be used often in advanced composition courses. To me that is a pretty telling indication.
The year of the interviews? 1977, before Ed Koch was elected to his first term as Mayor of New York.
A few years earlier, we find that Montesquieu's Pensées Diverses includes this observation: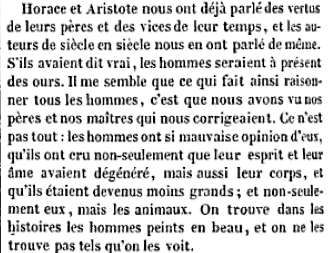 Horace and Aristotle have told us of the virtues of their fathers and the vices of their own time, and authors down the centuries have done the same. If they were right, men would now be bears. […]
Apparently a major ursine transition in fact occurred at some point during the 1984-1985 academic year.
---