« previous post | next post »
From John Allison's Scary Go Round for 12/23/2016: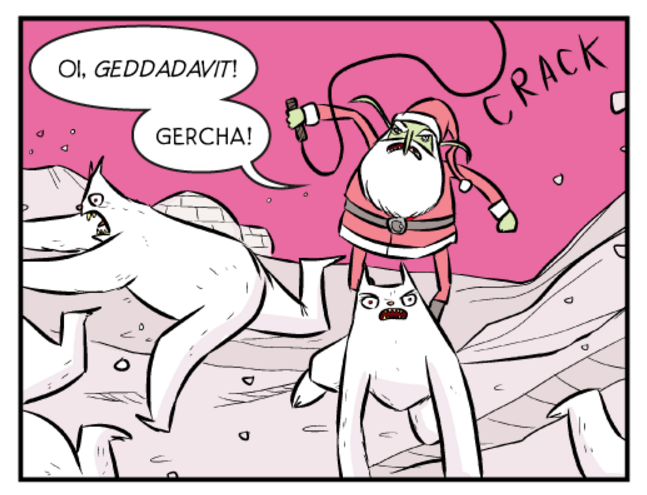 I'm trying to reconcile two apparently-incompatible pieces of knowledge, while simultaneously admitting to a scandalously inadequate knowledge of British dialectology:
"Flapping and voicing" (as in liter==leader and at all==ad all) is an American characteristic
Eye dialect of British origin often has things like get out of it==geddadavit
I get that there's a class difference between the sort of people who pronounce the /t/ in Peter as a voiceless unaspirated stop (so that it almost sounds like "pizza" to Americans), and the sort of people who pronounce it as a glottal stop.
But where does get out==geddout come in? Is it that the glottal stoppers do flapping and voicing of intervocalic /t/ before word boundaries? That would provide part of the explanation for "innit". Or is get out==geddout a different group entirely?
There's doubtless an extensive literature on this question, probably going back to Henry Sweet, but I seem to have missed it somehow.
Update — Responding to Sidney Wood in the comments:
It's plausible that some of the settlers of North American brought flapping and voicing with them. What I'd like to understand, and don't, is the historical, geographical, and social interaction among flapping, voicing, glottalization, and deletion of non-onset /t/, and the relation to lenition phenomena for other places and manners of articulation.
And Jarek Weckworth offers a partial answer from Wells (1982: 324-5) — which I ought to have checked:
"Indeed, there is another variant which also has a strong claim to be considered 'typically Cockney', namely the voiced tap (T Voicing, vol. 1, 3.3.4) [r], as [ˈbʌɾə] butter, [ˈʃæəɾɪd] shouted. It is also common intervocalically across word boundaries where the syntactic linkage is close: [(ˈ)ʃʌɾˈʌp] shut up, [ˈgɒɾɪʔ] got it. The use of [ɾ] appears to be connected with the rate at which the person is speakiɾg, since [ɾ] does not occur in slow speech, in hesitation, or before pause. Interestingly, though, Sivertsen claims that this alveolar tap (or 'flap', as she calls it; she writes it [t̬]) is regarded by her Bethnal Green informants as 'the normal, "correct" variant' (1960: 119); she continues, 'the alveolar stop, at least when it is strongly affricated in [the environment 'V V], is looked upon as being too "posh" for a Cockney to use: [ˈbetˢə] better is "posh", [ˈbet̬ə] is normal, and [ˈbeʔə] is "rough"'."
 From this it follows that it's in "competition" with glottalization in some positions. Some people would understand it as "free variation" but of course there isn't such a thing as free variation IRL. Maybe speech rate is indeed the main factor. I'm not aware of studies investigating this in London…
The Sivertsen reference is Eva Sivertsen, Cockney Phonology, Oslo Studies in English 8, 1960. Our library has a copy, which I look forward to reading.
I've also found out about Susan Fox, The New Cockney:  New Ethnicities and Adolescent Speech in the Traditional East End of London, Springer 2015, which I've requested via interlibrary loan.
---