« previous post | next post »
Many's the time that we have encountered biscriptalism in the Sinosphere and elsewhere (see here, here, here, and here).
Now Jenny Chu has sent in this photograph of an interesting ad, currently in Hong Kong's MTR, which fuses Japanese- and Korean-appearing lettering with English, presumably in order to seem in touch with the latest trends.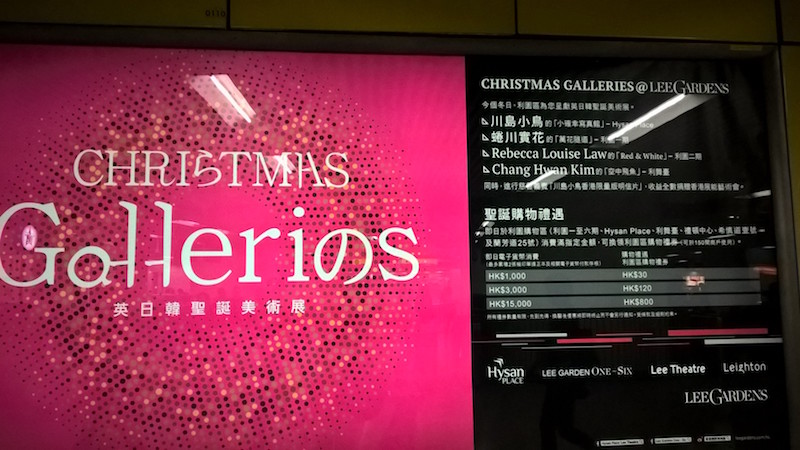 One often encounters the Japanese kana "no の" mixed in with characters in Taiwan and Hong Kong, but here we have it masquerading as a tilted and reversed English "e", together with "ra ら" standing in for "S".  Even more striking, the "A" of "CHRISTMAS" and the "-all-" of "Galleries" are made to look like Hangul, giving the effect of triscriptalism in two English words.
When I first showed this to a Korean colleague, she couldn't see the Korean at all, only the Japanese.  Then I asked her to take a closer look, and she wrote back:
You are right! Now I see the Korean vowels there:
ㅏ a (Revised Romanization) in -MAS
어ㅓ eo (Revised Romanization) in Gall-
No wonder I did not recognize them at first!  We have a vowel ㅣi (RR) and I wonder why they used ㅓ instead of ㅣfor English l.
A Japanese colleague observed that the kana and the hangul are meant to "serve as eye-catchers".
Comment by Nathan Hopson:
I'm not sure what to think.
There's nothing special about either of the characters.
Like the Hangul, the use of hiragana is just decorative and supposed to suggest the theme of English-Japanese-Korean fusion.
On the other hand, using の for "e" is a stretch; I think it's why I kept feeling like the word was "Cheerios," not "Galleries." But that's probably just me.
I did find it interesting that Hangul and hiragana were placed in the same "foreign alphabet" category, and starkly contrasted against "our" hanzi.
Whither the Sinosphere? And wasn't HK a British colony until recently…?
This is an advertisement for the following:
Yīng-Rì-Hán shèngdàn měishù zhǎn 英日韓聖誕美術展
("British, Japanese, and Korean Art Exhibition")
So one can understand why the graphic arts designers chose the triscriptal lettering they did, though there are bound to be different opinions on how successful they were
[Thanks to Hiroko Sherry and Haewon Cho]
---