« previous post | next post »
Signs with Chinese on them have begun to appear in the Cairo demonstrations. Here is a protester whose sign combines Chinese and two varieties of Arabic: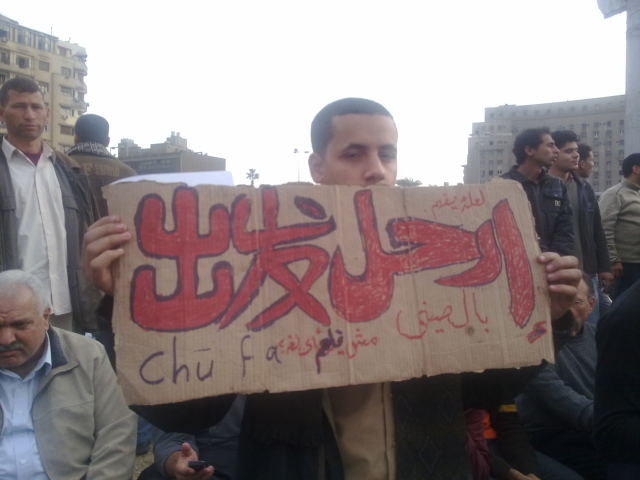 TOP, in Modern Standard Arabic:
Li'allahu yafhamu irhal bi'l-sini
"Maybe he will understand IRHAL in Chinese"
Then comes the Chinese 出发, which is phonetically annotated with Pinyin, chūfā (tone mark missing on second syllable). I shall discuss the meaning of the Chinese word below.
BOTTOM, in colloquial Egyptian (the verb is overwritten in blue ink):
Mish fahim ayyi lugha!
"He doesn't understand ANY language!"
Some Westerners have speculated that the protesters are using Chinese on their signs to reach out to the Chinese people, presumably wishing to spread the wave of democracy now washing over the Arab world. Most Egyptian acquaintances, however, consider that to be naive, wishful thinking. As one Egyptian correspondent wrote: "Nothing to do with spreading democracy to China. Just sarcasm and humor about Mubarak's inability to 'understand' Arabic and understand what the protesters have been telling him: "To leave". Some signs say that maybe Mubarak only understands Hebrew, etc. Other signs 'explain' to Mubarak that "Irhal in fusha means Imshi in colloquial." In other words, "amscray," "get out," or, more politely, "leave."
The Chinese expression is actually not the right choice of word for what the Arabic and English mean. Chūfā 出发 means "leave" only in the sense of "depart," not "step down from a position." Here are possible Chinese expressions that might have been used instead of chūfā 出发:
lízhí 离职 (leave one's position)
xiàtái 下台 (step down from office)
círèn 辞任 (resign)
cízhí 辞职 (resign)
chūzǒu 出走 (leave, flee, run away)
gǔndàn 滚蛋 (scram; get out; beat it; lit., "roll out of here like an egg")
[this last expression is perhaps too crude and derogatory to be used under present circumstances, but if Mubarak doesn't step down within another week or so, some frustrated demonstrators who know Chinese might well resort to it]
Another sign is all in Chinese (there is some faint Arabic writing at the top that I cannot make out clearly):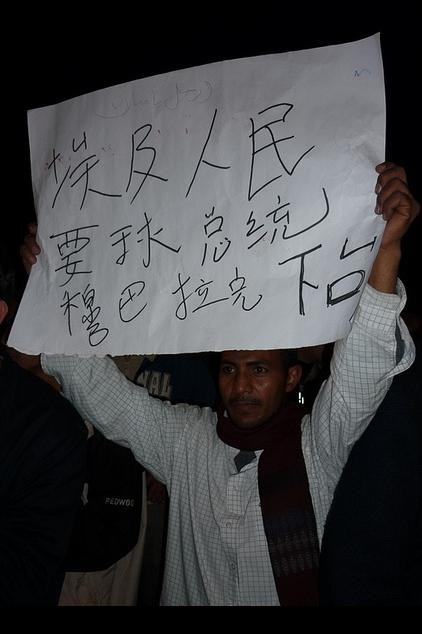 Āijí rénmín yāoqiú zǒngtǒng mùbālākè xiàtái 埃及人民要求总统穆巴拉克下台
"The Egyptian people demand that President Mubarak step down".
I would say that the calligraphy on the poster is quite respectable for a non-Chinese, especially for writing on such a large scale. There are a few errors (I won't point out all of the minor problems that a teacher of first- or second-year Chinese might correct on student homework), such as the miswriting of the -qiú 求 of yāoqiú 要求, the missing cross stroke at the top of -kè 克, and the wrong position of zǒngtǒng 总统 (president — it should come after Mubarak's name, not before it).
Still, questions remain for this second sign: to whom is it directed? what is its purpose?
[Thanks are due to Anne Henochowicz, Paul Cobb, Shawkat Toorawa, Grace Wu, Maiheng Dietrich, Melvin Lee, Liwei Jiao, and Yunong Zhou]]
---