« previous post | next post »
Victor Steinbok has called my attention to "halogen taste-flavor dried tofu" made in China.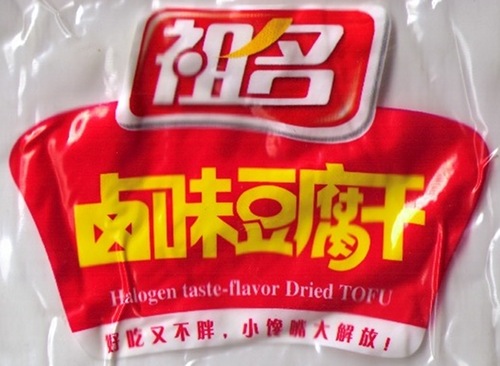 This sounds really strange,  since the halogens (fluorine [F], chlorine [Cl], bromine [Br], iodine [I], and astatine [At]) are toxic when used improperly. In any event, they do not seem to be the sort of thing that one would want to flavor one's bean curd with.

On this page of Cultural China entitled "How to Make Tofu", it states that "Halogen is needed to change the colloid liquor into tofu, and we usually use bittern or gypsum to do it." Under the section on "Smelly Tofu" of the same page, we find that "halogen treatment" is one of the ways to process bean curd.
It seems that, in these two different sections ("How to Make Tofu" and "Smelly Tofu"), "halogen" is being used for two entirely different meanings. The first use of halogen must be intended simply to designate salts such as calcium sulphate or magnesium chloride, which are used to coagulate soymilk. The second usage, however, is mystifying and requires further investigation.
My initial forays into the literature on halogen only increased my wonderment, what with such bizarre instructions as this: "morning and evening to be boiling again, 'Irazu' generally 15 days for a flash."
The page on "How to cook 'stinky' tofu" also calls for halogen, but the instructions are such as to leave one's head spinning. The recipe begins thus: "'Stinky' tofu points South Pine and North Pine. North School is the fermented bean curd. Southern Pine is the tofu into the brine in the brine taste income, made of 'stinky' tofu. 'Stinky' tofu production method is very strange."
Indeed! Here's where the halogen comes into play: "'Stinky' tofu, its name is not the United States, outside the ugly Neixiu, flat in see odd, charming style. The choice of materials, with halogen."
Yes, truly so! Now for the spices: "the preparation of halogen stem mold Klein 5000 grams, 1,500 grams of vegetable oil, a dish of spicy at the end." Oh, now I'm getting lost.
My brother Thomas suggested that, since this is all about stinky / smelly tofu, perhaps there has been some confusion between halogen and halitosis. He changed his mind, however, when he discovered this site that offers halogen barrels for making tofu, speculating instead that halogen here "might just refer to the off-gassing during tofu production."
Here's a person eating a piece of so-called halogen-flavored dried bean curd (note the effect that it has on one's lips):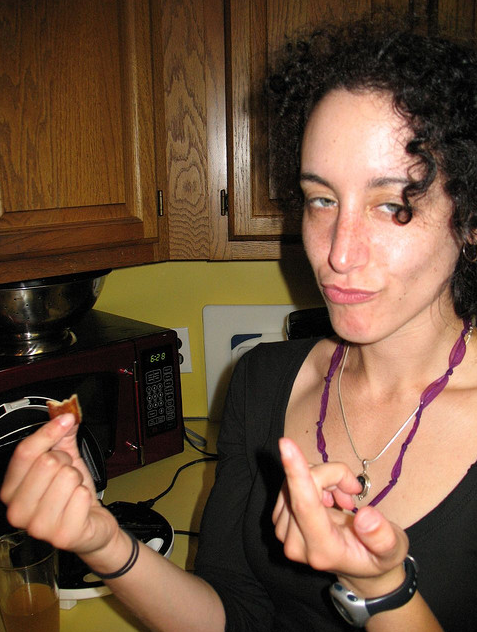 There are a couple of photos of halogen-flavored dried tofu being dissected here: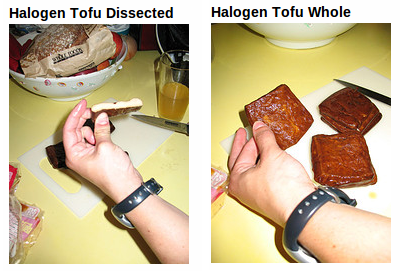 Looking at the Chinglish literature on halogen and tofu has only increased our puzzlement about what "halogen-flavored tofu" might actually be. We could have saved ourselves a lot of trouble by simply looking at the Chinese equivalent of "halogen-flavored tofu." As soon as one does that, the problem is instantly solved.
The package pictured above has, against the English "Halogen taste-flavor Dried TOFU," Lǔwèi dòufu gān 滷味豆腐乾, or as it actually appears on the package in simplified characters, 卤味豆腐干.  Lǔwèi 滷味 does *not* mean "halogen-flavored"; it means "braised-flavored," where the braising liquid would include such flavorings as soy sauce, star anise, scallions, and so forth.
But how did halogens get involved? Simple: the character lǔ 滷 (also written 鹵), has three main meanings: bittern, halogen; thick sauce; braise, stew. The lǔ 滷 flavor of the dried tofu in question should be rendered as "braised" or "stewed," not "halogen." At least they did not call their product "Halogen-flavored tofu fuck (gān or gàn 干 ["dry / fuck / do / pole"])," which might well have happened from over reliance on faulty translation software, as has been amply documented on Language Log, e.g. here.
[A tip of the hat to Michael Carr]
---