« previous post | next post »
On Saturday the 26th, Yixue Yang and I went to the Ting Wong Restaurant in Philadelphia's Chinatown. I took one look at the menu and knew right away that the first thing I wanted was the second item on the menu, the Congee with Chopped Beef.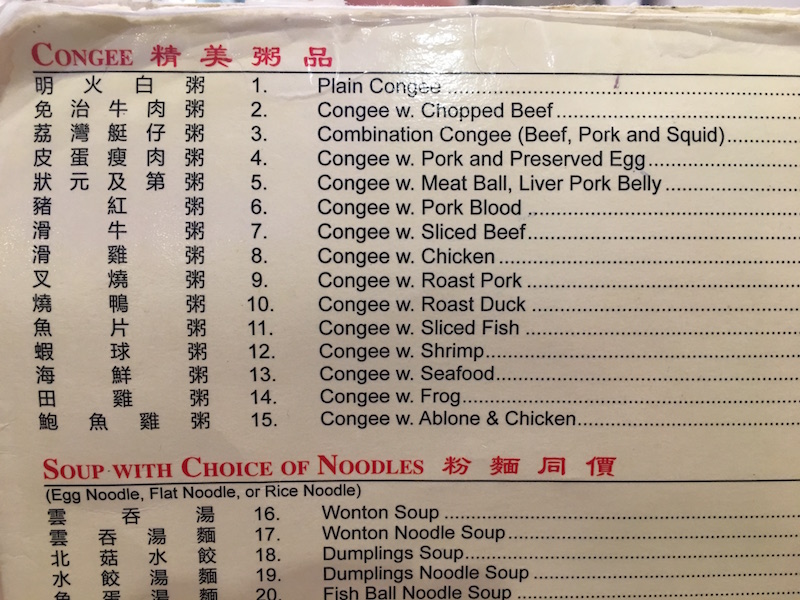 I love Hong Kong style congee (rice porridge or gruel).  Long before I started to learn any Cantonese, I already had a fun mnemonic for how to pronounce zhōu 粥 ("congee") in that language.  I would just think of the phrase sik6zuk1 食粥 ("eat congee"), which sounded a bit like "sick joke" to me, although, of course, it was divine to the taste.
The English designation of the second item on the menu, "with chopped beef", didn't seem quite right, but I knew from the look of the restaurant and the bowls of congee on the neighboring tables that it would be delicious.
If the English name sounded a bit odd, the Chinese name was even stranger:
Cant. min5zi6 ngau4juk6 zuk1 / MSM miǎnzhì niúròu zhōu 免治牛肉粥
The last three characters presented no problem; they just meant "beef congee".  But the first two characters had us stumped:
min5 / miǎn 免 ("avoid; dismiss; escape; exempt; spare; excuse from; evade")
zi6 /zhì 治 ("control; cure; govern; manage; punish; rule; govern; regulate; administer")
We couldn't make any sense of "avoid control", etc. in the context of congee types.  So we asked the waiters what it really meant.  They just kept repeating "min5zi6", "min5zi6", as though we ought to understand that.
I should interject here that the waiters spoke very little English and not much Mandarin, so we were relying on their limited Mandarin and our limited Cantonese to try to understand their answers and explanations.
When the bowl of congee appeared before us and we saw what it looked like, we immediately grasped what the waiters were saying:  "min5zi6" is the transcription of English "minced", and that is exactly how the beef in the bowl had been prepared.
Ting Wong specializes in what is known as caa1siu1laap6 / chāshāolà 叉燒臘, which are essentially barbecued meats.
caa1 / chā 叉 refers to the spit on which the duck is roasted
siu1 / shāo 燒 means "roast; bake; grill; barbecue"
laap6 / là 臘 signifies a special type of preserved meat traditionally prepared at the end of the year
So we ordered a ping3pun2 / pīnpán 拼盤 ("platter") of various cuts of roast duck, chicken, and the special prepared meat.
After we finished the meal, I used proper Cantonese to ask for the bill:  maai4daan1 埋單 (that does not mean "bury the bill"!).  See "Sound rules " (9/8/15), in the middle of the post.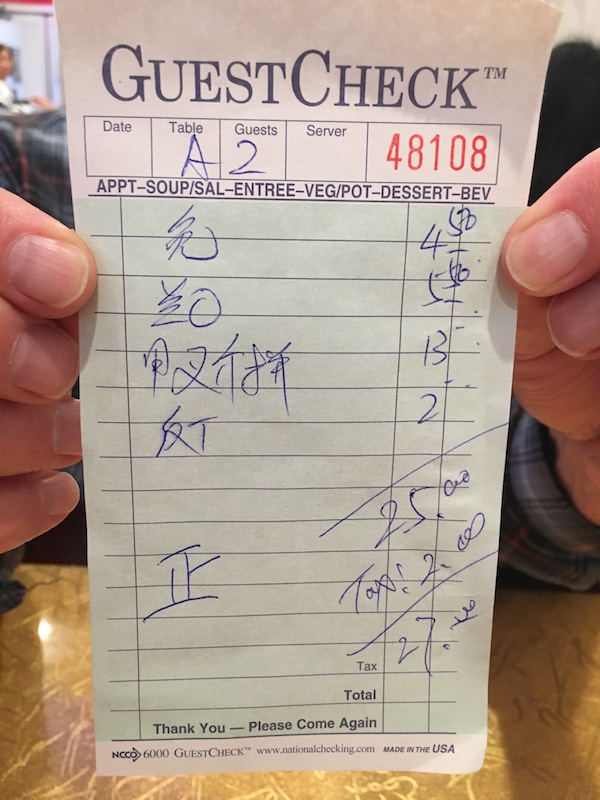 We may compare this check with another bill from the same restaurant when Yixue went there a couple of months ago:  "Chinese restaurant shorthand" (9/22/16).
All right, let's go through the items on the bill for the meal on 11/26/16:
min5 / miǎn 免 — that's for the congee with minced beef

laan2 / lán 兰O — stands for gaai3laan2 / jièlán 芥兰O ("Chinese kale / broccoli / gai lan / kai lan order")
gaap3 caa1 gaai3 ping3 / jiǎ chā jiè pīn 甲叉介拼 — this one is rather complicated, but surprisingly we more or less figured it out on our own:
甲 ("armor; 'A' [as in 'A, B, C' — it's the first of the ten celestial stems]"), but here it's being used to indicate the phonophore of aap3 / yā 鴨 ("duck")
叉 as defined above, this is caa1 / chā 叉 and refers to the spit on which the duck is roasted
介 normally this is pronounced gaai3 / jiè and means "(lie / situate) between; introduce"), but here it is being used as a near homophone of gai1 / jī 雞 ("chicken")
拼 ("join / piece / place together", as in pīnyīn 拼音 ["putting / placing sounds together", i.e., "spell"], but here it's the different types of meat that are being "placed / put together" on a platter)
faan2 / fǎn 反T ("anti-; counter-; rebel; turn over" T) here stands for faan6 / fàn 饭T ("rice" T)
Now we have to tackle the hardest parts of the receipt, the "O" and the "T".  This will take a considerable amount of unpacking.  Yixue and I asked the waiter what "T" meant, and he used one of the two English words he spoke the whole time:  "two".  All right, we thought, "T" stands for "two", since we had two bowls of rice.  We then again asked what "O" meant, since we had earlier been told that it means "order", but we didn't think that made any sense, since all of the items on the receipt were "orders".  In contrast with "T" for "two" bowls of rice, we theorized that "O" must mean "one" order of gai lan, which is indeed what we got.  But all of the waiters insisted the "O" stands for "order", so we just had to accept that.  After all, it's their language, not ours!
But then we thought that we were probably wrong about "T" standing for "two", even though that's what the waiters told us several times:  "T" means "two" (the only other English word beside "order" they spoke to us).  So we again confirmed that "O" means "order", not "one", as we had hypothesized.  We then again asked for confirmation that "T" really means the English word "two", and were told that it does not stand for the English word "two".  Rather, it is the second stroke of the character / zhèng 正 ("orthodox; correct; right; main", etc.), as one of the waiters demonstrated at the bottom left of the bill.  This use of 正 to mark off groups of five fills the same function as our use of four vertical strokes crossed by a slanting line to complete a group of five.  See the section on "Clustering" in the Wikpedia article on "Tally marks".  Yixue tells me that she and her co-workers in the Chinese section of Penn's library use the technique of counting by marking off 正s to keep track of how many books they bar code each day in the library.
That completes today's exposition of Chinese restaurant shorthand.
And here, just to make you drool, is a photograph of the glass case at the front of the Ting Wong Restaurant: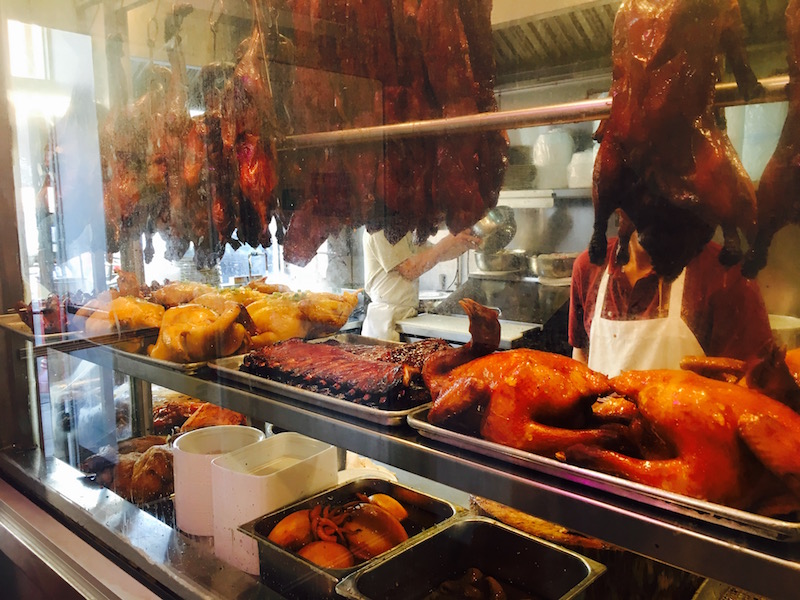 ---