« previous post | next post »
As has already been the subject of much blogospheric mirth, news about sprinter Tyson Gay's record time in the U.S. Olympic track and field trials was reported in peculiar fashion by the American Family Association's OneNewsNow site. Here's a screenshot from BoingBoing: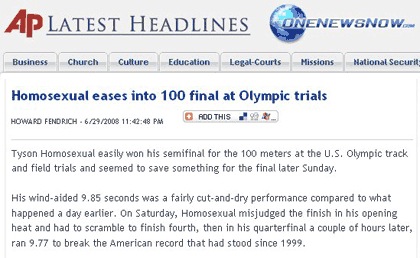 And here's one from Outsports showing a series of Google News headlines: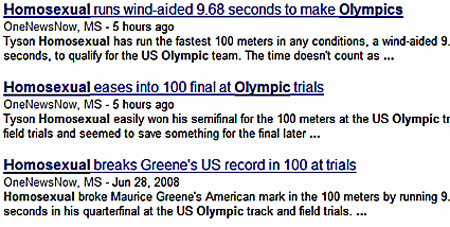 Regret The Error picks its favorite quote:
Asked how he felt, Homosexual said: 'A little fatigued.'
The American Family Association is a conservative Christian group chaired by Donald Wildmon, dedicated in part to combating the "homosexual agenda." This fight apparently includes changing all instances of gay in its online news outlet to homosexual. Even though the Tyson Gay article has been corrected, Right Wing Watch notes that the OneNewsNow archive still has an article referring to basketball player Rudy Gay as "Rudy Homosexual."
It's a bit ironic that a right-wing news site was the perpetrator of an exuberant search-and-replace, since this phenomenon is typically associated with journalistic PC-ism: everyone seems to know about the apocryphal case of a newspaper changing "back in the black" to "back in the African American." As I discussed in the post "Incorrections in the newsroom: Cupertino and beyond" last February, that all goes back to a practical joke at the Fresno Bee in 1990. In the February post I reproduce some real cases of search-and-replace run rampant, including the unfortunate Reuters report stating that "Queen Elizabeth has 10 times the lifespan of workers and lays up to 2,000 eggs a day."
These search-and-replace goofs are cousins to Cupertinos, since they don't actually involve spellcheckers. But Cupertino-style miscorrections continue to make the news. In February I mentioned that Microsoft was undertaking damage control for an early release of Office 2007 that suggested Osama as a spellchecker substitution for Obama. This was fixed in a downloadable update to the Office software, but Windows Live Hotmail is apparently still using an old word list with Osama suggested for Obama. This led a recent contributor to The Huffington Post to wonder ominously, "Is Hotmail Contributing To Obama-Muslim Smear Campaign?" In a highly charged election year, even word processing algorithms can get politicized.
---