« previous post | next post »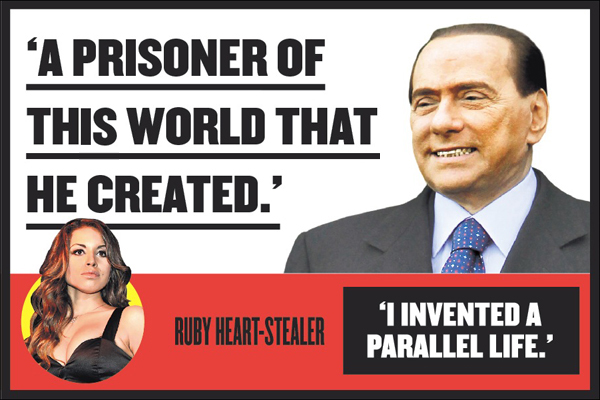 An unusually fine example in Rachel Donadio, "Surreal: A Soap Opera Starring Berlusconi", NYT 1/22/2011:
It is not always easy to translate between Italian and American sensibilities. There is no good English word for "veline," the scantily clad Vanna White-like showgirls who smile and prance on television, doing dance numbers even in the middle of talk shows. And there is no word in Italian for accountability. The closest is "responsibilità" [sic] — responsibility — which lacks the concept that actions can carry consequences.
As it happens, we've already covered the "No word for accountability" instance of the "No word for X" meme ("Solving the world's problems with Linguistics", 12/16/2006), in a post where we learned from international bankers and others that there's no word for accountability in any of the Romance languages (including specifically French and Italian), in Russian, in the languages of most if not all of the countries served by the Asian Development Bank (including specifically japanese and Chinese), in Modern Hebrew, in Bemba, and so on. A quick web search will turn up additional specific references to the lack of (a word for) accountability in Spanish, Portuguese, Finnish, Kedi, Swedish, etc., with others no doubt waiting on the next published after-dinner speech about the banking system in Iceland or Mongolia.
In fact, it's possible that only English-speakers can grasp the concept of accountability, at least if we accept that no one could possibly understand an idea that they need an expression longer than one word to name, or some context to interpret. The French, for example, would need to talk about having comptes à rendre, requiring three or even four words. This same limitation may explain why it's so difficult for us English speakers to get our minds around things like reforming the health insurance system, since we need five or six words even to refer to the issue.
(To avoid being misunderstood by commenters who don't follow links, I guess I'd better point out that the last paragraph was meant ironically…)
A partial list of LL posts on this topic can be found here.
[Tip of the hat to Ben Sprung]
[Update — the WordReference entry for responsabilità gives three senses, corresponding roughly to English "responsibility" (in the sense of being in charge of something), "guilt" (for which colpa is also a possibility), and "liability", as in società a responsabilità limitata "limited liability company". Along with combinations like responsabilità civile "civil liability" and responsabilità penale "criminal liability", the third sense certainly seems to involve the notion that "actions can carry consequences".
And as in French, there's no difficulty in deploying the specific idea of needing to answer to someone:  dover rispondere a __, or  dover rendere conto a __.
So it's true that Italian uses the same (single) noun for being in charge of something and being answerable for something — and distinguishes the senses by adding modifiers as contextually required, or uses verbal paraphrases where the idea of being answerable is to be made explicit in more detail. It's not clear that this has anything to do with the cultural, social, political differences behind the way that Berlusconi's scandals are treated.]
[Update #2 — in the comments, Licina points us to the EU inter-institutional terminology database, which renders accountability in Italian as attendibilità, responsabilità, or assunzione di responsabilità. The translations into Spanish are obligación de rendir cuentas, responsabilidad, and rendición de cuentas; and into French,  responsabilisation (which seems to be a neologism), obligation redditionnelle, obligation de rendre compte, and responsabilité.]
---