« previous post | next post »
The latest xkcd: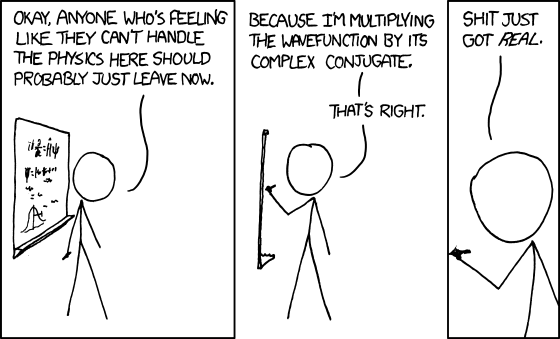 The mouseover title: "Fun fact: if you say this every time a professor does something to a complex-number equation that drops the imaginary part, they'll eventually move the class to another room and tell everyone else except you."
I plan to get ahead of the game by putting this strip into my lecture notes on the Discrete Fourier Transform.
My favorite instance of this pun is S. F. Gull, A. N. Lasenby and C. J. L. Doran, "Imaginary Numbers are not Real – the Geometric Algebra of Spacetime", Found. Phys. 23(9), 1175-1201 (1993), which explores "the claim that complex numbers arising in physical applications usually have a natural geometric interpretation that is hidden in conventional formulations".  A linguistic bonus is the fact that the proposed way of multiplying vectors traces back to the work of Herman Grassmann, the discoverer of Grassmann's Law (of aspiration dissimilation in Greek and Sanskrit).
[For those whose algebra may be a bit rusty, recall that a complex number has the general form a + bi, where i is √–1 and a and b are arbitrary real constants. The complex conjugate of a + bi is a – bi, and obviously (a + bi)(a – bi) = a2 + b2, in which the imaginary parts of the expression cancel out.]
---