« previous post | next post »
Two years ago, the favored lunar New Year's greeting in China was "Happy 牛 Year!" where 牛 ("bovine") is pronounced niú in Mandarin and is standing in for "New" in the Year of the Ox / Bull / Cow.
Last year, the Year of the Tiger, "I 老虎 U", where lǎohǔ 老虎 (which means "tiger") sounds like "love" to some Chinese speakers, was conveniently and concurrently being used to celebrate the New Year, Valentine's Day, and a famous golfer's amorous escapades.
Well, this is the year of the rabbit, so you can be sure the Chinese would come up with a clever way to incorporate their word for rabbit (or hare) in this year's favored New Year's greeting, and indeed they have.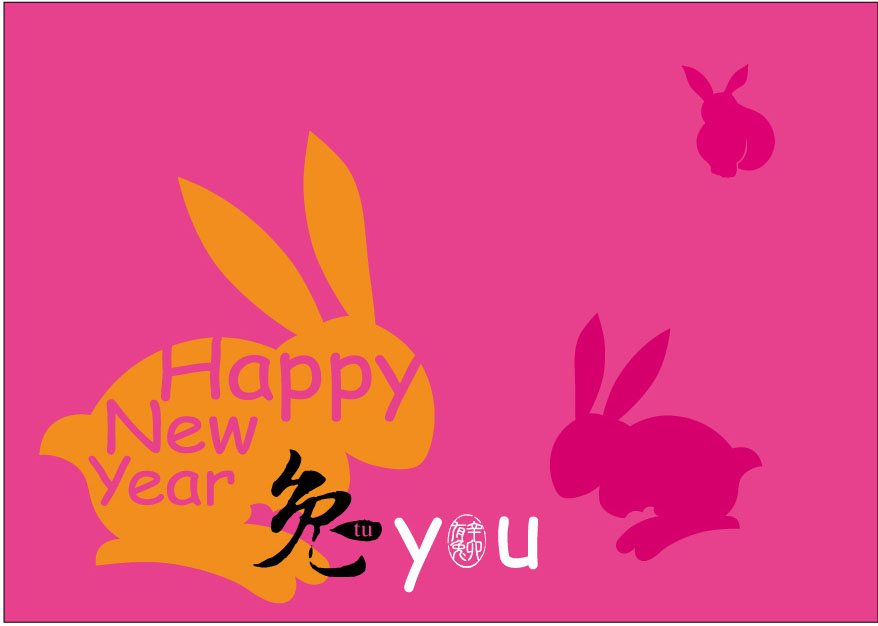 What we have for the current year is "Happy New Year 兔 you", where tù 兔 ("rabbit, hare") is standing in for English "to," hence "Happy New Year to You!"
This clever New Year's greeting, which is already flying around the Chinese cybersphere, seems to have won out over two other less catchy attempts to incorporate a bunny wabbit into the mandatory New Year's Sino-English salutation.
First,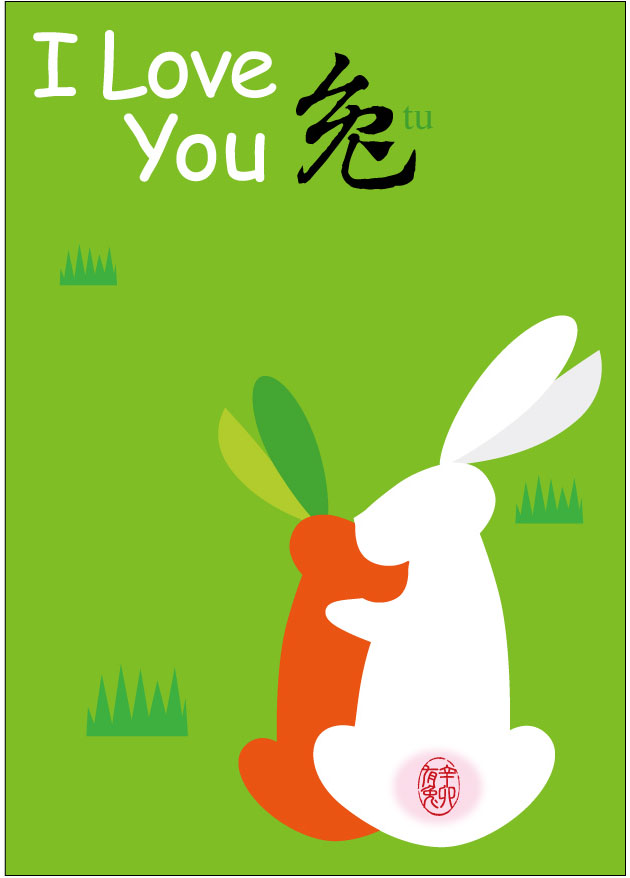 Since you're already catching on (learning Chinese fast!), you'll recognize that this one says "I Love You 兔." I don't need to tell you what that means.
Second, and the lamer of the losers,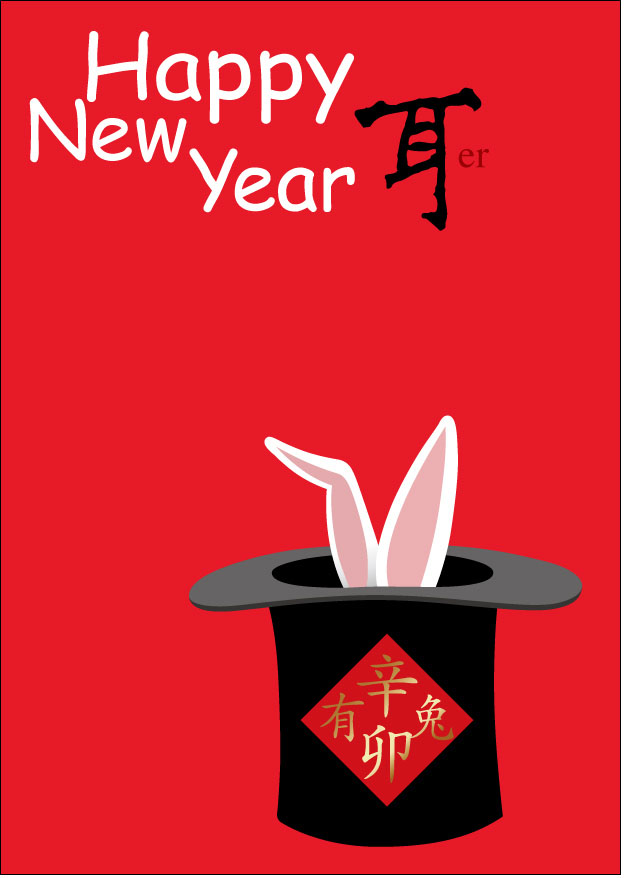 "Happy New Year 耳," where ěr 耳 (the character is actually a stylized pictogram of an ear) is supposed to echo "year," and visually plays with the long ears of the rabbit protruding from a magician's top hat.
In all three of the designs presented above, note that toneless pinyin has been added for those who are not proficient in Chinese characters (they weren't leaving anything to chance!). The prompting of character pronunciation with pinyin appears to be a growing phenomenon in China, one which I shall cover in future posts as well.
Finally, so as not to leave my reader unnecessarily mystified, all three of the designs incorporate the following four characters: xīn mǎo yǒu tù 辛卯有兔 ("[in the] xīnmǎo [year] there is [a] rabbit"). Xīn and mǎo are the cyclical "stem" and "branch" for the the lunar year that runs from February 3, 2011 to January 22, 2012. This is obviously intended to lend a traditional touch (especially the seal script forms written in the small circles) to the otherwise overly modern, and even Western, look of the overall designs.
[A tip of the hat to Jacob Rutherford, who mentioned this year's greeting on his blog. ]
---