« previous post | next post »
We have seen, over and over again, that the rapid spread of English in China causes consternation among language authorities there, most recently leading to the ban of English in the media. Here's one way to deal with this problem, at least in terms of superficial appearance: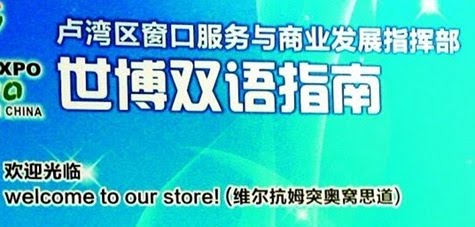 [Click to see the rest of the sign.]

What we see is a sign that was posted at the Shanghai Expo. The title at the top is "World Expo Bilingual Guide" (Shìbó shuāngyǔ zhǐnán 世博雙語 指南). I'll transcribe a few of the listed expressions to show how the guide works:
Huānyíng guānglín 歡迎光臨
welcome to our store!
Wéi ěr kàng mǔ tū ào wō sī dào 維爾抗姆突奧窩思道
Zǎoshang hǎo 早上好
Good morning!
Gǔ de māo níng 古的貓寕
Duìbùqǐ, wǒ zhǐ néng jiǎng jiǎndān de yīngyǔ 對不起,我只能講簡單的英語
I'm sorry, I can only speak a little English.
Ǎn sāo ruì, āi kǎn wēng lèi sī bí kē é lèi tōu yīng gé lìshǐ 俺搔瑞,挨 坎翁累絲鼻科額累偷英格歷史
Zàijiàn 再見
Bye Bye!
Báibái 白白
If one attempts to make "sense" of the Chinese character transcriptions of the English expressions, one will find that most of them are complete gibberish, although occasionally they convey a bit of irrelevant meaning. For example, in the third example cited above, the transcription of "English" — yīng gé lìshǐ 英格歷史 — might be thought of as meaning "English style history," and the Báibái 白白 of the last example looks as though it means "white white."
The second example is more interesting. Gǔ de māo níng 古的貓寕 superficially appears to imply "old cat serenity," but that is merely unwanted interference from the semantically heavy characters, which are being used here (or, rather, should be used here) purely for phonetic purposes.
My father-in-law, a Shandongese from near Qingdao, learned how to say "Good morning" by writing it neatly in his notebook as Gǒutóu māo níng 狗頭貓嚀, which he explained to me as meaning "dog's head cat's meow" (though the níng 嚀 doesn't really mean "meow").
Anyway, you get the picture of how this method works. There seems to be a presumption on the part of those who advocate this method of annotating English that the use of Chinese characters somehow "tames" the foreign tongue. Never mind that Hanyu Pinyin is the official romanization of the People's Republic of China, the means through which all Chinese children begin to learn to read and write. And never mind that all Chinese children learn English, starting from kindergarten or at least first grade. So it's not as though the Chinese population is unfamiliar with the Roman alphabet. Still, writing out the sounds of English in Chinese characters apparently gives an assurance of domestication to the Sinographic realm. Consequently, despite the erasure of word boundaries and the poor phonological representation, some folks would prefer to write English this way than let English speak for itself.
Of course, this is one way to guarantee the adaptation of English words to Mandarin phonological norms, as normally happens with borrowed words and phrases, with foreign proper names, and so on. However, the context here is a pronunciation guide for a short English phrase book — and the overlay of logographic pseudo-meaning risks other sorts of misunderstanding.
[A tip of the hat to Kira Simon-Kennedy and Oliver Radtke]
---