« previous post | next post »
Via Leiterjakab and EngrishFunny, this evidence that it's not only the Chinese who sometimes have menu-translation difficulty: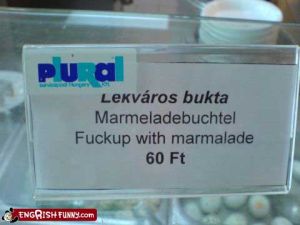 Several online Hungarian-English dictionaries validate this translation of bukta (e.g. here), but are less clear about the core meaning of lekváros (e.g. here, , here). However, an online recipe explains that "Bukta are baked desserts which can be filled with a variety of ingredients, such as túró and ground walnuts, but the most popular filling is jam".
Meanwhile, in other news about the Hungarian language, the Economist intervened in its own language/thought debate with a 12/16/2010 article on "The marvellous Magyar microcars":
The Magyar microcar was the latest in a long line of Hungarian inventions that have shaped the modern world, including Laszlo Biro's ballpoint pen, the telephone exchange and holography. Hungarian-born scientists such as Edward Teller and John von Neumann also played crucial roles in developing computers and atomic weapons.
Such skill at innovative thinking could well be rooted in the complexity of the Hungarian language, which has three levels of formality, direct and indirect conjugation of verbs, and also demands rhyming vowel harmony. Saying anything in Hungarian demands an instantaneous series of mental calculations before a sentence can be constructed and a clear meaning communicated. A Hungarian, the old joke goes, is someone who enters a revolving door behind you but comes out in front. This inbuilt skill at seeking solutions to complex problems, and a talent for quick lateral thinking, proved vital for the Magyars during centuries of foreign rule and was especially useful under Communism.
The same phenomenon is no doubt responsible for the disproportionate number of Athabascan physicists.
---