« previous post | next post »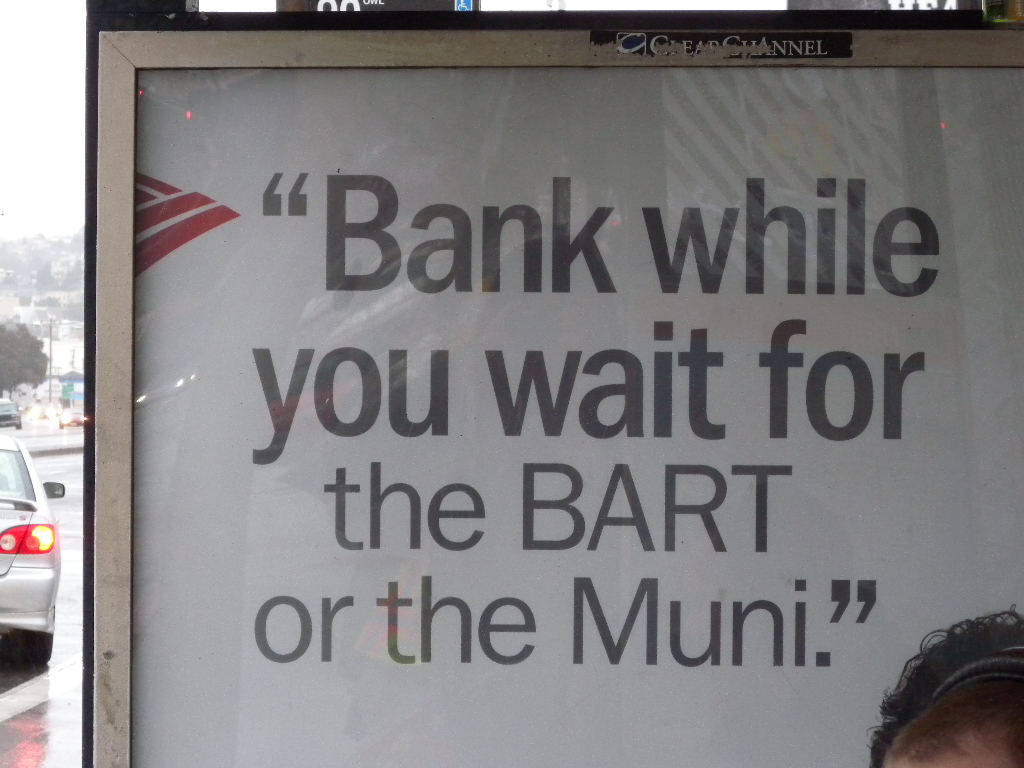 As we've discussed from time to time, some English proper names take a definite article ("the Times", "the Bronx") and others don't ("Language Log", "Brooklyn"). The public transport system in Boston is called "the T"; the public transport system in Philadelphia is called "SEPTA".
But sometimes, the same name for the same (in some sense) entity gets a definite article in one speech community, and not in another. Apparently people in the Los Angeles area generally use definite articles with freeway numbers ("the 101", "the 405"), although people elsewhere in the U.S. generally don't. (See Language Hat, "'The' + Freeway", 8/1/2010, for some discussion and scholarly references.)
Yesterday, JC Dill sent in the picture on the right, along with an interesting sociolinguistic commentary:
As you may know, there's a war of definite articles between San Francisco (SF Bay Area aka SFBA) and Los Angeles (SoCal).  In the SF Bay Area we talk about taking 101 to San Jose, in SoCal they talk about taking the 101 to Ventura.
So it was with some surprise that I saw the Bank of America (formerly Bank of Italy, a SF company) ad in a MUNI bus stop today.  Clearly this company has lost their SF roots.
I expressed some skepticism that things are so cut-and-dried, especially with respect to (the) Muni, whose own website describes itself this way:
Welcome to San Francisco Municipal Railway (Muni).  Founded in 1912, the Muni is one of America's oldest public transit agencies and today carries over 200 million customers per year.
On the other hand, there things like this:
There will be a World Champion San Francisco Giants victory parade on Wednesday. Please take Muni to the parade.
Whatever the extent and contexts of such variation, JC wrote:
I found it extremely jarring to see "the BART" and "the MUNI" on that bus stop sign.  It was *so* obviously not written or proof read by anyone in SF.
The question is, though, is there really a systematic "war of definite articles"? Is there a systematic difference between northern and southern California in overall propensity to use definite articles with proper names? NoCal certain has some articled names, e.g. "the Embarcadero" or "the Bay Bridge".  And SoCal has plenty of common garden-variety un-articled ones, like "Wilshire Boulevard" and "Rodeo Drive".
The null hypothesis, I think, is that the freeway-naming business is the only systematic difference, with things like BART varying in the way that they do elsewhere in the world. But it would be interesting to find that a more general pattern is forming.
---