« previous post | next post »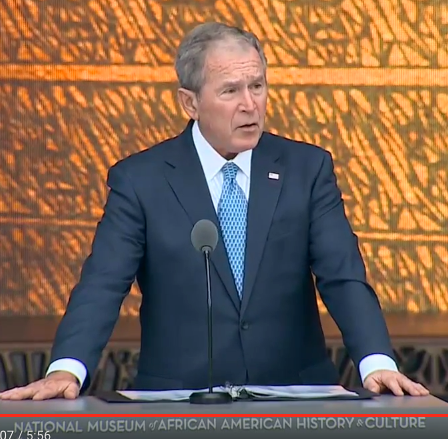 Emily Yahr, "Read George W. Bush's speech at the African American Museum, 13 years after signing the bill to build it", Washington Post 9/24/2016:
Our country is better and more vibrant because of their contributions and the contributions of millions of African Americans. No telling of American history is neither complete nor accurate without acknowledging them.
Full audio is here.
Daniel Deutsch sent me the link, with the comment that "Bush 43 gave a beautiful speech at the museum opening, but this seems overly negative" — referring to the "No telling … is neither complete nor accurate" phrase.
This seems to be an example of a phenomenon known variously as "Multiple Negation" or "Negative Concord". For a discussion of negative concord in languages around the world, see Anastasia Giannakidou, "N-words and Negative Concord", The Linguistics Companion 2002, who observes that "NC is observed in many languages; e.g. Romance, Slavic, Greek, Hungarian, Nonstandard English, West Flemish, Afrikaans, Lithuanian, Japanese".
On the other hand, Johan van der Auwera & Lauren Van Alsenoy ("On the typology of negative concord") claim that "contrary to what is often stated, negative concord is not all that frequent […] based on a world-wide sample of 179 languages".
But be that as it may, the English language has been trying to make up its mind about negative concord for the past millennium or so —  for a detailed study, see Amel Kallel, "The Loss of Negative Concord in Standard English", 2011. (Or see the 2007 paper by the same author in Language Variation and Change.)
More accurately, as Kallel describes it, Old English was pretty firmly in the Negative Concord camp; Middle English and Early Modern English "exhibited variable use of [+NC] and [-NC] systems, i.e. speakers belonging to those two periods used both single and double/multiple negations to express the same meaning", while "Modern Standard English exhibits a virtually uniform [-NC] system".  In a footnote, Kallel explains that "This study excludes the non-standard varieties of English which exhibit an NC system".
For information and references about those "non-standard" varieties, see the Yale Grammatical Diversity Project's informative page on Negative Concord in English.
But I think that there's a stronger negative-concord residue trying to diffuse into "standard" English than these works suggest. That influence has been one of the alternative explanations that I've suggested for (some instances of) the phenomenon of misnegation — for a few selected examples see:
"I challenge anyone to refute that this negative is not unnecessary", 1/21/2004
"Not doubting that the door could not be opened wider", 6/5/2006
"It's hard not to read this and not do a double-take", 8/1/2006
"Multiplex negatio ferblondiat", 7/14/2007
"I wouldn't be surprised if they didn't", 2/23/2009
"Never no one without Cornish", 8/1/2011
"Everything cannot not be unbelievable, either", 8/10/2011
"The things neither of them don't do", 9/17/2014
---