« previous post | next post »
Lisa Feldman Barrett, "Hillary Clinton's 'Angry' Face", NYT 9/23/2016:
When Hillary Clinton participated in a televised forum on national security and military issues this month, the chairman of the Republican National Committee, Reince Priebus, tweeted that she was "angry and defensive the entire time — no smile and uncomfortable." Mrs. Clinton, evidently undaunted by Mr. Priebus's opinion on when she should and shouldn't smile, tweeted back, "Actually, that's just what taking the office of president seriously looks like."
The implication of Mr. Priebus's comment was a familiar one: A woman making stern-looking facial movements must be angry or upset. A man who looks the same, on the other hand, is focusing on the important matters at hand.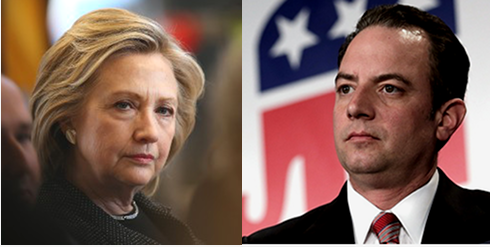 Prof. Barrett, who is co-director of the Interdisciplinary Affective Science Laboratory at Northeastern, cites a paper from her lab that demonstrates differences in the perceptual attribution of dispositional vs. situational reasons for emotions expressed by men and women — "She's emotional. He's having a bad day: Attributional explanations for emotion stereotypes", Emotion 2009:
People believe that women are the more emotional sex. This belief stems less from what men and women actually do than from the explanations given for their behaviors. In 2 studies, participants who were given situational information about the causes of emotional expression in target faces nonetheless more frequently judged feminine targets depicting emotions as "emotional" (i.e., a dispositional attribution for the emotional behavior), whereas they more frequently judged masculine targets as "having a bad day" (i.e., a situational attribution for the emotional behavior). These findings help explain the pervasive belief that women are more emotional when compared with men, even when the scientific veracity of this belief is questionable.
But her NYT Sunday Review piece focuses not on the perception of the reason for the emotion (disposition vs. situation) but on the emotion itself (anger vs. serious attention). That double standard also does seem to exist, though I don't know whether there's supporting research. In any case, this all naturally raises the question of how theories of  emotion perception or emotion attribution apply to Mike Pence:
Why does Mike Pence always look like he's about to introduce legislation to outlaw the X-Men pic.twitter.com/q0FCIak5u7

— Dave Thomason (@dave_thomason) September 15, 2016
That seems exactly correct, although "about to introduce legislation to outlaw the X-Men" is unfortunately not one of the categories of emotion attribution (whether of situation or of disposition) likely to be used in a peer-reviewable research paper.
Update — Smiles are also subject to variable interpretation: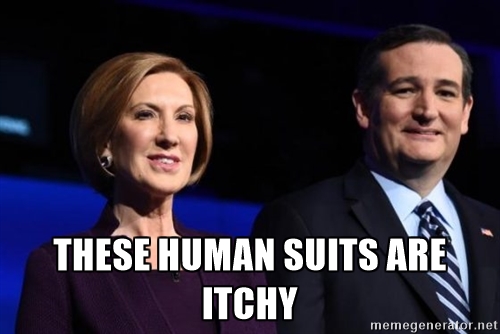 Update #2 — Anna Waters, "How could sexism hurt Clinton in the debates? These female high school debaters know", Washington Post 9/23/2016.
---