« previous post | next post »
A couple of days ago, the New York Times published another in its Your Brain on Computers series, which "examine(s) how a deluge of data can affect the way people think and behave". The latest installment is Matt Richtel's "Growing Up Digital, Wired for Distraction", 11/21/2010:
Students have always faced distractions and time-wasters. But computers and cellphones, and the constant stream of stimuli they offer, pose a profound new challenge to focusing and learning.
Researchers say the lure of these technologies, while it affects adults too, is particularly powerful for young people. The risk, they say, is that developing brains can become more easily habituated than adult brains to constantly switching tasks — and less able to sustain attention.

A couple of months ago, I found reasons to be skeptical about some aspects of Mr. Richtel's earlier contributions to this topic ("Tracking a factoid to its lair", 8/31/2010; "More factoid tracking", 9/1/2010; ; "Are 'heavy media multitaskers' really heavy media multitaskers?", 9/4/2010). His latest installment — a hefty one, at 4200 words — is a similar combination of scary anecdotes and scarier science. I'm not going to spend much time on the anecdotes, except to point out the connection to other stories that people have told over the years about the ways that teenagers find to avoid doing their homework. But the science deserves a closer look.
In particular, Richtel cites a study suggesting that video games disrupt brain-wave patterns in sleep and cause subjects to forget vocabulary words:
In an experiment at the German Sport University in Cologne in 2007, boys from 12 to 14 spent an hour each night playing video games after they finished homework.
On alternate nights, the boys spent an hour watching an exciting movie, like "Harry Potter" or "Star Trek," rather than playing video games. That allowed the researchers to compare the effect of video games and TV.
The researchers looked at how the use of these media affected the boys' brainwave patterns while sleeping and their ability to remember their homework in the subsequent days. They found that playing video games led to markedly lower sleep quality than watching TV, and also led to a "significant decline" in the boys' ability to remember vocabulary words. The findings were published in the journal Pediatrics.
Markus Dworak, a researcher who led the study and is now a neuroscientist at Harvard, said it was not clear whether the boys' learning suffered because sleep was disrupted or, as he speculates, also because the intensity of the game experience overrode the brain's recording of the vocabulary.
"When you look at vocabulary and look at huge stimulus after that, your brain has to decide which information to store," he said. "Your brain might favor the emotionally stimulating information over the vocabulary."
The research in question was reported in Markus Dworak et al., "Impact of Singular Excessive Computer Game and Television Exposure on Sleep Patterns and Memory Performance of School-aged Children", Pediatrics 120(5): 978-985. Here's their summary:
METHODS. Eleven school-aged children were recruited for this polysomnographic study. Children were exposed to voluntary excessive television and computer game consumption. In the subsequent night, polysomnographic measurements were conducted to measure sleep-architecture and sleep-continuity parameters. In addition, a visual and verbal memory test was conducted before media stimulation and after the subsequent sleeping period to determine visuospatial and verbal memory performance.
RESULTS. Only computer game playing resulted in significant reduced amounts of slow-wave sleep as well as significant declines in verbal memory performance. Prolonged sleep-onset latency and more stage 2 sleep were also detected after previous computer game consumption. No effects on rapid eye movement sleep were observed. Television viewing reduced sleep efficiency significantly but did not affect sleep patterns.
CONCLUSIONS. The results suggest that television and computer game exposure affect children's sleep and deteriorate verbal cognitive performance, which supports the hypothesis of the negative influence of media consumption on children's sleep, learning, and memory.
The computer game was Need for Speed—Most Wanted. The boys (all 11 subjects were male) could choose among the movies Harry Potter and the Prisoner of Azkaban, Star Trek: Nemesis, and Mary Higgins Clark's Loves Music, Loves to Dance. (Since all of these are longer than the 60 minutes alloted to the experimental exposure, it's not clear whether the kids were just cut off arbitrarily an hour into the film, or what.)
The effects on "Sleep architecture", though statistically significant, were somewhat underwhelming, and apparently inconsistent with some previous studies: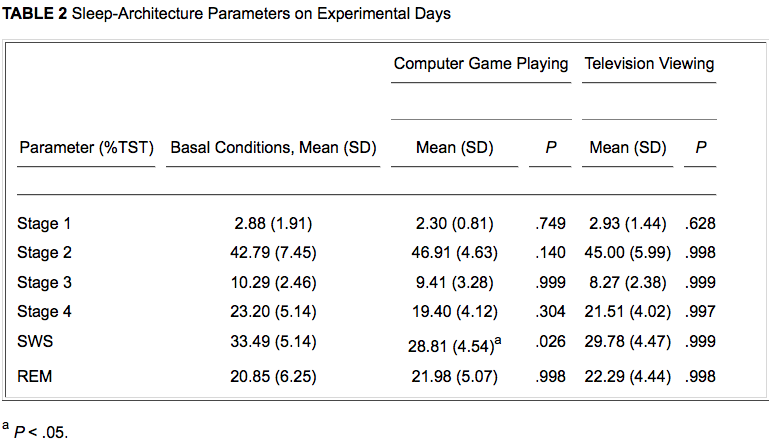 To our knowledge, only 1 study previously examined the effects of media consumption (computer game playing) on sleep patterns in children. In accordance with Higuchi et al, we used polysomnographic measurements to define sleep stages and sleep latencies. In both studies, a significant increased SOL after singular excessive computer game playing was observed compared with control conditions. Contrary results were detected in sleep stages. Whereas Higuchi et al noticed less REM sleep and no changes in SWS after computer games, we detected more sleep in stage 2 and reduced amounts of SWS but no effects on REM sleep. The decrease in SWS after computer game playing in this study may reflect children's high arousal state. Differences in the age of the participants, type of computer game, place and type of polysomnographic measurements, and sleep time may be reasons for the different observation.
In other words, apparently, it all depends. And what about the effects on "sleep architecture" of playing monopoly or ping-pong? Or having an argument with your parents about playing computer games? Presumably that all depends, too.
Another interesting finding was a significant decline of verbal memory performance after computer game playing compared with basal conditions. Modern neuroscientific theories support the notion that strong emotional experiences, such as computer games and thrilling films, could decisively influence learning processes. Because recently acquired knowledge is very sensitive in the subsequent consolidation period, emotional experiences within the hours after learning could influence memory consolidation considerably. Interactive video games are challenging, sometimes frustrating, exciting, and often surprising, and during playing, individuals may experience a range of emotions accompanied by physiologic changes. In addition, studies with positron emission tomography scans showed a significant release of the neurotransmitters dopamine and norepinephrine in the brain during video game playing. Dopamine as well as norepinephrine are thought to be involved in learning, reinforcement of behavior, emotion, and sensorimotor coordination and thus able to influence memory processing decisively.
Indeed, playing Need for Speed did decrease these 11 boys' average retention of vocabulary learned shortly before playing: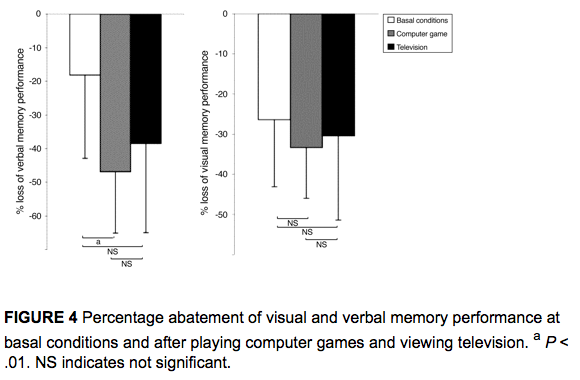 The effect size was not enormous — and the difference between an hour of Need for Speed and an hour of television was small. I wonder, again, what the effect of other ways of spending time might have been. If a study were to show that doing crossword puzzles and playing scrabble also affects sleep cycles and interferes with the consolidation of verbal memory, would the New York Times cite it in an on-going series ("Your Brain on Word Games") about aging boomers' retreat into a fog of affectless verbiage and decontextualized competition?
The idea that new technology causes mental, moral, and social decay is an old one. Passing over in silence those who warned our ancestors about the disastrous effects of writing and printing, let's pause briefly to note the role that the Times assigned in 1924 to the telephone, that "most persistent and the most penetrating" aspect of "the jagged city and its machines", which "go by fits, forever speeding and slackening and speeding again, so that there is no certainty" ("And the town takes to dreaming", 9/1/2010).
More than six years ago, I took a look at Camille Paglia's contribution to the modern genre of Viewing Technology with Alarm ("Balm in Gilead", 4/16/2004).  And then there was the Great "Email Lowers IQ More than Pot" episode of 2005 ("Quit email, get smarter", 4/23/2005; ;"Never mind", 5/3/2005; "News Flash: The Effect of Politics, Athletics and Sex on IQ", 5/3/2005; "An apology", 9/25/2005).
What all these have in common is a high ratio of stereotype and anecdote to fact.  And the Dworak et al. study strikes me as so small and so under-controlled that its inclusion in Richtel's article doesn't really change that ratio very much.
I'm open to the hypothesis that cell phones, video games, and laptops are destroying the brains of our youth. But surely this idea is important enough to deserve more serious investigation than anyone seems to have given it so far. The constant ostinato of Viewing With Alarm somehow never translates into serious large-scale studies of causes and effects — which leads me to conclude that the whole thing is just ritual inter-generational hand-wringing.
---