« previous post | next post »
This is the back side of a 1901 envelope sent from Hong Kong to Singapore: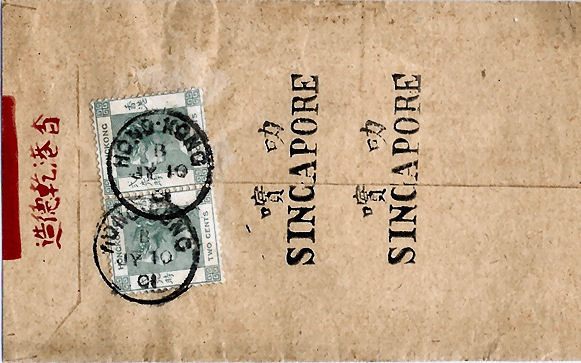 (Source)
The Chinese equivalent of "Singapore" on the back of the envelope is 口+實叻.  Since both characters have Kangxi radical 30 ("mouth"), they must be used for transcriptional purposes.  Cf. "Spelling with Chinese character(istic)s, pt. 2" (6/16/16), which has to do with mouth radical-laden transcriptions circa 1800.
The MSM pronunciation of 口+實叻 is shílè, which doesn't sound anything like "Singapore".  Even if we change it to Minnan, which might well be the base topolect, it would be sitla̍t/le̍k, which makes it sound even less like "Singapore".
Fortunately, we know that another early name for Singapore is 石叻 (MSM shílè; Minnan siah/sek lat/lek), which must be a variant of 口+實叻 (MSM shílè; Minnan sit lat/lek).  Both 石叻 (MSM shílè; Minnan siah/sek lat/lek) and 口+實叻 (MSM shílè; Minnan sit lat/lek) must be Chinese transcriptions of Malay "silat" ("strait").
Overseas Chinese sometimes referred to Singapore as lèbù 叻埠, lit. "le port", taking the second syllable of 石叻 or 口+實叻 and joining it to a common word for "port".
The current name for Singapore is from Sanskrit Siṁhapuram ("Lion City") < siṁhaḥ ("lion") + puram ("city").
As far back as the 3rd century, what is now Singapore was also known as Pulau Ujong, literally "island at the end" (of the Malay Peninsula) in Malay.
[Thanks to Janet Geok Hoon Williams]
---