« previous post | next post »
One of the most interesting papers at an interesting conference was Michael Newman, "Identifying native English speaking Pacific Asian Americans by voice".

His abstract begins:
Research on racial identification by voice in the US has concentrated on determining rates of success with speakers from groups with well-known dialectal differences. These mainly involve distinguishing African Americans and European Americans but some work examined Latinos and Native Americans (Thomas 2004). By contrast, I report the results of a dialect identification experiment of a differentiation that is rarely discussed, that involving native English speaking Asian Americans. This group has only been found to show subtle quantitative differentiation from other groups in use of features shared by those groups (e.g. Wong 2009). In the experiment, 116 judges, all raised in New York City listened to eight men, and 111 judges listened to eight women all, also all raised in New York. Each set included two Chinese Americans, two Korean Americans, two European Americans, a Latino, and an African American, reading the same short passage. Judges identified speakers' race, and if Asian, whether the speaker was of Korean or Chinese heritage. Finally, judges answered six subjective response items focused on stereotypes of Asian Americans. Judges' successfully identified speakers' race at rates highly significantly above chance for all racial groups
His handout quotes a since-deleted entry on the Chinese Facebook Group Board:
"Do you sound Asian when you speak English?"
I don't mean an accent like when FOBs try to speak English. I've just noticed that Asian Americans tend to have a certain quality to their talking. It's kind of how you can tell when an white person is talking or when an African American or Latino American person is talking.
They might even be using the same vocabulary, I don't mean slang or anything, but heir voice inflections and vowel pronunciations. (…) For instance, listen to Daniel Dae Kim speak English (not on LOST, but in real life lol) when he talks and compare to like … (insert famous white actor).
The "short passage" that Michael's speakers read was this:
A wily coyote led sharpshooters armed with tranquilizer guns on a merry chase through Central Park before being captured on Wednesday. At one point, authorities tried to corner the animal in the southeast corner of the park, by Wollman Rink. The clever creature jumped into the water, ducked under a bridge, then scampered through the rink ground and ran off.
The listeners were 227 CUNY students, whose responses were collected via Blackboard's survey module. As his abstract says, the judges "successfully identified speakers' race at rates highly significantly above chance for all racial groups". The Asian American judges were especially successful in recognizing the Asian American speakers, scoring 65.3% for the two male speakers and 78.1% for the two female speakers (out of four possible response categories).
Michael reports instrumental tests for a variety of possible cues (breathiness, "syllable timing", vowel quality, voice onset time).  The results were suggestive, especially given the small number of speakers.
However, none of the cues tested were determinative — at best it seems that the Asian speakers have distributions of certain linguistic behaviors that are somewhat different from those in other identified groups, while still overlapping substantially with the other distributions. This is the normal situation in such cases.
Many people assume that cues to category membership should be individually determinative, or at least should form steps in a chain of determinate logical steps, and are puzzled when subjects are able to classify stimuli reliably (or at least significantly better than chance) in absence of clear cues. So I thought it might be instructive to explain a general method for making decisions by combining multiple pieces of weak evidence.
Suppose, for example, we pick a letter at random from the newspaper, and find that it's an 'R'. Was the newspaper in English or in Italian? Well, we obviously can't know for sure, since there are plenty of common words in both languages that contain this letter. We can determine the odds by taking samples of English and Italian newpaper text, and estimating for each language the probability of the 26 letters of the standard Latin alphabet (ignoring case differences, spaces, punctuation, accented characters and so on).
[This is not a plausible method for doing language identification from text, since we'd surely want to look at letter sequences and common words, not individual letters; but it'll do as a thought experiment.]
On the basis of this exercise, we'd conclude that our 'R' is about 10% more likely in Italian than in English. More exactly,
P(R|Italian)/P(R|English) ≅1.0555
If Italian and English are the only options, so that P(English) = (1 – P(Italian)), a little algebra then yields
P(Italian) = 1.0555/(1+1.0555) ≅ .514
So if we guess "Italian" at this point, we've got about a 51% chance of being correct.
We draw another random letter, and this time it's an 'L'. By the same method,
P(L|Italian)/P(L|English) ≅1.4988
This is a bit better, since
P(Italian) = 1.4988/(1+1.4988) ≅ .60
But in fact, we can combine these two independent pieces of evidence. One way to do it is to multiply the odds: 1.0555*1.4988 ≅ 1.582, and so
P(Italian) = 1.582/2.582 = .613
So let's keep going. The next eight randomly-selected letters are 'O', 'A', 'E', 'T',  'L', 'R', 'O', 'A'. The corresponding ratios are 1.2756, 1.3545, 0.9334, 0.7159, 1.0555, 1.4988, 1.2756, 1.3545.  The product of all ten  ratios is 4.9915, meaning that given these ten randomly-selected letters, the odds of the language being Italian are about 5 to 1, and now
P(Italian) = 4.9915/(1+4.9915) ≅ .833
Now, none of the letters that we drew gave us, on its own, any especially solid evidence for this conclusion. The strongest evidence came from 'L', and guessing on that basis alone we would expect to be correct only a bit less than 60% of the time — and two of the ten letters — 'E' and 'T' — count individually as evidence in favor of English. Nevertheless, we've gotten our probability of guessing correctly up to about 83%. If we keep drawing letters, the chances are that the odds will get even better.
A generalization of this method was explored by Alan Turing during WW II, and is now standard in many technical applications. More recently, it's been argued that (much) animal (and human) decision-making works in a similar way, as discussed in Joshua Gold and Michael Shadlen, "Banburismus and the Brain: Decoding the Relationship between Sensory Stimuli, Decisions, and Reward", Neuron 36:299-308, 2002:
In the early 1940's, Alan Turing and his colleagues at Bletchley Park broke the supposedly unbreakable Enigma code used by the German navy. They succeeded by finding in the encoded messages the barest hints of evidence to support or refute various hypotheses about the encoding scheme that they could exploit to determine the contents of the message. Their success rested, in part, on a mathematical framework with three critical components: a method of quantifying the weight of evidence provided by individual clues toward the alternative hypotheses under consideration, a method of up-dating this quantity given multiple pieces of evidence, and a decision rule to determine when the evidence was sufficient to render a judgment on the most likely hypothesis (Good, 1979).
If there are two alternate hypothesis h1 and h2, and we have a piece of evidence ei, and we can estimate the probability of ei given that h1 is true, and the probability of ei given that h2 is true — P(ei |h1) and P(ei |h2) — then Turing defined the "weight of evidence" provided by ei in favor of h1 as the "log odds": log(P(ei| h1)/P(ei| h2)).
[The role of the logarithm here is just to turn products into sums, so that we can calculate the combined weight of evidence by adding up the individual weights contributed by of multiple independent pieces of (perhaps weak) evidence e1, e2, … , eN,  We can then place our bet when the (log) odds (or the number of tries) reach some pre-determined threshold.
Mathematically-inclined readers will want to remember that by Bayes' Rule,

If we assume that Italian and English are equally likely, then

since the prior probabilities P(Italian)/P(English) and P(English)/P(Italian) are both equal to 1.]
Here's a graph of the accumulated odds resulting from running this experiment 1,000 times with 1 to 30 random letter-selections: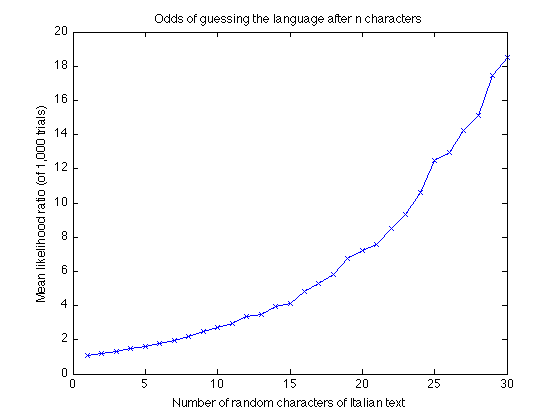 This shows that our random experiment was a bit optimistic — on average, the probability of a correct guess (in this set-up) after 10 draws from the urn is only about 73%:
| | | |
| --- | --- | --- |
| Number of selections | Odds | Probability of guessing right |
| 5 | 1.6171 | 0.6179 |
| 10 | 2.7169 | 0.7310 |
| 15 | 4.1119 | 0.8044 |
| 20 | 7.2068 | 0.8782 |
| 25 | 12.5071 | 0.9260 |
| 30 | 18.5046 | 0.9487 |
As I observed earlier, this is not a good way to do language identification. (By which I mean that relative unigram frequencies are an impoverished source of evidence, not that Turing's method for combining pieces of evidence is inappropriate.) The point is just that separate pieces of individually-weak evidence can combine to yield a judgment that has a high probability of being correct.
In the same way, we can make a reliable linguistic judgment even if there is no cue that provides strong evidence on its own. It's even easier to explain how someone might be able to make a judgment that's unreliable — but still much better than chance guessing — by combining a number of weak sources of evidence in a case like the perception of "Asian" speech.
---