« previous post | next post »
I recently noticed that the category of English autoantonyms now includes a derivational suffix.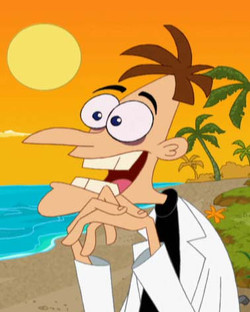 One of the standard characters in the cartoon show Phineas and Ferb is the mad scientist Dr. Heinz Doofenshmirtz, head of Doofenshmirtz Evil Incorporated. His many inventions include the Slave-inator (created to get people to come to his birthday party), the Uglyinator (invented to make himself seem handsome in comparison to everyone else), the Bread-inator (designed to get rid of an annoying statue by turning it into bread that will be eaten by birds), the SlowMotion-inator (which puts the victim into slow motion), the Invis-inator (turns people or things invisible), and so on. As these examples suggest, when Dr. Doofenshmirtz invents an X-inator, you can usually rely on it to be a device to make people or things X, or to turn people or things into X's.
A few examples depart slightly from this pattern, such as the Hot-Dog-Vendor-Revenge-inator, designed to get revenge on hot dog vendors, or the Mountain-Out-Of-A-Molehill-inator, which apparently just makes things bigger. And then there's the Change-inator-inator, which alters details of past episodes of the show. But even these remain true to the generalization that an X-inator moves things in an X-ward direction.
Meanwhile, out in the real world, you can consult the good folks at moleinator.com ("we have what you need to regain control of your lawn and garden"), or patronize Pestinators of San Francisco ("Please do not call regarding dogs or cats"). And $59.95 will get you your very own Buginator ("lab tested and scientifically proven to wipe out flying pests like mosquitoes, flies, moths and fleas"). There's even a pest-control reality show called "Verminator". These are clearly constructed by analogy to exterminator, and in this domain, an X-inator is a device or service for getting rid of X's.
Context is enough to ensure that people don't consult moleinator.com for advice about how to turn things into moles, or even to attract moles to their lawns.
But consider the deGERM-inator, a "Portable Ultraviolet Sanitizer" that will "Sanitize telephones and cell phones, toilet seats and flush handles, computer mouse devices and keyboards, plastic toys, door knobs and many other commonly contaminated surfaces". By analogy to moleinator and buginator, this should be the GERM-inator. Maybe its inventors or marketers worried that germinate is already a fairly common word, even if it's one that has nothing to do with the ordinary current meaning of germ. Or maybe they felt that people might be reluctant to pay $79.95 for a device that (if Dr. Doofenshmirtz invented it) would turn things into germs.
---