« previous post | next post »
Patrick and Teresa Nielsen Hayden are long-time collectors of arguments for the final serial comma. They're responsible for publicizing the most famous (if probably apocryphal) example, "This book is dedicated to my parents, Ayn Rand and God", as well as the equally remarkable (and apparently real) "The highlights of his global tour include encounters with Nelson Mandela, an 800-year-old demigod and a dildo collector".
Now Patrick Nielsen Hayden ("The return of the final serial comma's vital necessity", Making Light 10/21/2010) has posted another, describing the recent documentary about Merle Haggard: "Among those interviewed were his two ex-wives, Kris Kristofferson and Robert Duvall".
This time there's a newspaper scan: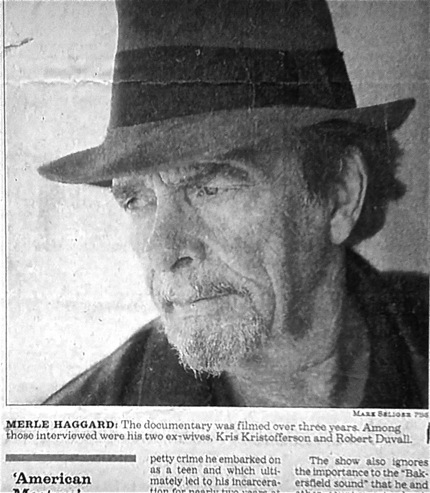 And in response to Patrick's post, Jo Walton created what may be the first instance of the genre "grammatical slash" (though ethelmay suggests that it should be called a comma-dy).
The cited caption was posted here on August 14, which is about a month after the documentary aired. I don't know where and when it was originally published, or who originally scanned the newspaper item and submitted it to the memepool.
In 2010, no discussion of this topic would be complete without a reference to Vampire Weekend's 2008 hit "Oxford Comma":
[Update — a LexisNexis search reveals that the photo caption was published in the Los Angeles Times on July 21, 2010.]
---