« previous post | next post »
Today's Zits:

The idiom "You've got to get up pretty early in the [morning] to ___" anchors the context, and helps us interpret the spelling "pret-ty" as implying the division of pretty into two separated syllables, with associated aspiration (rather than flapping and voicing) of the /t/. (And maybe a glottalized copy of the /t/ at the end of the first syllable.)
Other examples of the same thing are out there. COCA has one example of the spelling "pret-ty", from a short story by Alice Munro published in the 3/22/2004 issue of the New Yorker: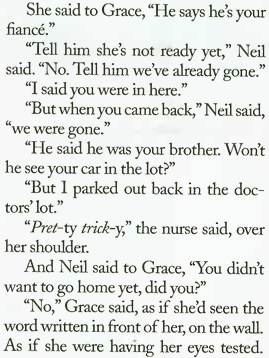 A Google search for "pret-ty" turns up what seem to be some more examples of the same prosodic idiom, e.g.
this fire dog stuff can get pret-ty boring    [link]
Pret-ty snea-ky, Senator: GOP tries to conceal weapons in credit-card reform bill   [link]
Yep, this could get pret-ty, pret-ty, pret-ty bad. Or at least it would if, once again, it were true.   [link]
When I hear these five examples in my mind, they're performed with a downstepping intonation on the "pret-ty __" part.
In these examples, the whole package — hyper-separated syllables and downstepping intonation — seems to be associated with ironic and somewhat jocular emphasis, though as usual with such meanings, it's easier to feel the vibe than to give it a precise definition. And the various pieces of the package can certain be used separately or in combination with other performance techniques, though (again as usual) it's hard to tell whether the combinations are fully compositional in meaning.
Question for readers: Is this a purely North American pattern? Or does it exist in England, Scotland, etc., as well?
---