« previous post | next post »
Yesterday, Nick Clegg made news in England by announcing a new spending program ("Clegg unveils 'fairness premium'", ePolitix.com 10/15/2010):
Deputy prime minister Nick Clegg has unveiled a £7bn 'fairness premium' to help disadvantaged children through the education system.
The plan, to be included in the comprehensive spending review, will contain an offer of 15 free hours of pre-school education a week to two year olds from poorer families in England.
In a speech at a junior school in Chesterfield, Derbyshire, Clegg also confirmed the Lib Dem pledge of a "pupil premium" while they are at schools, and a new "student premium" to help them through university.
In his speech, Clegg gave some numbers from a widely-cited developmental study (Nick Clegg, "Putting a premium on fairness", Speech delivered at Spires Junior School, Chesterfield):
So, to summarise what we mean by fairness, fairness demands:
– that children and young people have a good start in life
– that the state plays a significant role in leveling the playing field for the next generation; and
– that patterns of inequality in one generation should not be automatically replicated in the next.
Against this benchmark – fairness as life chances – Britain does not fare well, as the recent report from the Equality and Human Rights Commission demonstrated.
By the time they hang up their coats for their first day at school, bright children from poor backgrounds have fallen behind children from affluent homes. Children from poor homes hear 616 words spoken an hour, on average, compared to 2,153 words an hour in richer homes. By the age of three, that amounts to a cumulative gap of 30 million words.
The FactCheck Blog at Channel 4 News pounced on these striking and specific numerical references.  They certainly deserves scrutiny — though ironically, FactCheck's own discussion features a couple of careless errors. Nitpicking aside, however, there are some interesting and important issues here.
Cathy Newman at the FactCheck blog focused especially on Clegg's overall word-gap estimate (FactCheck: Nick Clegg's word count", Channel 4 News, 10/15/2010):
30 million struck FactCheck as a big 'word gap', and we wondered where he'd got it from.
The Cabinet Office told us it came from the book "Meaningful Differences in the Everyday Experience of Young American Children." So, the DPM was actually talking about the educational opportunities of kids across the Atlantic. And a quick flick through the book reveals it's actually based on a sample of just 42 American children – and that the research was undertaken in the 1980s. The book was published in 1995, by Dr Betty Hart and Dr. Todd Risley, with a forward from Lois Bloom at Columbia University in New York. FactCheck reached the now retired Lois Bloom, who confirmed the research was old, and that it showed income wasn't the only that determining factor in children's development. "The book says there are many other factors," she said "including how many people in the house work and how many children there are in the house."
So, it doesn't seem all that 'fair' to us, to pass off research that is 20 years old, and based on a small sample in America, as relevant to a speech about inequality in modern Britain.
In fact, the sample-size difficulty is worse than that. It's true that the study detailed in Hart & Risely's book ("Meaningful Differences in the Everyday Experience of Young American Children", 1995) involved "42 American children", as this abstract at eric.ed.gov explains:
Noting the scientifically substantiated link between children's early family experience and their later intellectual growth, this book describes a longitudinal study of the circumstances of early language learning and the central role of home and family in the emergence of language and word learning. The vocabularies of 42 children were studied from the time they first began to say words at about 1 year until they were about 3 years old. The study also observed the children's interactions with other persons in their families which formed the contexts for their word learning. Results indicated that the most important factors to language acquisition are the economic advantages of children's homes and the frequency of language experiences. The basic findings from the study are that children who were born into homes with fewer economic resources learn fewer words, have fewer experiences with words in interactions with other persons, and acquire a vocabulary of words more slowly. Five parenting features that predicted future achievement were: (1) language diversity; (2) feedback; (3) guidance style; (4) language emphasis; and (5) responsiveness. The book concludes by outlining an agenda for intervention that would begin in the home and very early in a young child's life, with a focus on the social influences on language and its acquisition within the cultural context of the family.
But those 42 children were divided into four sub-groups — and Clegg's statistics came from the top and bottom of the four groups. I took a look at the Hart and Risely study a few years ago ("Word counts", 11/28/2006), and quoted them giving further details about their sample:
Our final sample consisted of 42 families who remained in the study from beginning to end. From each of these families, we have almost 2 1/2 years or more of sequential monthly hour-long observations. On the basis of occupation, 13 of the families were upper socioeconomic status (SES), 10 were middle SES, 13 were lower SES, and six were on welfare.
The 30-million-word gap that Clegg cited was calculated from a comparison of data from the 13 upper SES ("professional") families with data from the 6 welfare families. (For details, see Betty Hart and Todd Risely, "The Early Catastrophe: The 30 Million Word Gap by Age 3", American Educator, Spring 2003).  The small and perhaps unrepresentative sample is an issue here — though as we'll see, it turns out that their vocabulary-growth comparisons are similar to those found in much larger and more representative samples.
But the  more important problem, in my view, is Clegg's equivocation about which groups are being compared. His speech gives the impression that he's comparing those above and below a "poverty line" defining eligibility for his proposed remedies. But the numbers that he cites compare children from "professional" families with children from "welfare" families.
Unsurprisingly, Hart and Risely found that "working-class" families were in between the professional and the welfare families — and by most of their measures, closer to the welfare families. Here's their graph of the word-count data: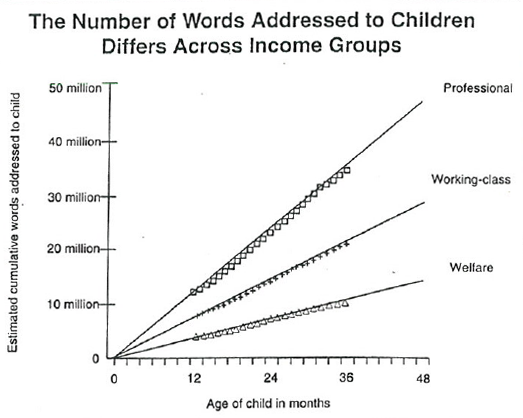 Cathy Newman at the FactCheck blog suggested that data from a different study would have been more relevant — and in doing so, she uncritically adopts a natural interpretation of Clegg's distinction between "children from poor backgrounds" and "children from affluent homes", namely that it refers to children below and above the poverty line:
But what about the Institute of Education's longitudinal study on 15,590 families of children born in Britain in 2000-2? In 2007, they found that three year old children from families living below the poverty line have a vocabulary on average 5 months behind those families living above the poverty line. With a large sample, and based in the UK, that research would seem to be more relevant.
It's true Clegg would have done better to cite vocabulary-development data from that Millennium Cohort Study — the sample is MUCH larger, is much more representative, comes from Britain, and is more recent.  But the first problem with the FactCheck citation is that Newman didn't read the footnotes in the press release that she links to, and thus gets the number wrong.
Here's the press release (Centre for Longitudinal Studies, "Disadvantaged children up to a year behind by the age of three", Press Release 6/11/2007):
Vocabulary scores achieved by more than 12,000 children revealed that the sons and daughters of graduates were 101 months ahead of those with the least-educated parents. A second "school readiness" assessment measuring understanding of colours, letters, numbers, sizes and shapes that was given to more than 11,500 three-year-olds found an even wider gap – 122 months – between the two groups. The equivalent gaps for children in families living above and below the poverty line used by the researchers were five3 months for vocabulary and 104 months for school readiness.
As expected, girls did better than boys on average. They were three months ahead on both measures. Less predictably, Scots children were three5 months ahead of the UK average in their language development and two months ahead in "school readiness".
Why the footnotes? Well, the press release was amended on July 23, 2007, and for some reason the updates were implemented by means of superscript numbers and a note at the bottom of the page observing that
Further analysis of the data, carried out after this press release was issued, has caused us to revise some of these statistics. The correct figures are:
1 12 months
2 13 months
3 8 months
4 9 months
5 2 months
In other words, Newman's FactCheck post should have given 8 months, not 5 months, as the lag in vocabulary development for children from families below as opposed to above the poverty line.
But a comparison more comparable to Clegg's would have cited the fact that "sons and daughters of [college?] graduates" were 12 months ahead in vocabulary development compared with "those with the least educated parents", and 13 months ahead in a "school readiness assessment".
A 12- or 13-month gap at the age of three is considerable, in proportional terms. And if we compare these numbers from the Millennium Cohort Study to Hart & Risely's average vocabulary measurements by SES, as shown in the graph below, the results are quite similar — the average vocabulary of Hart & Risely's low-SES children lags about a year behind the average vocabulary of their high-SES children: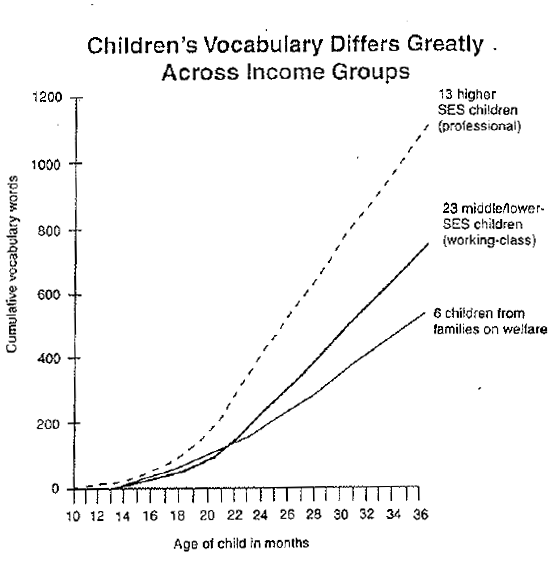 Again, though, note that the middle-SES children are in the middle — and somewhat closer to the children from families on welfare.  This underlines, in my view, an important problem with programs of the sort that Clegg proposed. These programs aim to ensure "that patterns of inequality in one generation should not be automatically replicated in the next".  But even if they have exactly the advertised effect, they only address one aspect of the phenomenon of inter-generational transfer of cultural capital — and they risk alienating the "middle/lower-middle SES" groups who may find themselves increasingly excluded from educational opportunities. (In the U.S., at least, it's clear that this "exclusion of the middle" is a growing problem.)
This is not an argument against remediation programs for children of the poorest families (Clegg's proposal targets the bottom 20% of the income distribution, according to Simon Baker, "Poor students to benefit from Clegg's £7bn 'fairness premium'", Times Higher Education 10/15/2010).   But we should discuss the issues in a broader context.
For more background on the Millennium Cohort Study, see Kirstine Hansen and Heather Joshi, "Millenium Cohort Study (Second Survey): A User's Guide to Initial Findings", July 2007. This study is by no means only about SES and vocabulary development — for example, it provided evidence that occasional drinking by pregnant women probably isn't harmful after all, as reported in Lisa Belkin, "Drinking While Pregnant", NYT 10/6/2010.
Some other relevant LL posts about word counts, vocabulary development, and rates of vocabulary display: "Gabby guys: The effect size", 9/23/2006 (note especially the discussion of Martha Farah et al., "Childhood poverty: Specific associations with neurocognitive development", Brain Research 1110(1) 166-174, September 2006);  "Word counts", 11/28/2006; "Cultural specificity and universal values", 12/22/2006; "Vicky Pollard's revenge", 1/2/2007.
---