« previous post | next post »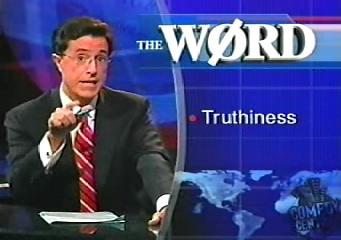 My latest On Language column for The New York Times Magazine celebrates the fifth anniversary of Stephen Colbert's (re)invention of "truthiness" — a word we began tracking here on Language Log soon after it appeared on the premiere episode of "The Colbert Report." (See this post and links therein.) I got a chance to interview Colbert himself, and my latest Word Routes column for the Visual Thesaurus features an extended excerpt of the interview. Here's an excerpt of the excerpt:
BZ: I was a big supporter of "truthiness" from the early days, back when it was selected as Word of the Year by the American Dialect Society. I was there lobbying for it.

SC: Really? You were there, literally?

BZ: I was on the scene, yes.

SC: You're a member of the American Dialect Society?

BZ: I'm on the Executive Council of the American Dialect Society.

SC: Holy cow. Well then, thank you for pushing for it, because I married an English major. Getting a Word of the Year is the closest I'll ever come to having six-pack abs. That's maybe the sexiest thing I could do, to have a word recognized.

BZ: Now that it's in the New Oxford American Dictionary, that's got to be even better. You're even mentioned in the entry.

SC: Yeah. That's a real turn-on.
Read the rest here.

[Update: And see the clip that started it all here.]
---