« previous post | next post »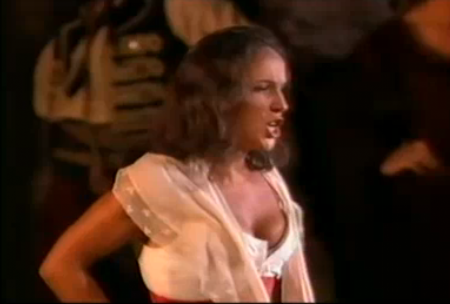 Jean Véronis went to see Beatrice Uria-Monzon in Carmen a few days ago, and connects the experience to recent political events in France:
How ironic in these times of French Roma-phobia: the world's most-performed French work tells a gypsy story. Just like the Mérimée short novel from which it originates, the opera reflects the Romantic fascination with Roma […] Following perhaps in the footsteps of Cervantes (Little Gypsy), Bizet, Mérimée, Hugo, Borrow, Liszt and many others were charmed by this people living on the fringes of society, freedom incarnate – free to be on the move, free from work, free from fitting into society; all elements found in Carmen.
If you haven't been following the situation that Jean refers to, you could start here or here or here.
Jean points out that the Enlightenment had a less, well, Romantic view of Romani than Mérimée did, citing the entry in the Encyclopédie: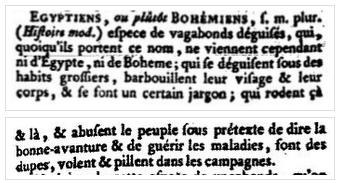 Jean's translation: EGYPTIANS, or rather BOHEMIANS, feminine, masculine, plural noun forms (Modern History). Types of disguised vagabonds, who, despite their bearing these names, nevertheless come not from Egypt, nor from Bohemia; who disguise themselves with coarse garments, dirty their faces and bodies, & make a certain jargon among themselves; who roam here & there, & exploit people by giving the pretext of telling fortunes & healing maladies, by making dupes of them, stealing & pillaging in the countryside.
(For real information about the Romani, the Wikipedia article is much longer and much more accurate. Unfortunately Ian Hancock's Romani Archive and Documentation Center at UT Austin seems to be down.)
Jean surveys some of the etymological history involved. One thing that he doesn't cover, which I've occasionally wondered about but never investigated, is the reason that one of the major French cigarette brands is Gitanes, "Gypsies". I guess the feminine form is due to gender agreement with the word cigarette, but the pack does traditionally show a silhouette of a stereotypical gypsy woman playing a tambourine.
I'd forgotten how much I like the old-fashioned narrative framing conventions exemplified by Mérimée's Carmen:
J'avais toujours soupçonné les géographes de ne savoir ce qu'ils disent lorsqu'ils placent le champ de bataille de Munda dans le pays des Bastuli-Poeni, près de la moderne Monda, à quelque deux lieues au nord de Marbella.  D'après mes propres conjectures sur le texte de l'anonyme, auteur du Bellum Hispaniense, et quelques renseignements recueillis dans l'excellente bibliothèque du duc d'Ossuna, je pensais qu'il fallait chercher aux environs de Montilla le lieu mémorable où, pour la dernière fois, César joua quitte ou double contre les champions de la république. Me trouvant en Andalousie au commencement de l'automne de 1830, je fis une assez longue excursion pour éclaircir les doutes qui me restaient encore. Un mémoire que je publierai prochainement ne laissera plus, je l'espère, aucune incertitude dans l'esprit de tous les archéologues de bonne foi. En attendant que ma dissertation résolve enfin le problème géographique qui tient toute l'Europe savante en suspens, je veux vous raconter une petite histoire ; elle ne préjuge rien sur l'intéressante question de l'emplacement de Munda. [text at fr.wikisource.org]
I had always suspected the geographical authorities did not know what they were talking about when they located the battlefield of Munda in the county of the Bastuli-Poeni, close to the modern Monda, some two leagues north of Marbella.
According to my own surmise, founded on the text of the anonymous author of the Bellum Hispaniense, and on certain information culled from the excellent library owned by the Duke of Ossuna, I believed the site of the memorable struggle in which Caesar played double or quits, once and for all, with the champions of the Republic, should be sought in the neighbourhood of Montilla.

Happening to be in Andalusia during the autumn of 1830, I made a somewhat lengthy excursion, with the object of clearing up certain doubts which still oppressed me. A paper which I shall shortly publish will, I trust, remove any hesitation that may still exist in the minds of all honest archaeologists. But before that dissertation of mine finally settles the geographical problem on the solution of which the whole of learned Europe hangs, I desire to relate a little tale. It will do no prejudice to the interesting question of the correct locality of Munda. [English translation by Mary Lloyd]
There's a French audiobook version here.
As for Beatrice Uria-Monzon's performance in Bizet's operatic version, here's her entrance (Scene 5 of act 1)  from YouTube (though in a different production from the one that Jean saw):
---