« previous post | next post »
We have been discussing the "TCM approach to women's wellness" (7/28/16).  Jichang Lulu writes:  "On the topic of women's wellness, I'm reminded of Messrs Know your Bird, purveyors of Antibacterial Lotion of Woman."  Here's a picture: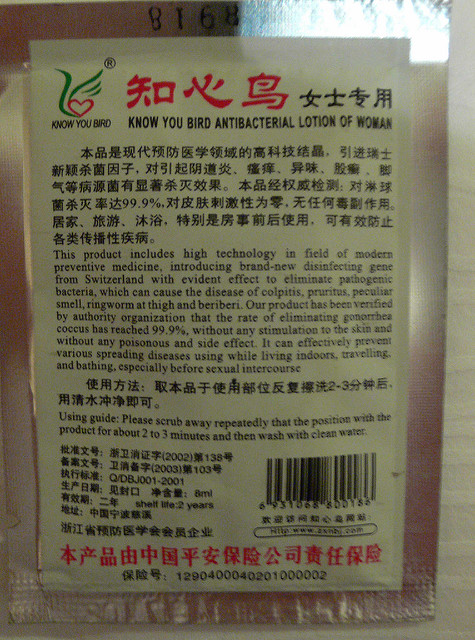 (via Flickr)
I will let readers feast their eyes upon the marvelous English text without critiquing the translation at every turn.  In point of fact, the translation is not so bad; it's the Chinese original that leaves one's mouth gaping.  Instead, I will only discuss the name of this wonderful lotion, which is encapsulated in the logo, and a few other interesting features of the language on the packet.
The Chinese says:
zhīxīn niǎo nǚshì zhuānyòng 知心鸟女士专用
How that becomes "KNOW YOU BIRD ANTIBACTERIAL LOTION OF WOMAN" is not entirely clear, because the Chinese says nothing about "antibacterial lotion" and nothing about "you".  What it does say is this:
"intimate (lit., 'know the heart') bird, especially for ladies"
I suppose that, by "heart", they mean "your heart", so that, in a circuitous fashion, would account for the "you".
The other phrase I wanted to talk about is "brand-new disinfecting gene from Switzerland".  I was more than a little discombobulated by this miraculous gene from Switzerland, till I looked at the Chinese, that is.  What the Chinese says is Ruìshì xīnyǐng shājùn yīnzǐ 瑞士新颖杀菌因子", which means "brand-new bactericidal factor from Switzerland".  It seems that the translator confused yīnzǐ 因子 ("factor") with jīyīn 基因 ("gene").
If we turn the packet over, this is what we see: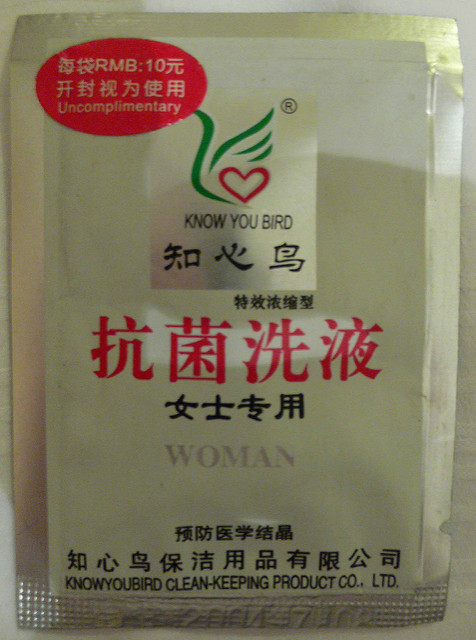 (via Flickr)
Here it says very clearly that this is kàngjùn xǐ yè 抗菌洗液 ("antibacterial lotion") that is nüshi zhuanyong 女士专用 ("especially for women"), which they translate as "WOMAN".
At the bottom, it identifies the manufacturer of this fantastic product as:
zhīxīn niǎo bǎojié yòngpǐn yǒuxiàn gōngsī 知心鸟保洁用品有限公司
KNOWYOUBIRD CLEAN-KEEPING PRODUCT CO. LTD.
At the top left it tells the price and says:
kāifēng shì wéi shǐyòng 开封视为使用
("if the seal is broken will be considered as used", i.e., you'll have to pay for it)
…which they cleverly render as "Uncomplimentary".
Russell, who posted these pictures on flickr, writes:
I'm not sure what normally goes on in 5 star hotels in China – there was also a sachet "for man" but those photos didn't come out
I would pay a considerable sum of money to see the "MAN" sachet, front and back.
---