« previous post | next post »
Following up on Tim Kaine's mocking imitation of Donald Trump's phrase "believe me", CNN put up a comparison:
"Believe me." Tim Kaine's impression of Donald Trump vs. the mogul himself https://t.co/WpV3EgxtQz #DemsInPhilly https://t.co/q9ar1abkZW

— CNN (@CNN) July 28, 2016
One striking thing about the juxtaposed performances is a difference in stress and intonation. Trump puts the stress on "believe", and de-accents "me", while Kaine accents both words:
Here's the first of the genuine Trump exhortations — a two-fer: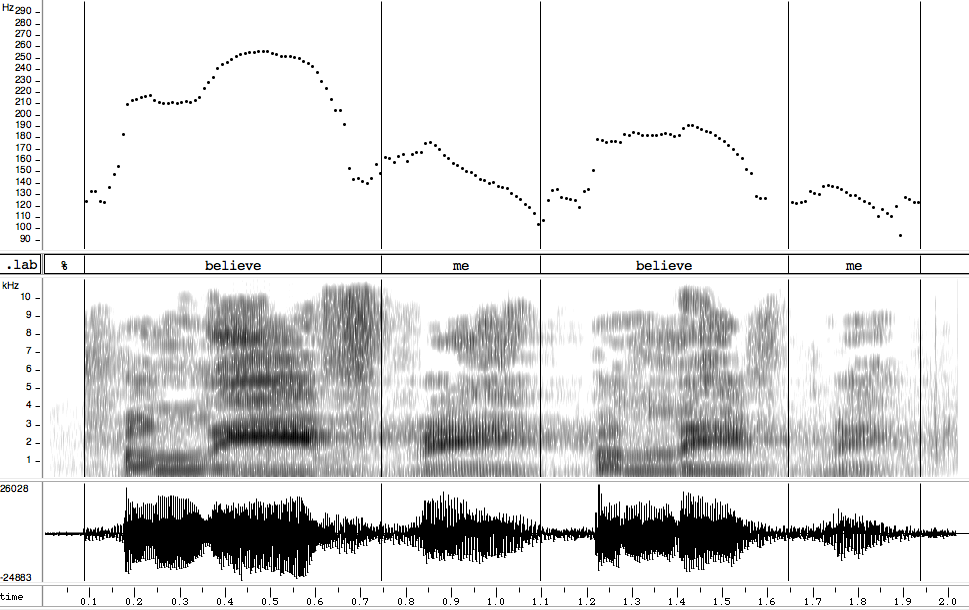 In both of these repetitions, Trump's "believe"  is about 60% longer than his "me", and the peak f0 on "believe" is about 40% greater than the peak f0 on "me". In addition, the fact that "me" has falling pitch throughout its vowel is consistent with the idea that it's de-accented, while the peak f0 in his first  "believe" is about half way through the stressed vowel.
Here's the first of (CNN's choice of) Kaine's imitations: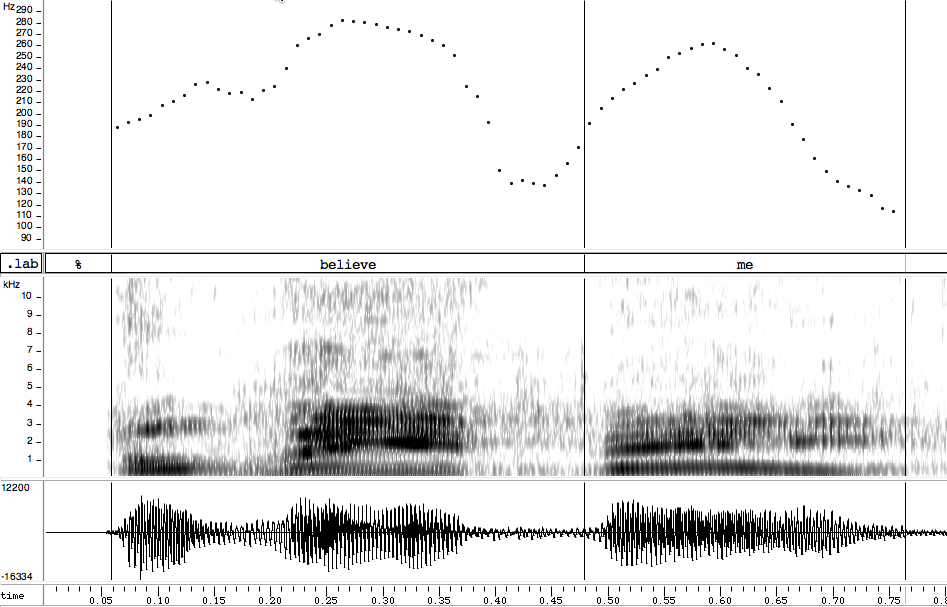 In contrast to Trump's version, Kaine's "believe" is only about 20% longer than his "me", and the peak f0 on "believe" is only about 8% greater than the peak f0 on "me". The fact that the peak f0 on his "me" is about halfway through the syllable is another indication that both "believe" and "me" are accented — and as a result of its striking rise-fall pitch pattern, maybe "me" is even focused.
What does this difference mean?
The most obvious explanation, I think, is this:
Kaine's "BELIEVE ME" carries the implication that you should believe the speaker, not all those other guys.
Trump's "BELIEVE me" avoids acknowledging that any other opinions might be relevant.
Another possibility is that Kaine's version is just overall more emphatic — or perhaps the result of treating the phrase as a quoted sequence rather than an epistemological aside.
But the causes and consequences of prosodic choices are notoriously protean, and intuitions about prosodic meaning are notoriously unreliable. So how could we explore this question further? I'm pretty sure that Trump always de-accents "me" in his frequent uses of "believe me". And because "believe me" is so rarely used by other politicians, it's not going to be easy to find the basis for an empirical comparison in speeches and debate recordings.
The LDC's published collections of conversational speech include 277 instances of "believe me", and this is enough to get a baseline idea about the relative frequency of different prosodic choices. I don't have time to inspect all of them, but in a random sample of 10, all of them had a prosodic pattern similar to Trump's. So I'm still looking for a way to isolate enough examples of Kaine's pattern — or maybe to create a situation that produces that pattern frequently enough — to evaluate its implications for communicative function.
---