« previous post | next post »
[N.B.:  TCM stands for "Traditional Chinese medicine"]
Geok Hoon (Janet) Williams found these posters this morning at Clementi, Singapore: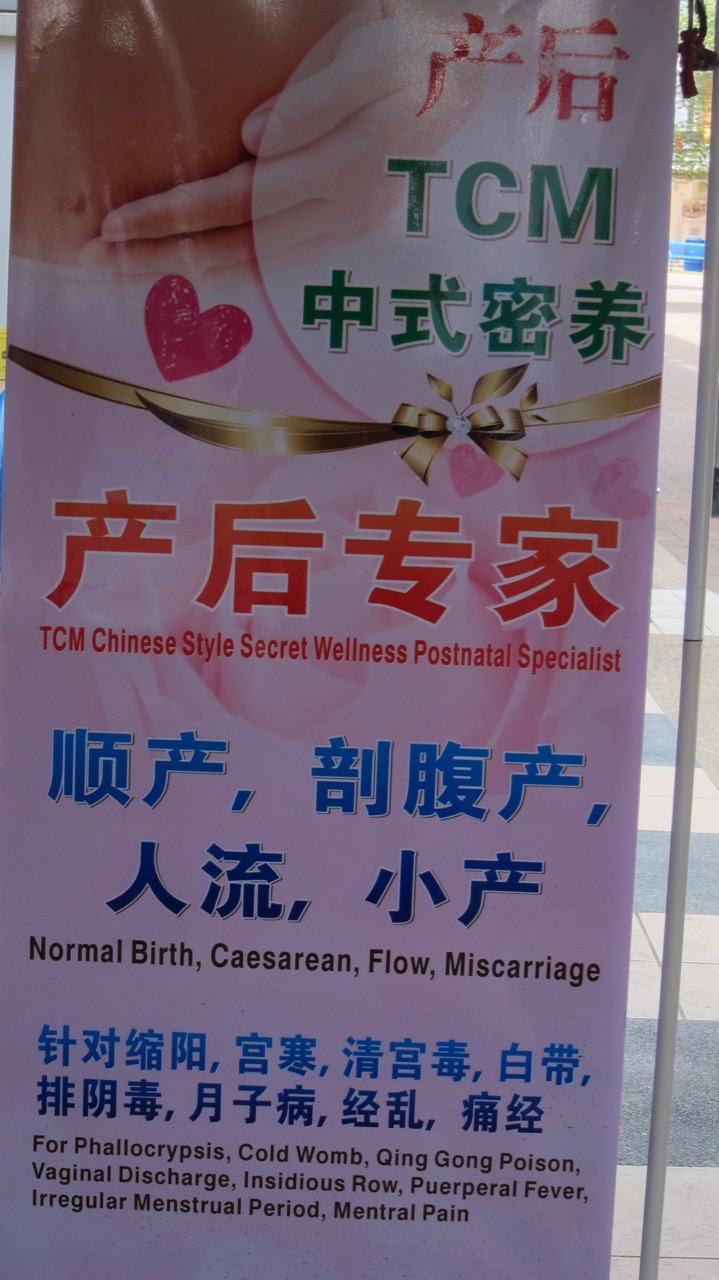 There is much that could be said about the wording on the first poster, but I shall concentrate only on one term that stands out:  "Flow".  No, that is not a reference to a regular commenter on Language Log.  It is the misrendering of Chinese rénliú 人流, and it comes directly from Google Translate or Bing Translator, but not Baidu Fanyi, which yields the equally inappropriate "stream of people".  "Rénliú 人流" (lit., "human flow") is short for réngōng liúchǎn 人工流产 (lit., "human work miscarriage", i.e., "artificial / induced miscarriage" or simply "abortion").
By far the more common expression for "abortion" is duòtāi 堕胎 (lit., "fall / drop / send down fetus") (15,800,000 ghits), vs. réngōng liúchǎn 人工流产 (416,000 ghits).
If they could get "phallocrypsis" (for suōyīn 缩阴 ["vaginal contraction"] — Baidu Fanyi gives "Wahaha", the name of China's largest beverage producer!) right, surely they ought to have been able to handle "abortion" — unless they were being squeamish.  Wait a minute!  Don't be too impressed with a big medical term like "phallocrypsis"!  They really messed up with suōyīn 缩阴 too, because phallocrypsis means "dislocation and retraction of the penis, so that it is almost invisible", and that definitely doesn't apply to women!  Phallocrypsis would be a suitable translation for suōyáng 缩阳 ("penile contraction").
Moving on to the next poster: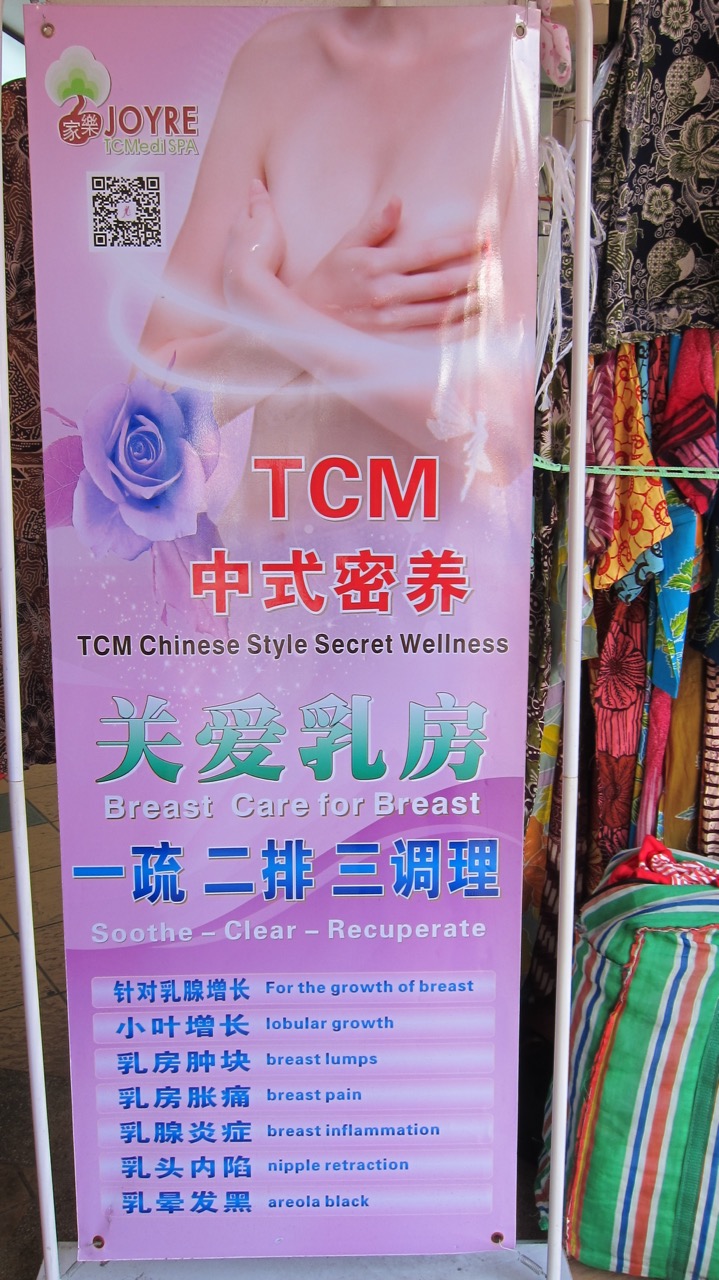 Some of the translations on this sign are surprisingly felicitous, such as "Soothe" for shū 疏 ("sparse; thin; scattered; nondense").  Believe it or not, however, there is actually a category of dense versus nondense in mammography.  Nonetheless, I do not find any really gross errors on this poster, though I should mention, in order to enhance understanding of the last item, that Chinese women really do not like it when the area around their nipples becomes very dark.
What I would like to focus on here is the, er, flagrant redundancy of the English translation for the main announcement of services offered by this TCM clinic in big green characters:  "Breast Care for Breast".  Just looking at the English, I thought that perhaps the first "Breast" was a typo for "Best".  Then, when I started to pay more attention to just what the corresponding Chinese was saying, I realized that the redundancy must have been triggered  by some other source.
Here's what the Chinese says:
guān'ài rǔfáng 关爱乳房
("loving care for the breast", which we could also rephrase more simply as "breast care")
Baidu Fanyi has "care breast" and Bing Translator gives "love breasts", but Google Translate nails it with "breast care".  What the poster maker seems to have done is take the Google Translate rendering of the whole four character expression for just the first two characters and then repeated the word "breast" for the last two characters after that.
Such are the perils of relying on machines for our translations, even when they're mostly right.
---