« previous post | next post »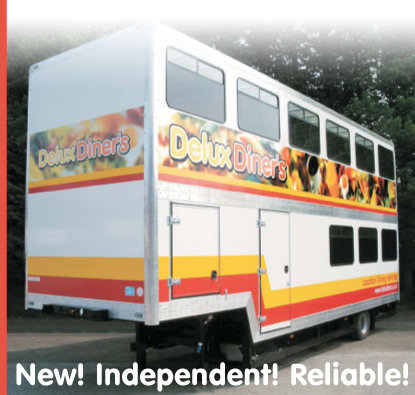 The BBC is doing a day or two of filming on the roof terrace of the building that houses my department, and the parking lot below our windows is thick with dressing room trailers and wardrobe trailers and generator trucks. Plus there is one other vehicle: parked directly below the windows of the room where the faculty of the country's finest department of Linguistics and English Language hold their staff meetings is a large catering truck to provide lunch for the crew, and it is labeled DeluxDiner's.
The company that owns it is called "DeluxDiners". They have a website at http://www.deluxdiners.co.uk/. As you can see from that page, the company name is a regular plural. There is no trace of an apostrophe in the web page text. But there is a photograph of one of their lunch trucks, with the offending apostrophe up there in red.
My department is in an uproar. Older members are pacing the corridor muttering to themselves and brandishing copies of Fowler's Modern English Usage (I don't know why they do that brandishing thing). Younger members are planning sit-ins or worse. American members of the faculty (we have quite a few) are cleaning their weapons. (Firearms are just about totally forbidden in this country, so they do not have their revolvers, but they are oiling the bows and arrows they brought over.)
There is going to be trouble here. The BBC have paid the university for a quiet day of unimpeded control over our roof terrace, to film several scenes of some drama (I don't know what, exactly); and that is all very well, but we did not expect them to bring in this orthographic scandal, this brightly colored monstrosity of grammatical uncouthness, this mobile lunchroom of illiteracy.
Someone recently told me that the diner truck is actually subcontracted to a company called KoCo, which is a subsidiary of Shed Media Scotland, which is part of the Shed Media Group, which was recently sold to Time Warner. So it may be Time Warner that should be protested against, and not the BBC at all. I don't know. But what I do know is that sooner or later some hothead is going to seize the moment and the doors to that roof terrace are going to burst open during a shoot and an army of linguists and English language specialists are going to rush out there and stage a demo.
The big question for me is, as a responsible head of department should I try to prevent it? Or as a grammarian, documenter of Standard English, and defender of educational standards, should I join in the demonstration?
You will need to watch the TV news to find out which way my conscience finally led me. Either way there could be (indeed, probably will be) bad press.
Will it be Simon Heffer and Lynne Truss Attack "Liberal" Grammar Prof Over BBC Lunch Van Typo: University Threatens Dismissal?
Or Language Log Writer Held on Public Disorder Charge After Edinburgh Apostrophe Riot, University Threatens Dismissal?
Tell me what should I do, commenters.
---