« previous post | next post »
The first of 14 tips from Zachary Foster ("How not to write: 14 tips for aspiring humanities academics", Times Higher Education 7/7/2016):
Titles. Once upon a time, scholars thought titles should be succinct and descriptive. Now we know better. Instead, introduce your work with an unintelligible phrase such as "Interrupted Modernity", "Sovereign Emergencies", "Overthrowing Geography" or "Violent Accumulation". "Bodies that Speak" and "Empires without Imperialism" also make for great titles, even if bodies cannot speak and empires cannot exist without imperialism. Everyone knows that confusion attracts attention. Obscure quotes also make for great titles, especially if they include grammatical errors or antiquated speech. "Oh motherland I pledge to thee", "What does not respect borders" and "Fortress Europe in the field" are good examples.
The article notes that
Zachary J. Foster is a PhD candidate in Near Eastern studies at Princeton University and a product manager at Academia.edu. He would like to make clear that all the examples of unintelligible academese given above are real.
The article is amusing, but I think that "unintelligible" is a bit strong — you can judge for yourself by searching Google Scholar for the cited title phrases.
Taking one at random, we learn that "empires without imperialism" has been used at least 46 times in the publications that Google Scholar indexes. Some of these seem to be reviews of Jeanne Morefield, Empires Without Imperialism: Anglo-American Decline and the Politics of Deflection, OUP 2014. But earlier, Isabel Moutinho, The Colonial wars in contemporary Portuguese fiction, 2008 writes
Wesseling (1986: 8) points out that the Portuguese and the Dutch 'colonial empires' were 'empires without imperialism… until the twentieth century', when their imperialism acquired new strength.
This refers to H.L. Wesseling, "Imperialism and Empire: An Introduction", in Imperialism and After: Continuities and Discontinuities, Allen & Unwin 1989.
Without further research, I can't tell what exactly Wesseling and Moutinho meant by this distinction between "imperialism" and "empire". But presumably they had in mind something like what Hobson (1902) and Lenin (1917) meant by the distinction, whereby the Roman or Mogul empires, or the European colonial expansions of the 16th through 18th centuries, could be distinguished (economically and politically if not etymologically) from what happened in the late 19th and early 20th centuries, which they called "imperialism". And from the (admittedly opaque) hints in various reviews, I gather that Morefield's 2014 book addresses the idea that an analogous distinction applies to the more recent decay of the British empire and of American influence.
Whatever you think of the distinctions involved, it seems premature to rule them out on purely semantic grounds. Hobson and Lenin might have been wrong, but they're not wrong a priori — it's not true that "empires cannot exist without imperialism", at least as those words have been used for the past century or so.
So Foster is clearly correct in observing that puzzling or even apparently contradictory phrases are popular in book and article titles in the humanities (and social sciences). But I think he goes too far in describing such phrases as "unintelligible".
Update — Since there has been some discussion of title colons in the comments, I should cite James Hartley, "Planning that title: Practices and preferences for titles with colons in academic articles", Library & Information Science Research 2007, which includes this chart: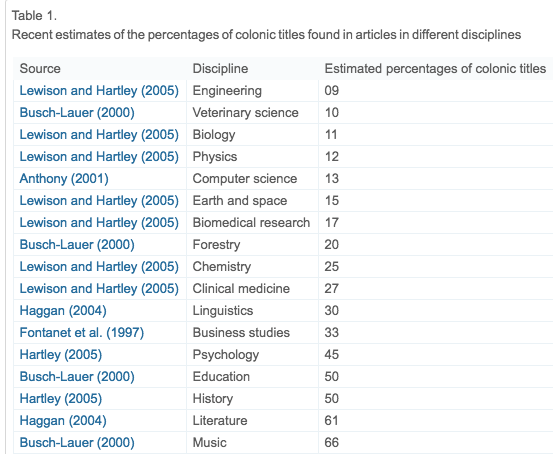 And for lagniappe, 19.3% of the 23,050 titles in the ACL Anthology (version 20160301) contain a colon, placing Computational Linguistics in between Biomedical Research and Forestry . . .
---