« previous post | next post »
Once again, our man in Hangzhou, Ian Mair (no relation), has spotted a splendid Chinglish sign:

At first I was puzzled by why the Ramada Hotel Hangzhou would want to put its customers at risk, but it only took a few seconds before I realized what must have happened.  Where the sign has yòu yī jù xiàn 又一巨献 ("another great offering"), the person who was tasked with rendering the sign into English must have entered you yi ju xian, not paying attention to the tones, and what came out was yòu yī jù xiǎn 又一巨险 ("another great danger / risk").  Admittedly, if you drink too much at Oktoberfest, you might put yourself at risk, but I don't think that's what the Ramada management had in mind.
Here's the whole sign (click on the image for a larger version):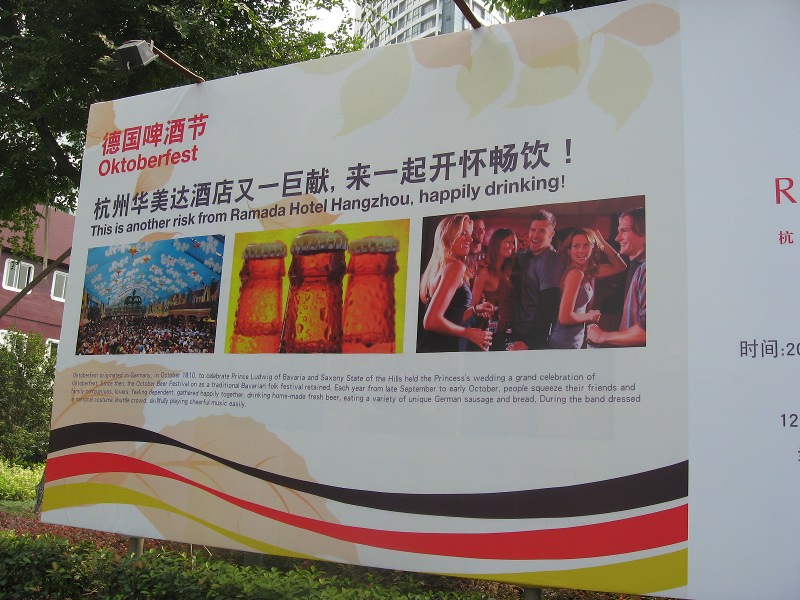 The explanatory paragraph in English beneath the three photographs on the sign does not have a corresponding text in Chinese against which to check it, but most of the wording can be figured out without too much effort, at least for those who are used to reading Chinglish.  It's not immediately evident, however, what was intended in this sentence:  "Each year from late September to early October, people squeeze their friends and family companions, lovers…."  Never having been to Munich to participate personally in Oktoberfest, I cannot say for certain whether or not a great deal of squeezing of friends and family companions goes on there in the big beer halls, but I suspect that what the author of the text was trying to tell us is that people jǐ jìnqù 挤进去("squeeze into") the beer halls with their family and friends.
---