« previous post | next post »
From Mark Seidenberg (though I think that I may originally have sent it to him years ago):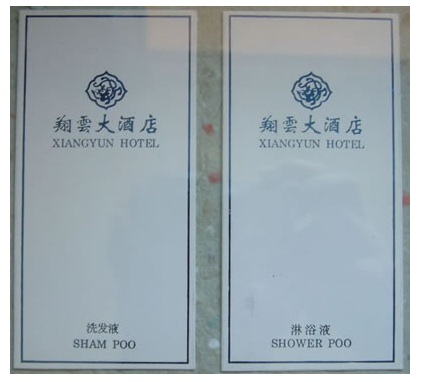 There are Xiangyun hotels in several Chinese cities.  I can recall them in Nanning (Guangxi) and Shanghai.
Xiángyún dà jiǔdiàn 翔雲大酒店 ("Xiangyun [Soaring Clouds] Hotel")
xǐfǎ yè 洗发液 ("shampoo")
línyù yè 淋浴液 ("shower gel")
Chinese synonyms for the latter term include mùyù lù 沐浴露 (lit., "bath dew") and yùyè 浴液 (lit., "bath liquid / fluid").
The hilarious mistranslation of línyù yè 淋浴液 ("shower gel") as "SHOWER POO" actually has a certain kind of twisted logic to it.  The final syllable of both Chinese terms — xǐfǎ yè 洗发液 ("shampoo") and línyù yè 淋浴液 ("shower gel") — means "liquid; fluid".  Thinking from the Chinese angle, literal translations into English would be "wash hair liquid / fluid" and "shower liquid / fluid".  Since there doesn't seem to be a fixed term for the latter item in English (aside from "shower gel", "shower cream" and "bodywash" or "body wash" also come to mind), I can see how someone who is searching for the right translation might be tempted to follow the mistaken analogy drawn from the final syllable of "shampoo".  Unfortunately, if there really were such a thing as "shower poo", it would certainly have the opposite effect of that desired by the user.
---