« previous post | next post »
I can usually figure out the specific reasons that statistical MT systems come up with peculiar translations.  But this one has me stumped: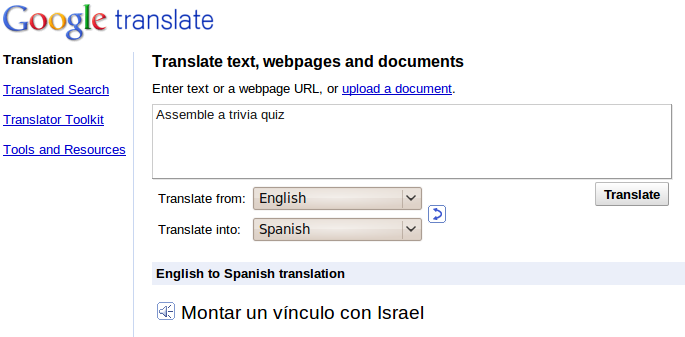 Google Translate renders "Montar un vínculo con Israel" into English as ""Build a bond with Israel", which seems accurate. But how did Israel slip into the English-to-Spanish mapping?
"A trivia quiz" comes out as "un concurso de preguntas". And "Assemble a quiz" comes out as "Prepare un cuestionario". Even "Assemble the trivia quiz" yields "Monte el concurso de preguntas".
A plain Google web search for "assemble a trivia quiz" yields nothing that seems likely to have led Google Translate astray. Nor was I able to find any other language for which Google Translate renders "assemble a trivia quiz" with a reference to Israel. If I didn't know better, I'd suspect an easter egg slipped in by some mischievous Googlite.
Can anyone solve this mystery?
[Hat tip to Adrian Morgan]
---