« previous post | next post »
…is "Tardy Mark", at least according to one roll of the dice by The Daily Show's Trump Nickname Generator: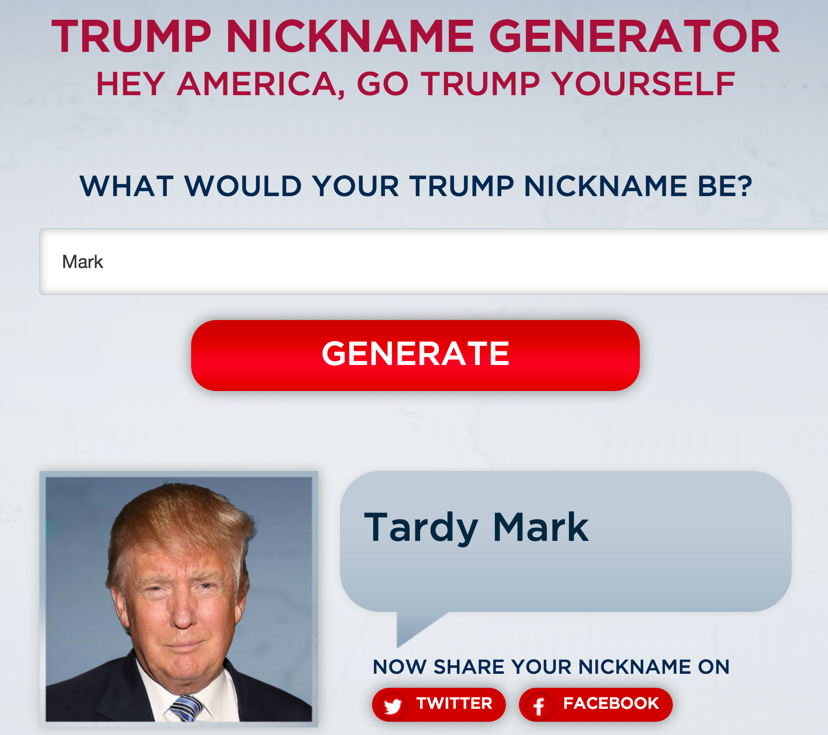 Trying it a few more times, I get "Deadbeat Mark", "Bad at Improv Mark", "Got Lost at Sea Mark", …
But in fact there's a story behind "Tardy Mark".
When I was in the first grade, I used to walk to and from school every day. By road, it was about a mile, but if I cut across a cow pasture, through a patch of woods, and up a hill, it was only about half that. At the edge of the cow pasture was an endlessly fascinating brook, where I liked to build dams, catch frogs and crawfish, and so forth. And school was kind of boring. So I was often a bit late.
One day in late September, I was summoned to see the principal, Mr. Ardel. He was eight feet tall and had eyes of flame.
"Mark," he said, "you've been tardy three times this week, and seven times so far this month. This is serious, do you understand?"
"Yes, sir," I said.
"This habitual tardiness must end now. Tell me that you will not be tardy again!"
"Yes, sir".
"Say it!"
"I will not be tardy again."
"Good. Now do you have any questions?"
"Yes, sir. What does 'tardy' mean?"
For some reason, this annoyed him, and another meeting was scheduled that involved my parents as well.
---